This post may contain affiliate links which won't change your price but will share some commission.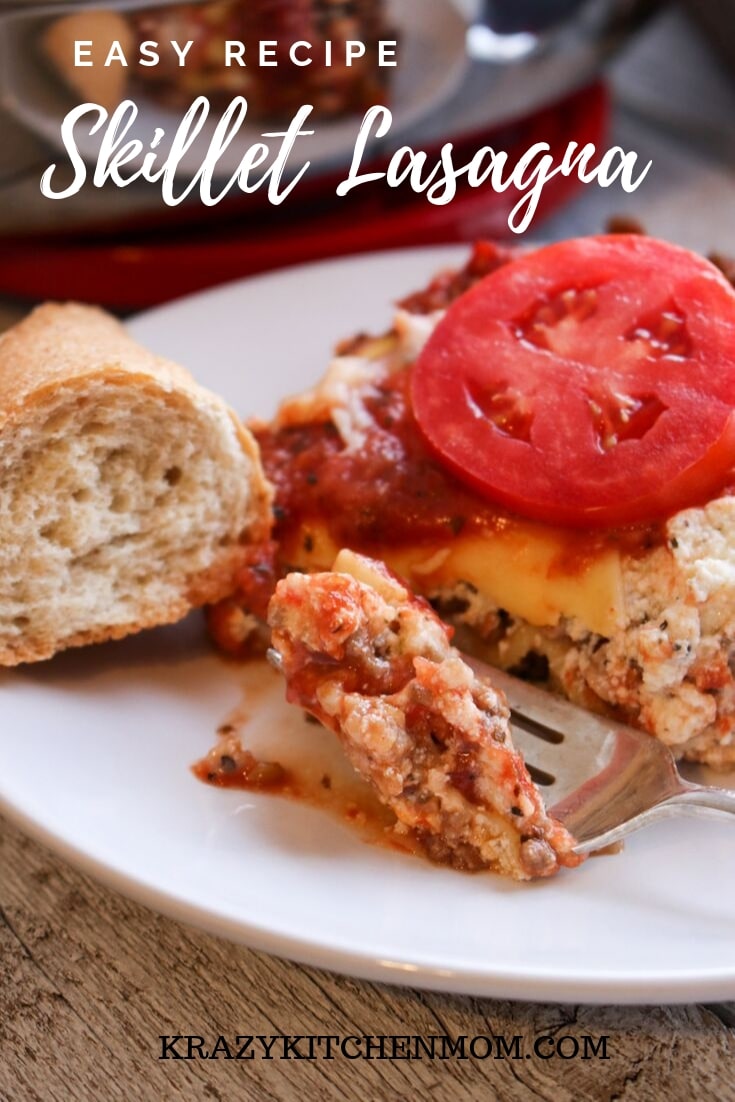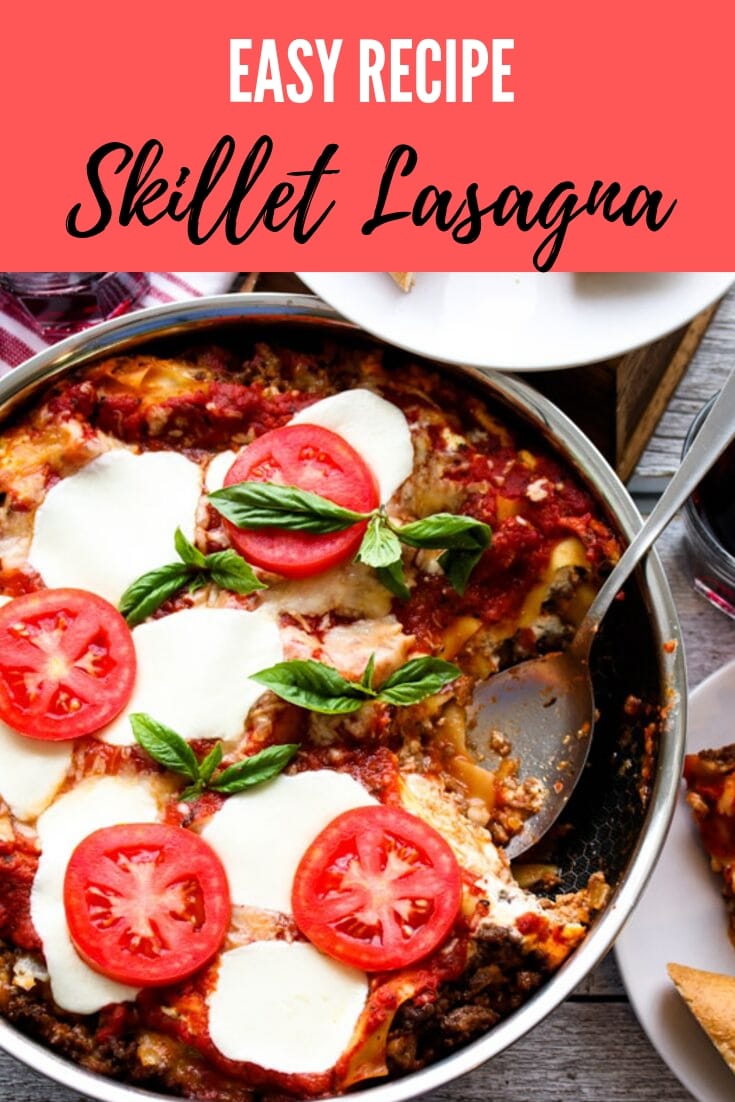 Skillet Lasagna is an easy weeknight version of a classic lasagna. It's made in 1 skillet on the stovetop and then baked in the oven.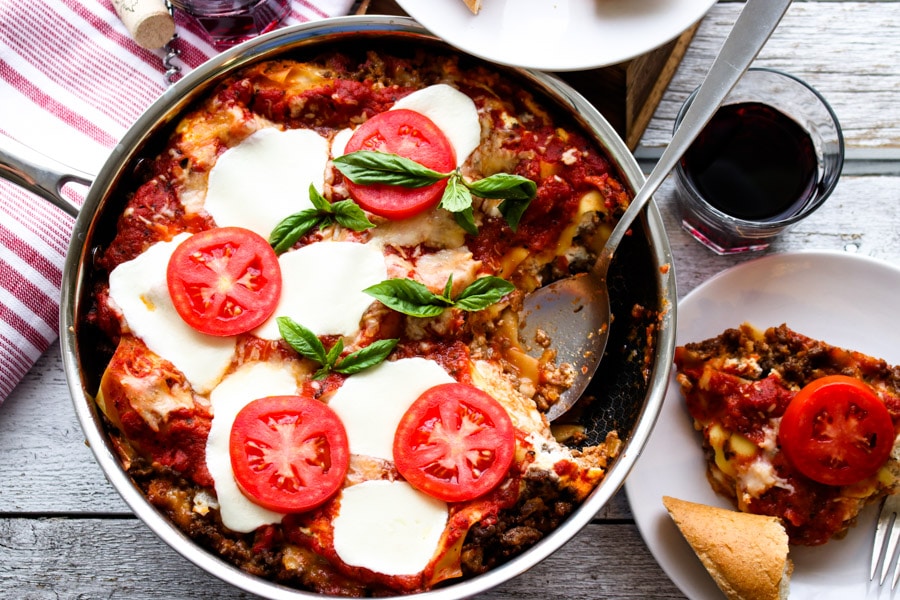 Note: This post is sponsored by Mealthy who provided me with the Mealthy Nonstick 10-inch frying pan with honeycomb laster etch technology. They are also providing the same pan for the giveaway.
I received an email from the Mealthy team after meeting them at a conference. They offered to send me their new 10″ nonstick pan and asked me to review it. Well, I thought a pan is a pan so what's the big deal. I was surprised when I received it at the weight – it's a strong pan, not too heavy but not at all flimsy like some of the other pans in my kitchen. I also learned that it's dishwasher safe which is a big bonus in my book! Honestly, I was a little skeptical about the honeycomb base. So I gave it a good test. I made some grilled chicken and eggs, but I needed to do more…I had to give this a real try to see if it was really nonstick…so I made Skillet Lasagna. I thought surely it's going to have to stick because I didn't add any non-stick spray. But it totally proved me wrong! Nonstick and SUPER easy clean up. I absolutely love this pan…it's the best pan I've ever cooked in! I'm buying these for my entire family for the holidays. And it comes with a 15-year warranty – what's not to love?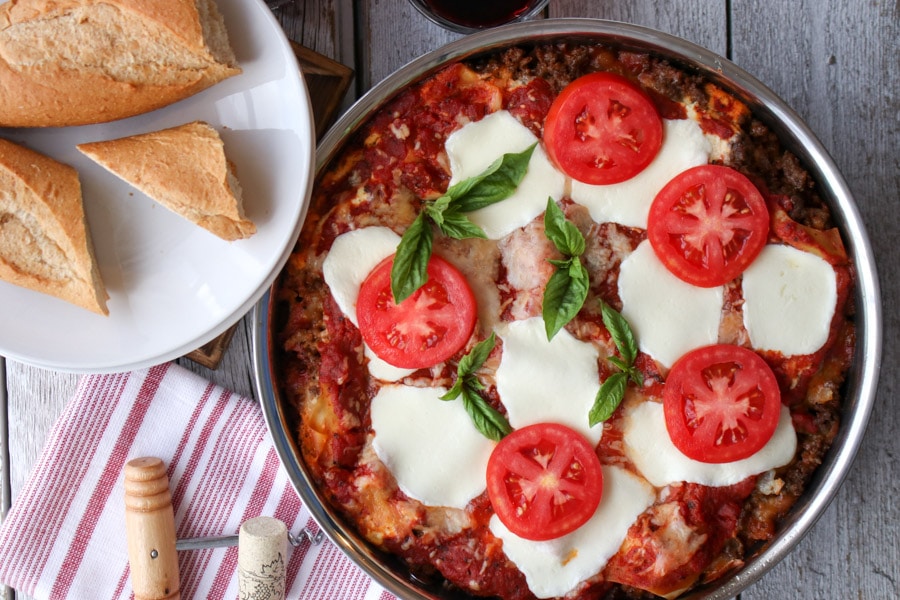 I'm giving away a mealthY nonstick pan!
Now you have the chance to win of these pans, at a $69.95 value if you follow the entry guidelines. Contest open between October 16 – 27, 2019.
For one vote, sign up for my weekly newsletter: https://www.krazykitchenmom.com
If you already receive my email, comment below and tell me what you'd make first in this recipe.
Get a second chance if you follow me on Instagram: https://www.instagram.com/krazykitchenmom/

Krazy kitchen mom tips
For this recipe make sure you are using an oven-safe skillet. The Mealthy Nonstick Pan has an ovenproof handle so it's perfect for my Skillet Lasagna. If the handle on your pan is not oven-safe, cover the entire handle with two layers of aluminum foil.

You will need to cover the pan with a lid when you place it in the oven. No lid? No problem! Use non-stick aluminum foil.

No non-stick aluminum foil? No problem! Spray a piece of aluminum foil with non-stick cooking spray.

Do not serve the lasagna right away. Let it sit for 10-15 minutes so it has time to rest and allow the cheese and sauce to set up so they do not run when you try to serve it.
If you like this recipe, you might also like these
Za'atar Chicken and Pasta – Grilled chicken with Za'atar spice served with lemony bowtie pasta
Blueberry Muffin Tops – Just the tops – no muffins – so good!
Chili Lime Roasted Sweet Potatoes – Tex Mex flair to slow-roasted sweet potatoes
Classic Wedge Salad with Blue Cheese Dressing – A true steak house classic salad
Bourbon Glazed Salamon Cesear Salad – A classic Cesar salad topped with perfectly bourbon-glazed salmon
Print
Scale
Ingredients
1

lb. ground beef

1

lb. mild Italian sausage

1

small onion – diced

1

TBS extra virgin olive oil

1

TBS tomato paste

24 ounces

of marinara sauce – store-bought or homemade

15 ounces

of ricotta cheese

1

egg – beaten

⅔ cup

finely grated parmesan cheese

6

strips of no-boil

lasagna noodles

6 ounces

of shredded mozzarella cheese

8

slices of fresh mozzarella cheese

Fresh basil and sliced

Roma

tomatoes for garnish
---
Instructions
Heat a 10-inch pan or skillet on the stovetop on medium-high heat.

Add the onions and tomato paste and cook for 5 minutes, stirring frequently.

Remove the onions from skillet and set them aside. 

Brown the ground beef. Drain excess fat and set aside in a bowl. 

Brown the Italian sausage. Drain the excess fat and set aside in a bowl. 

Divide the onions in half and add half to the ground beef and half to the Italian sausage.

Add the ricotta cheese, the beaten egg, and the grated parmesan cheeses to a bowl and mix thoroughly.
Assembling the Skillet Lasagna:
Preheat the oven to 400°

In the same skillet you used to cook the onions, beef, and sausage, add ½ cup marinara or prepared tomato sauce.

Place 2 of the no-boil lasagna noodles on top of the sauce.

Add half of the ground beef on top of the noodles. 

Add half of the Italian sausage on top of the ground beef. 

Add half of the ricotta cheese mixture in large spoons full on top of the meat. 

Sprinkle with ⅓ cup of shredded mozzarella cheese.

Pour ⅓ of the remaining sauce on top of the cheese. 

Repeat steps 3-5 using the rest of the beef, Italian sausage, and ricotta cheese mixture.

Pour the remainder of the sauce on top. 

Sprinkle with ½ cup of mozzarella cheese. 

Cover the skillet with an oven-safe lid or non-stick aluminum foil.

Bake for 35 minutes. 

Remove the skillet from the oven and place the fresh mozzarella on top of the lasagna.

Return it to the oven, uncovered for another 10 minutes. 

Let it sit for 10-15 minutes before serving. 

Garnish with fresh basil and slices of tomatoes if desired.