This post may contain affiliate links which won't change your price but will share some commission.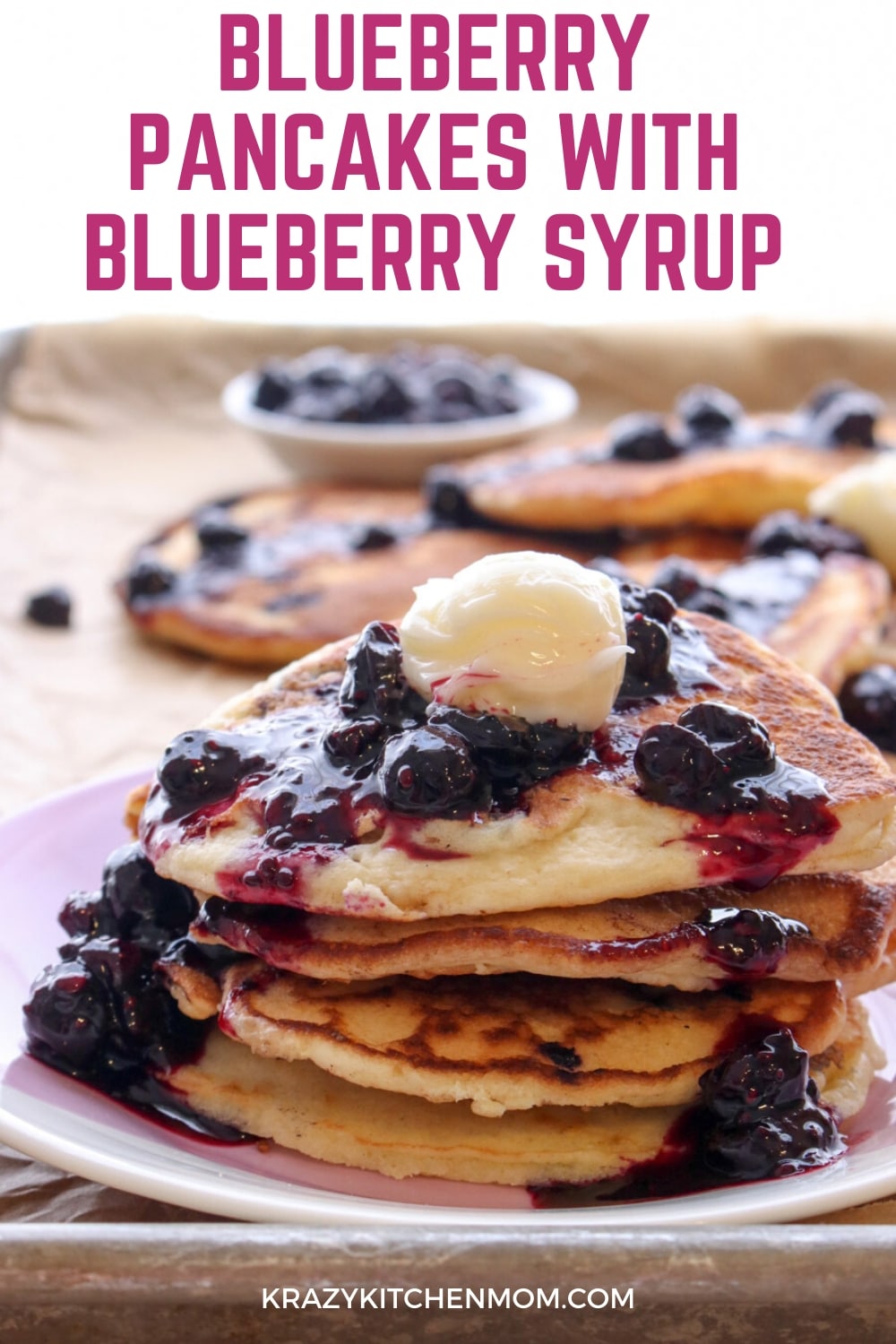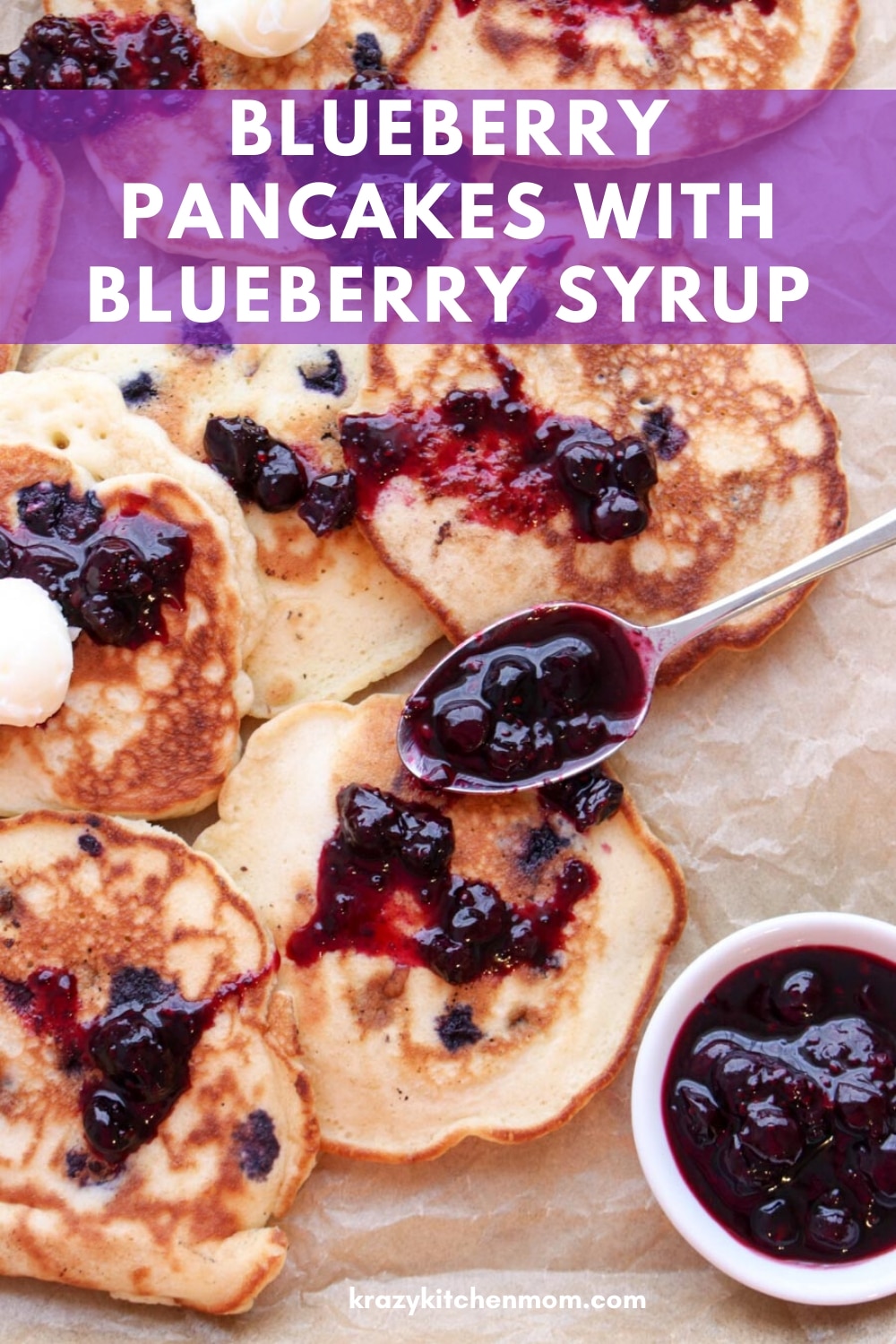 If you love blueberries, you're going to love my Blueberry Pancakes with Blueberry Lemon Syrup recipe. Loaded with fresh blueberries with just the right "zing" from the lemon.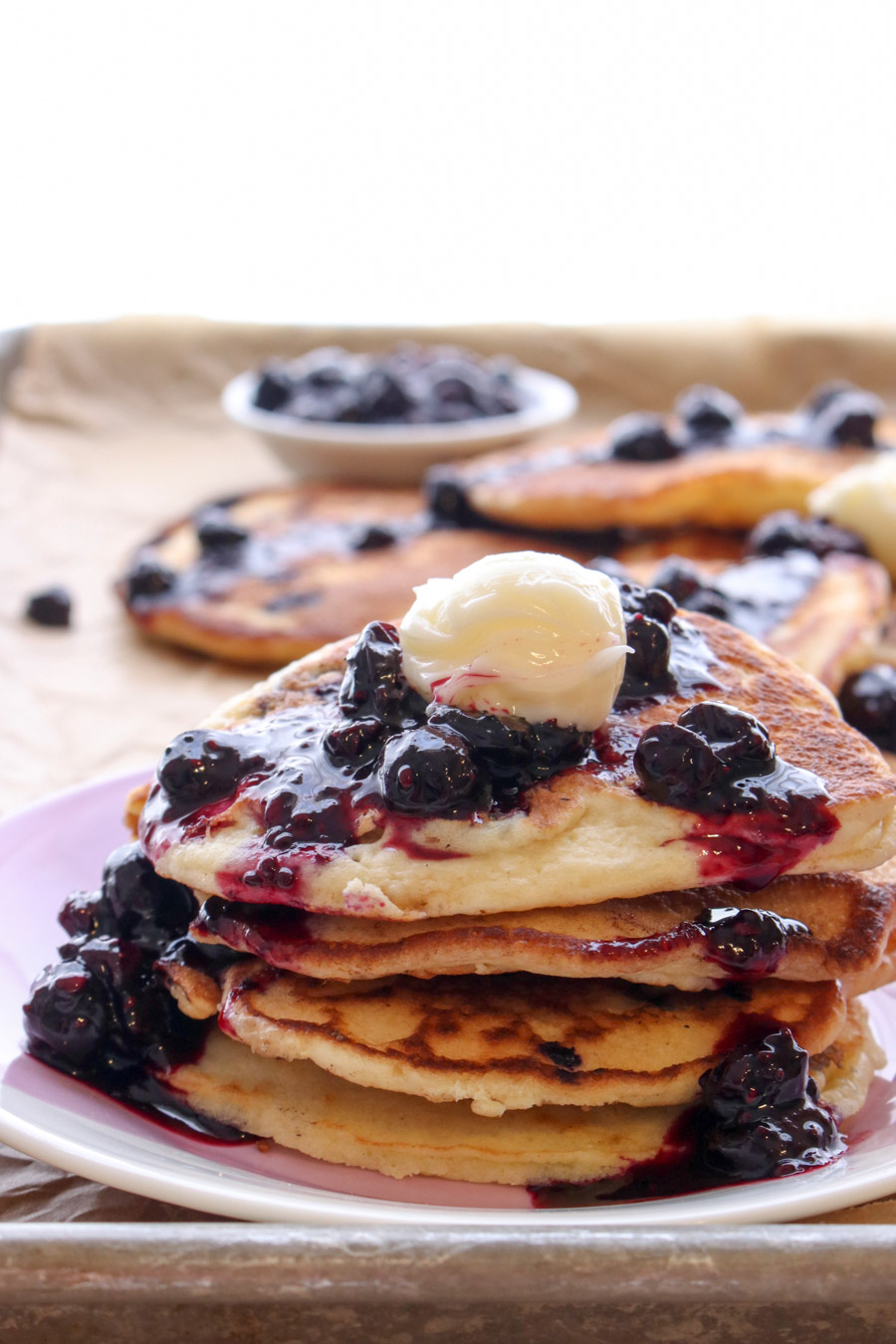 There's nothing like having homemade pancakes that are packed with fresh blueberries and, better yet, smothered in sweet and tangy blueberry syrup. But you know me, it may look like a decadent recipe, but it's really super simple to prepare. You can even make the blueberry syrup ahead of time. And for that matter, you can make the pancakes ahead of time too.
How to make fluffy delicious Pancakes
Add a leavening agent – One of the tricks to making fluffy pancakes is to use a leavening agent. Now that may sound a bit scientific but I'm really talking about adding baking soda to the mixture. Baking soda is a leavening agent that will allow your pancakes to rise a bit while they are cooking giving you a fluffier pancake. Even if you choose to use a boxed, pancake mix, add a little baking soda and I promise your pancakes will be lighter and fluffier.
Use a little bit of sugar in your pancake mix. You don't have to go overboard, but a tablespoon or two of sugar makes a big difference in the taste of your pancakes.
Don't over mix – It's OK it the mixture has a few lumps.
Let the mixture sit for about 10 minutes before making the pancakes so it thickens up a bit.
Use a 1/3 cup measure to scoop out the mixture to make uniform-sized pancakes.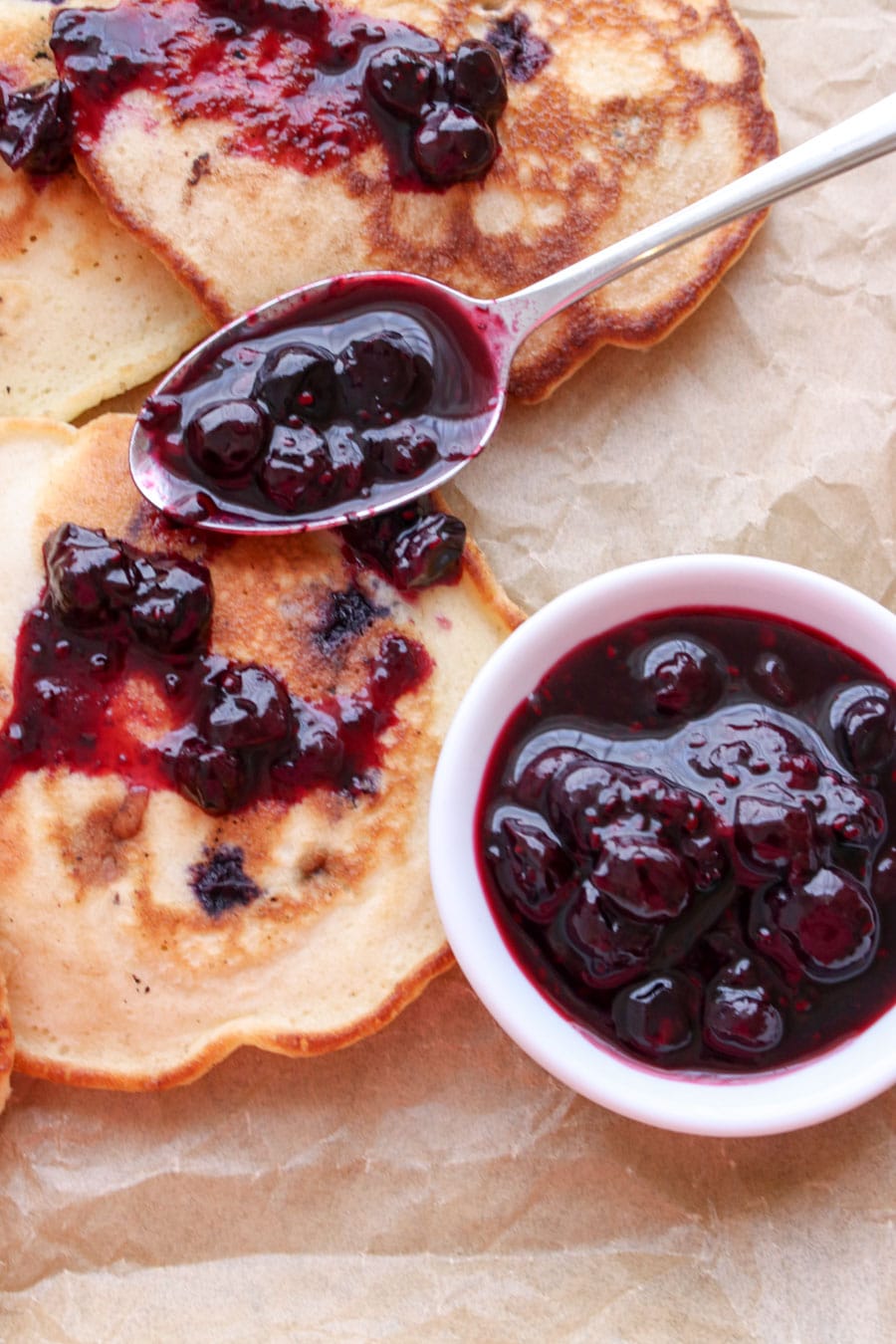 morning time-saver – make everything ahead of time
You read that right! You can make both the pancakes and syrup up to 2 days ahead of time. This is a great tip for holiday mornings or mornings when you have overnight guests and don't want to be in the kitchen cooking and cleaning all morning.
Make the pancake batter ahead of time. Store it in a dish covered with plastic wrap or like I do in a large mason jar with a lid. It will keep in the refrigerator for 2-3 days.
Make the syrup ahead of time and store it in a dish covered with plastic wrap or like I do in a small mason jar with a lid. The syrup will keep in the refrigerator for 4-5 days.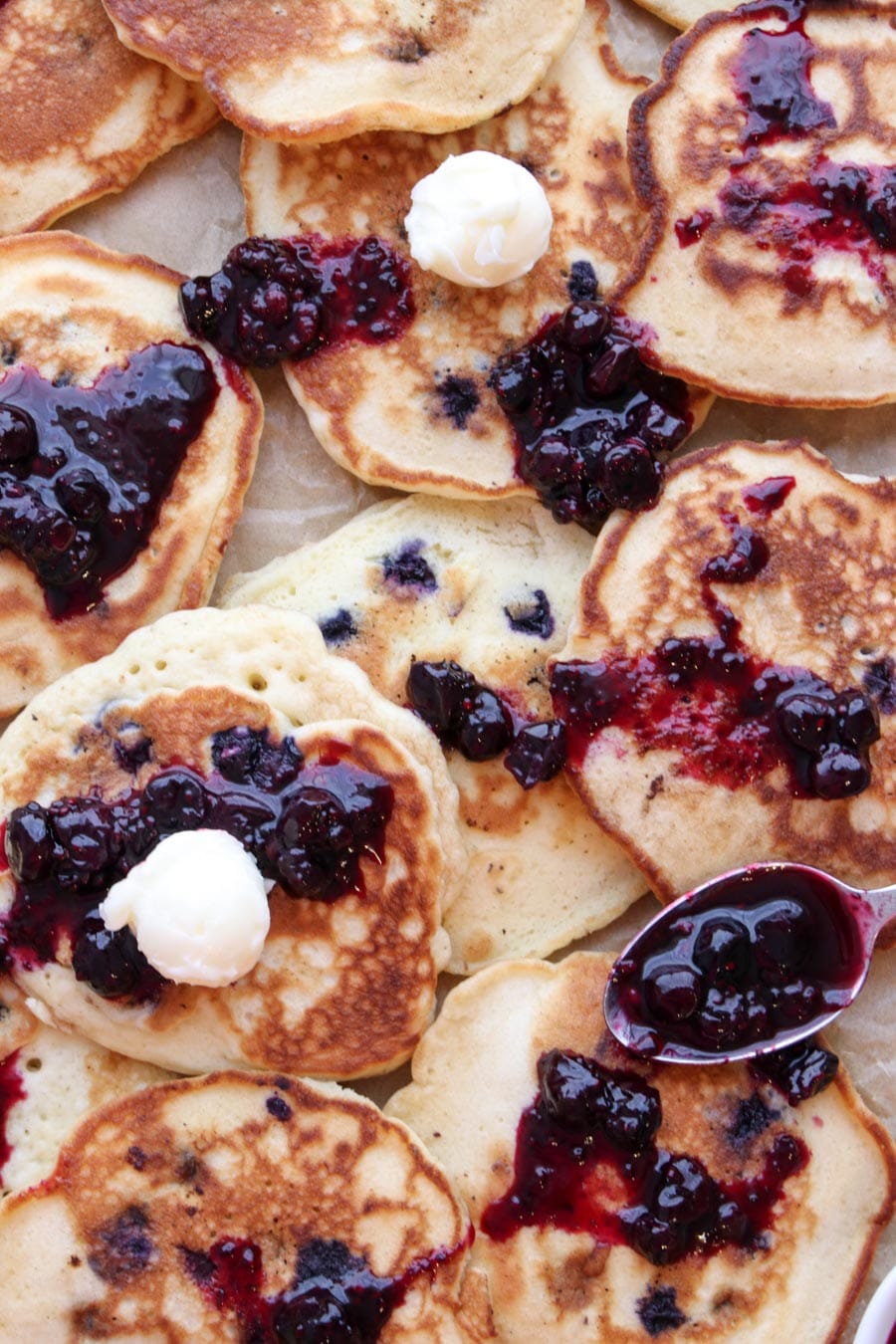 Krazy kitchen mom Freezing tips
Fresh Berries – Whenever any type of berry is on sale, I stock up. I make sauces, syrups, toppings, and even freeze them.

To freeze them, I clean them and let them dry on a paper towel on the countertop.
Then I place them on a small cookie sheet or plate, cover them lightly with plastic wrap and place them in the freezer for 4 hours.
Next, I scoop them all up and put them in a ziptop freezer bag.
Now I have fresh/frozen berries whenever I want them.

Pancakes – Imagine having homemade pancakes anytime you'd like. You can do that by freezing them. Here's how you do it:

Make a double batch of this recipe.
Cool the pancakes completely.
Wrap them in plastic wrap with a piece of parchment or plastic wrap between each pancake, and then place the stack in a ziptop bag.
I like to make them in stacks of 3 or four, wrap each stack and place them all in a large ziptop bag.
To thaw, you can take a stack out the night before you are going to eat them and place it in the refrigerator. They will be thawed and ready to reheat in the morning.
To reheat, wrap them in aluminum foil and place them in a 325° preheated toaster oven or oven for about 10 minutes. Or you can microwave them 30-seconds at a time until they are warmed.

Berry Syrup – Since I could eat berry syrup on everything, I like to keep a homemade batch in my freezer at all times. Just thaw and it's ready for topping, not only pancakes, but it's great for Greek yogurt, ice cream, oatmeal, and anything else you want to cover in yummy fresh berry syrup.

Cool the berry syrup completely.
Pour it into a ziptop bag.
Lay the bag down in the freezer so that it freezes flat (this is a great space saver idea).
To thaw, remove the bag from the freezer and place the bag in the refrigerator for several hours or thaw it on the countertop for 1-2 hours.
Reheat it in a covered dish in the microwave (30-seconds at a time) or simmer in a pan on the stovetop for 3-5 minutes.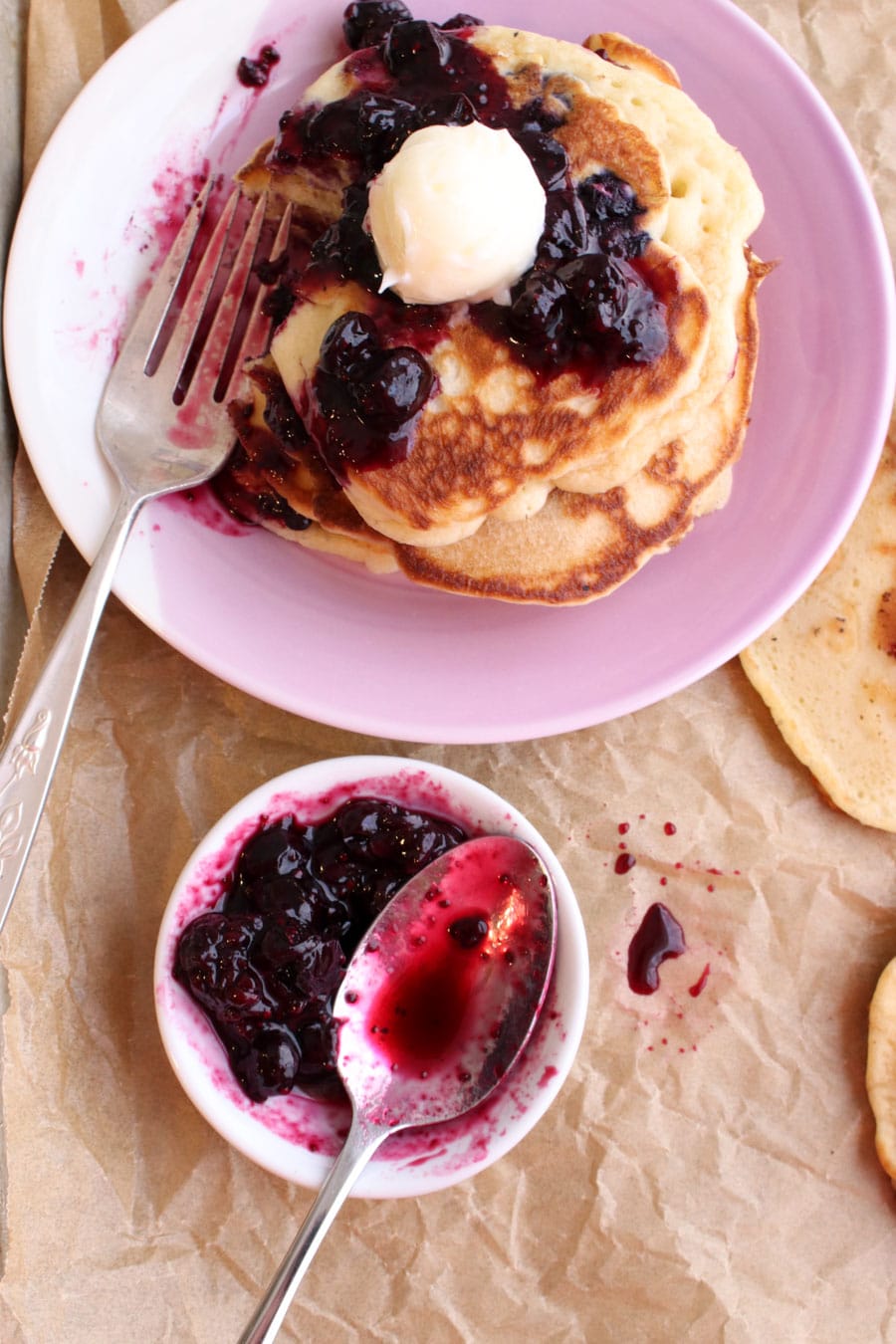 You might also like these recipes:
Skinny Lemon Berry Gin and Tonic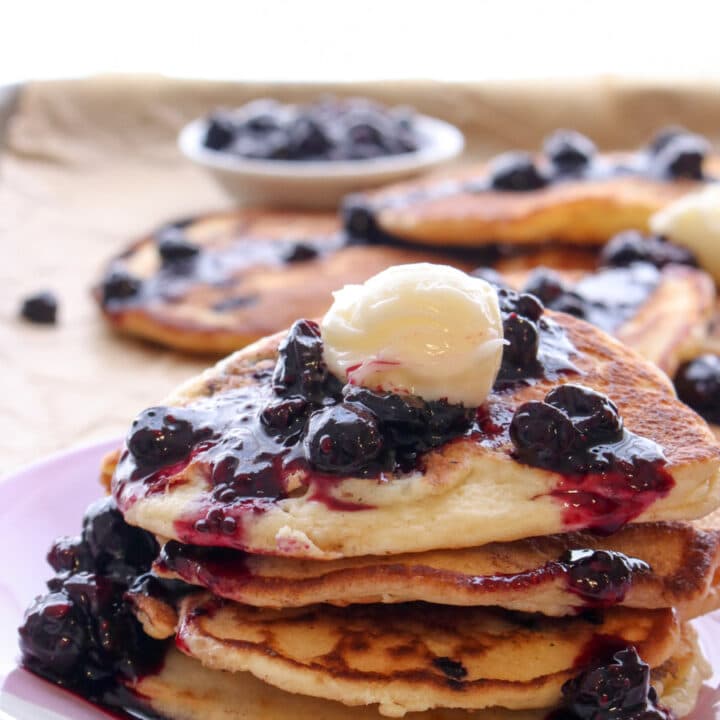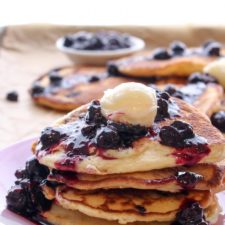 Blueberry Pancakes with Blueberry Lemon Syrup
If you love blueberries, you're going to love my Blueberry Pancakes with Blueberry Lemon Syrup recipe. Loaded with fresh blueberries with just the right "zing" from the lemon.
Print
Pin
Rate
Ingredients
For Pancakes
1

cup

flour

2

TBS

sugar

2

TBS

baking powder

Pinch

of salt

1

cup

milk

1

egg

2-3

TBS

butter

Extra butter for serving
For the Syrup
1

cup

fresh blueberries

1/8

cup

sugar

Zest and juice from 1/2 lemon

1

TBS

black chia seeds

optional
Instructions
For the Pancakes
Mix the four, sugar, baking powder, and salt in a bowl.

In a separate bowl beat the egg and milk together.

Pour the wet ingredients into the dry ingredient and mix it together.

Let the batter sit on the countertop for 5-10 minutes.

Preheat the oven to 200°

Spray a large skillet with cooking spray or add a little butter.

Turn the heat on medium to low heat.

Using a 1/4 cup measuring cup, spoon the batter into the skillet. (I usually make these in batches of three pancakes at a time.)

When you see large holes start to form on the top of the pancakes, you'll know they are ready to flip.

As each batch is done, place them on a cookie sheet or plate in the 200° oven to keep them warm until serving.
For the Syrup
Place the berries, sugar, lemon zest, and lemon juice in a small stove top pan.

Bring it to a boil for 2-3 minutes.

Reduce it to a simmer for 4-5 minutes.

Remove from heat and let it cool for 10 minutes.

Add the chia seeds.