This post may contain affiliate links which won't change your price but will share some commission.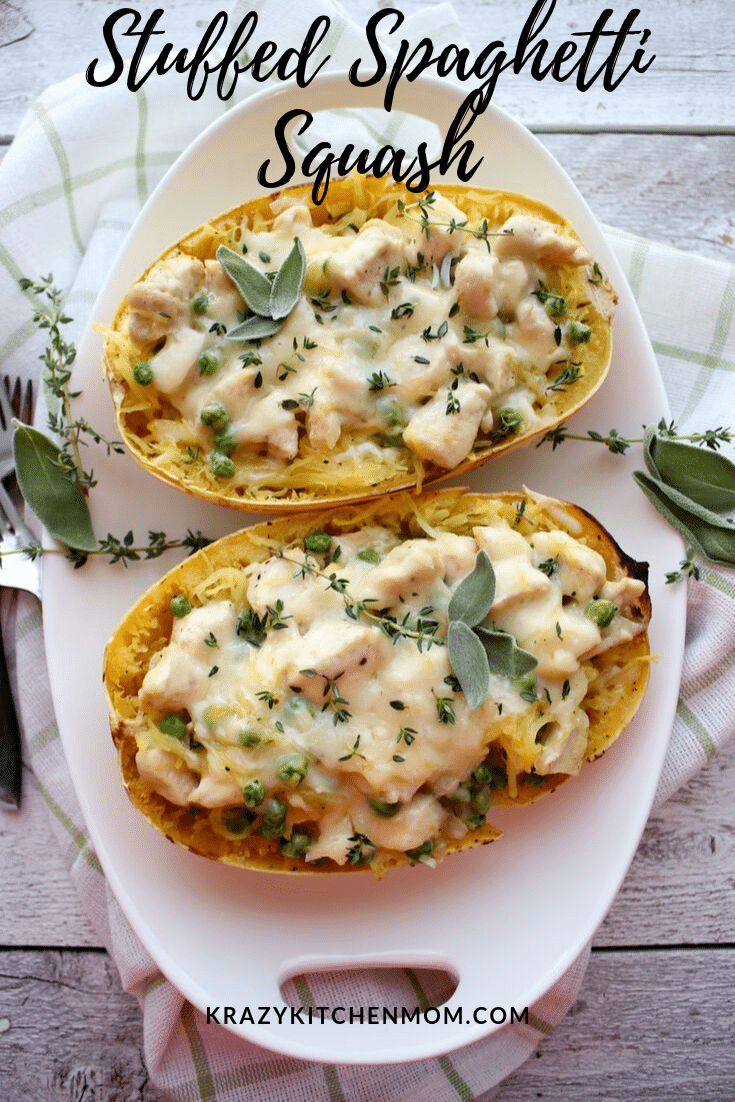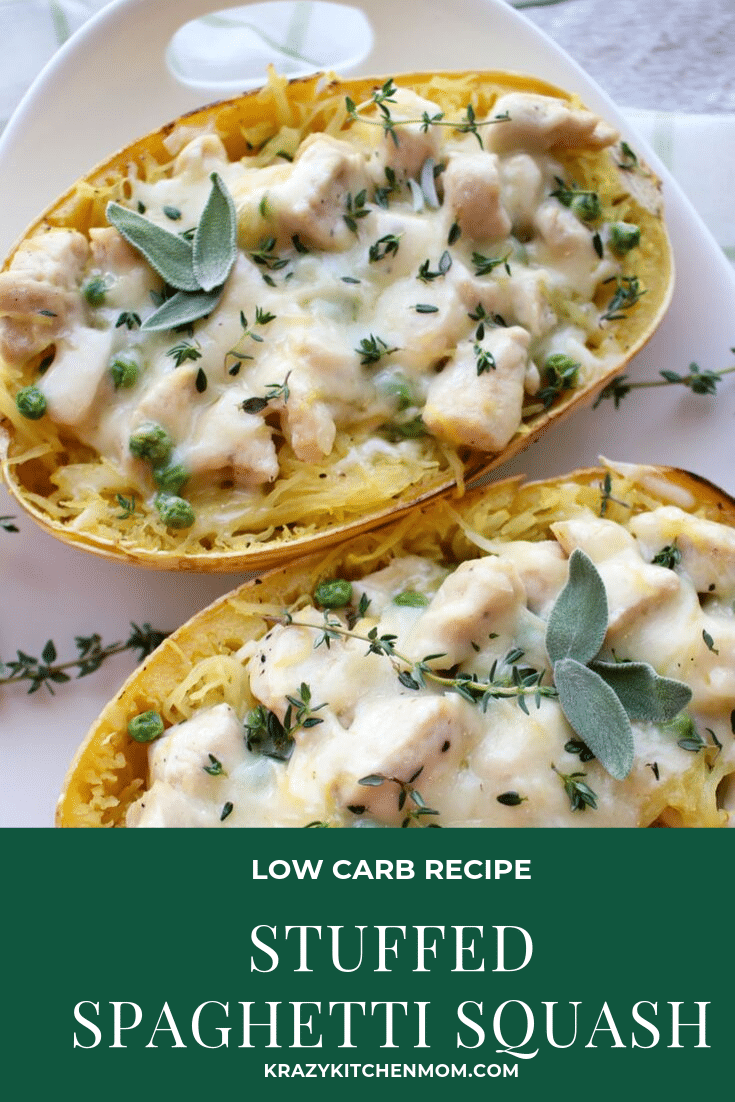 Low carb Stuffed Spaghetti Squash is full of chicken, peas, and fresh herbs all topped with nutty Gruyere cheese than baked to perfection.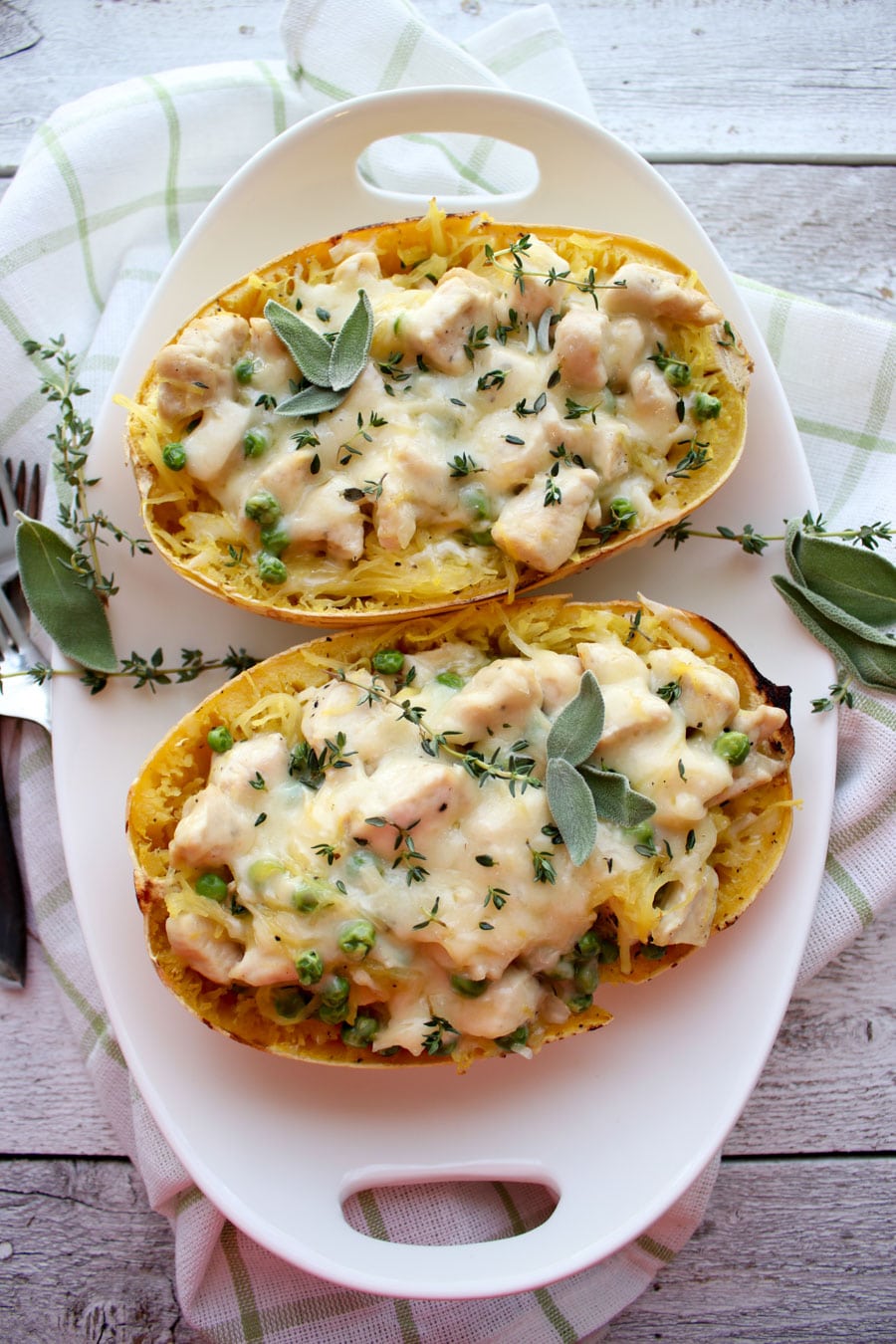 If you haven't tried Spaghetti Squash or are looking for a new way to serve it, Stuffed Spaghetti Squash is the perfect recipe.
I have been trying to focus on some healthier low-carb dinners lately and since we love Spaghetti Squash I came up with this hearty recipe that is packed chicken, peas, and cheese.
cutting a spaghetti squash
Slicing the squash in half is the toughest part of the entire recipe and it can be difficult because it has a very thick outer skin. Make sure you have a large sharp knife. If you have cooking safety gloves, go ahead and put them on for this process.
Use a large cutting board that will not slide on your countertop.
Stand the squash upright with the stem side facing up.
Start cutting at the top and slice down through the squash.
You now have two equal pieces of squash.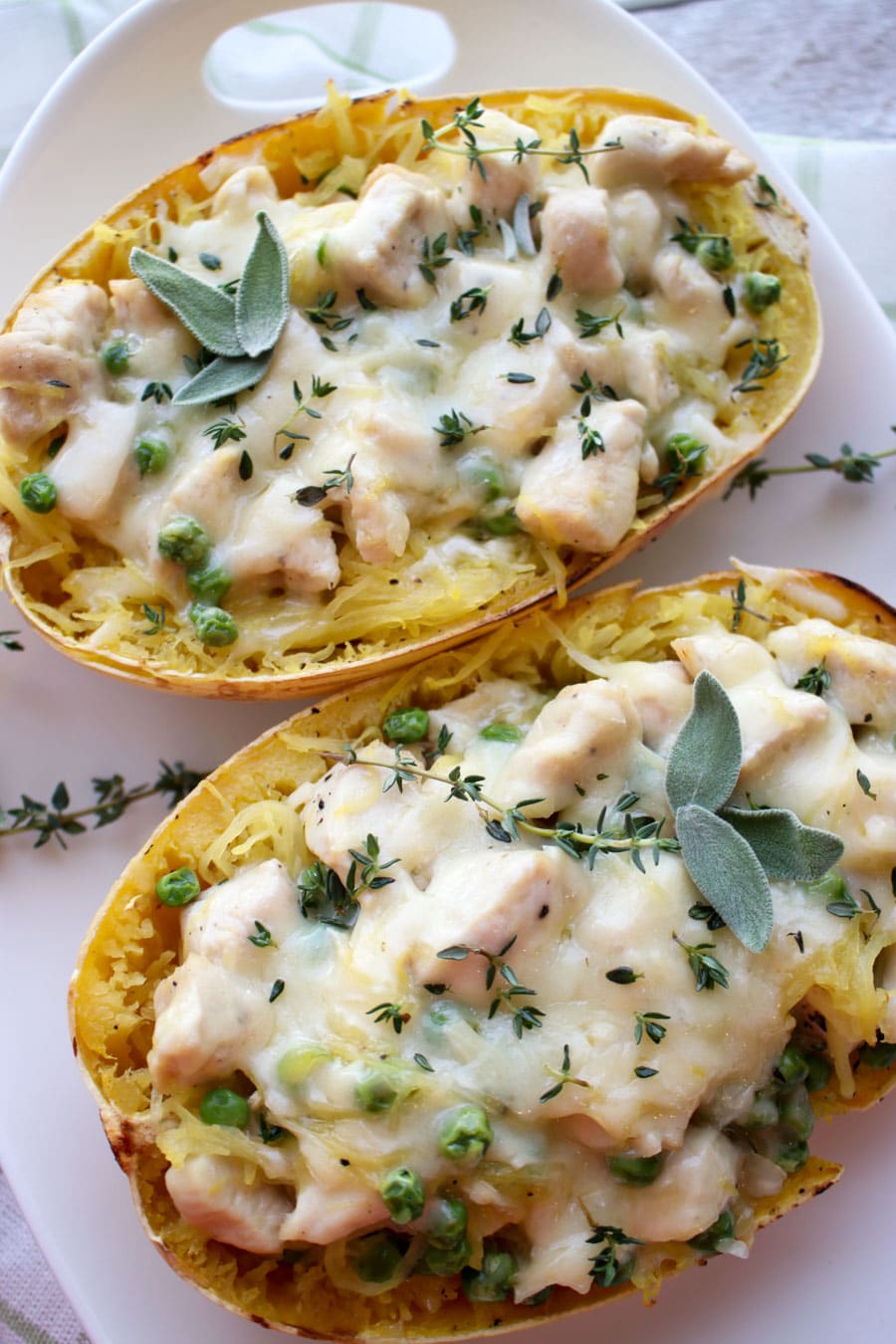 How to bake spaghetti squash
Preheat the oven to 425°
Cut the squash in half lengthwise. Make sure you use a sharp sturdy knife as the squash can be difficult to slice.
Use a large spoon to scrape out the seeds. Discard the seeds.
Rub both sides with extra virgin olive oil and then salt and pepper.
Flip the squash over so that it is face down on the cooking sheet
Bake for 40-45 minutes.
Remove it from the oven and carefully flip them back over – they will be very hot. Let them cool for about 15 minutes.
Using a fork pull the strands of squash away from the sides of the squash skin and fluff the strands as you go. This is really the fun part, in my opinion!
what to serve with stuffed spaghetti squash
This recipe is actually a full meal and since it's packed with veggies – the squash and peas, I usually just serve it alone or with a tangy cucumber salad. If you are not focused on a low-carb diet, slices of rustic bread and butter would go perfectly.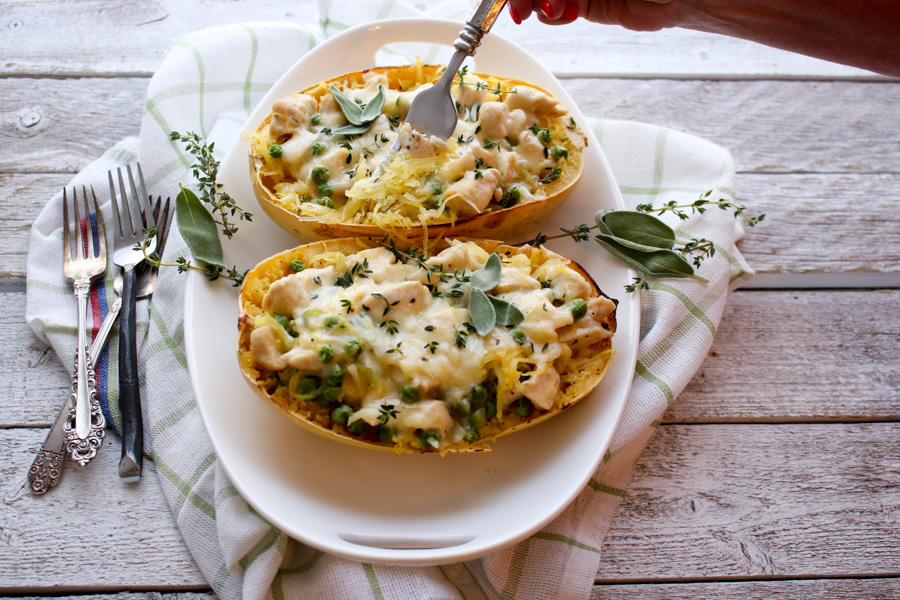 Krazy kitchen mom tips
To ensure that your cutting board doesn't slip, you can use one of these two methods:
The method I prefer most is to use a non-slip rubber jar opener. Simply place one or two of the jar openers under the cutting board and I can assure you it will stay in place.
If you don't have a jar opener, simply wet 2-4 paper towels and ring them out very hard. Place the paper towels under the cutting board and it should not slip.
If you want to make this recipe even quicker use store-bought rotisserie chicken instead of cutting and cooking your own. I'm always a fan of short-cuts!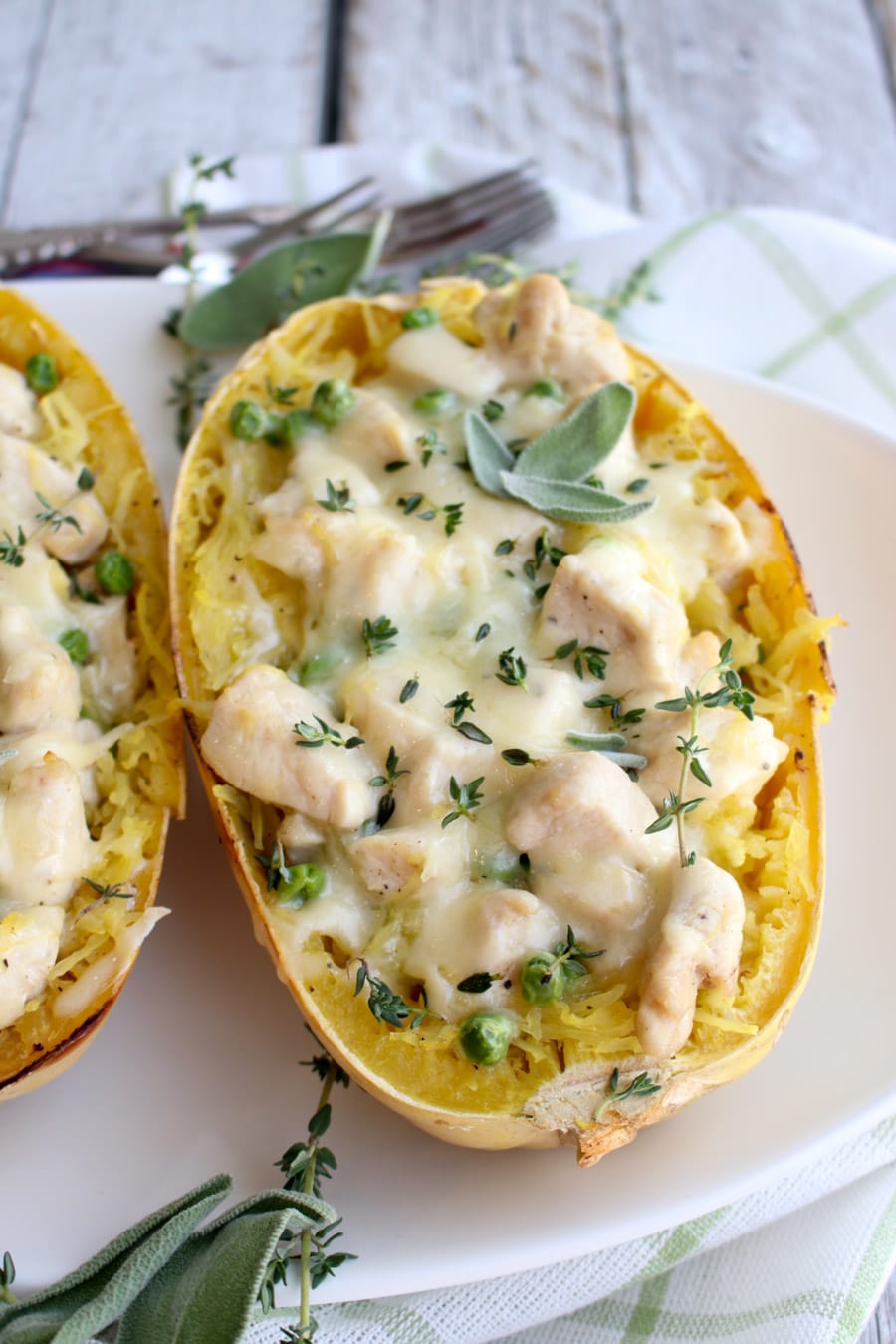 If you like this recipe and the tips, feel free to leave me a message in the comments section. And go ahead and pin this to your favorite Pinterest board.
Print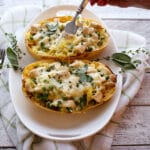 Stuffed Spaghetti Squash
---
Description
Low carb Stuffed Spaghetti Squash is full of chicken, peas, and fresh herbs all topped with nutty Gruyere cheese than baked to perfection.
---
1

Spaghetti Squash

2

chicken breasts

1 cup

of chicken stock

2

TBS extra virgin olive oil

2

TBS butter

2

TBS flour

3/4 cup

of frozen peas – thawed

5 ounces

of grated gruyere cheese

4

sprigs of fresh thyme (substitution:

1 teaspoon

dried thyme)

3

fresh sage leaves (substitution:

1 teaspoon

dried sage)
Salt and pepper
Fresh sage and thyme for garnish (optional)
---
Instructions
To roast the squash
Preheat oven to 425 degrees.
Cut squash in half length-wise.
Remove seeds and loose strings with a spoon and discard.
Rub insides of both halves with olive oil and add salt and pepper.
Place both halves face down in a baking dish and bake for 40-45 minutes.
Once the squash is baked, remove it from the oven and carefully flip the sides so they are face up.
Let them cool for 10-15 minutes.
Use a fork to pull the stringy flesh away from the skin fulffing it as you go.
Reduce oven to 350 degrees.
To make the chicken and pea – do this while the squash is baking
Cut the chicken breast into small pieces.
Salt and pepper the chicken.
Add 1 TBS olive oil to a stove-top skillet on medium high heat.
Cook the chicken for 10 minutes, stirring so all of the sides are browned.
Remove the chicken from the skillet and set it aside.
In the same skillet, add the butter and flour and whisk to make a rouxe.
Slowly wisk in the chicken stock.
Add 2 TBS of the grated cheese into the stock and continue to whisk for about 3 minutes.
Add the fresh herbs.
Add the chicken back to the skillet.
Reduce the heat to medium-low and cook for 10 minutes.
Add 2 large forks full of squash, from each squash side, and combine it into the chicken and pea sauce.
To assemble the squash for second bake
After baking, cool for 10 minutes so you do not burn yourself pulling the cooked squash from the sides of the shell.
Fill each of the squash halves equally with the chicken and pea sauce.
Divide the remaining cheese into to equal parts and top each squash half with the cheese.
Return the squash to the oven and bake for another 15 minutes, until the cheese melts.
Prep Time:

20 mins

Cook Time:

45 mins

Category:

Low carb

Method:

Baked

Cuisine:

American
Keywords: low-carb, low-carb recipe, healthy recipe, winter squash