Summer is peak Stone Fruit Season. It's the time of year for the best cherries, plums, apricots, nectarines – all those juicy goodies. And I just could not pass up the amazing wall of plums at my local market yesterday, so I quickly grabbed a bunch without even thinking I would actually cook something with them before I ate them all on the way home.
I started out thinking about a dessert to go with our steak dinner and since fruit  is a great dessert after a hearty meal the plan became easy – baked plums with a crumble.
I actually call the recipe 4 x 2 Plums because I got two uses out of four plums!
Round 1 of 4 x 2 Plums was a baked plum with crumble topping.
Round 2 of 4 x 2 Plums was a plum sauce with crumble topping – great for breakfast the next morning.
Print
4 X 2 Plums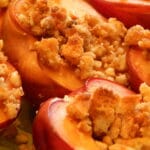 Two recipes with Four Plums
Scale
Ingredients
4

Ripe plums

1

TBS honey

1

TBS room temperature butter

1/4 cup

chopped walnuts

1/4 cup

crushed cookies (I had biscotti so that's what I used)

1

TBS sugar
Instructions
DIRECTIONS for Round 1
Preheat oven to 350 degrees.
Half and core the plums.
Place them in a small baking dish and drizzle tops with the honey.
Bake for 15-20 minutes until they start to soften.
Place nuts and sugar in a small stove top skillet and cook until they start to brown.
Watch them carefully as the sugar and nuts will burn easily.
Remove plums from the oven and set aside.
Mix sugar-nut mix with crushed cookies and butter.
Top each plum with the crunchy mixture and place under broiler for 3-5 minutes or until the topping starts to brown.
DIRECTIONS for Round 2
Round two is because I have leftovers of round 1.
Remove the crunchy mixture from the plums and place in a zip-top bag and refrigerate overnight.
Peel and dice the plums and place them is an air-tight container overnight.
In the morning, cook the peeled and diced plums on medium heat on the stove top for 20-25 minutes.
Stir the mixture occasionally.
Remove from heat and then top with the crunchy mixture.
You can serve this as a fruit sauce with breakfast or top of plain Greek yogurt. Enjoy!