This post may contain affiliate links which won't change your price but will share some commission.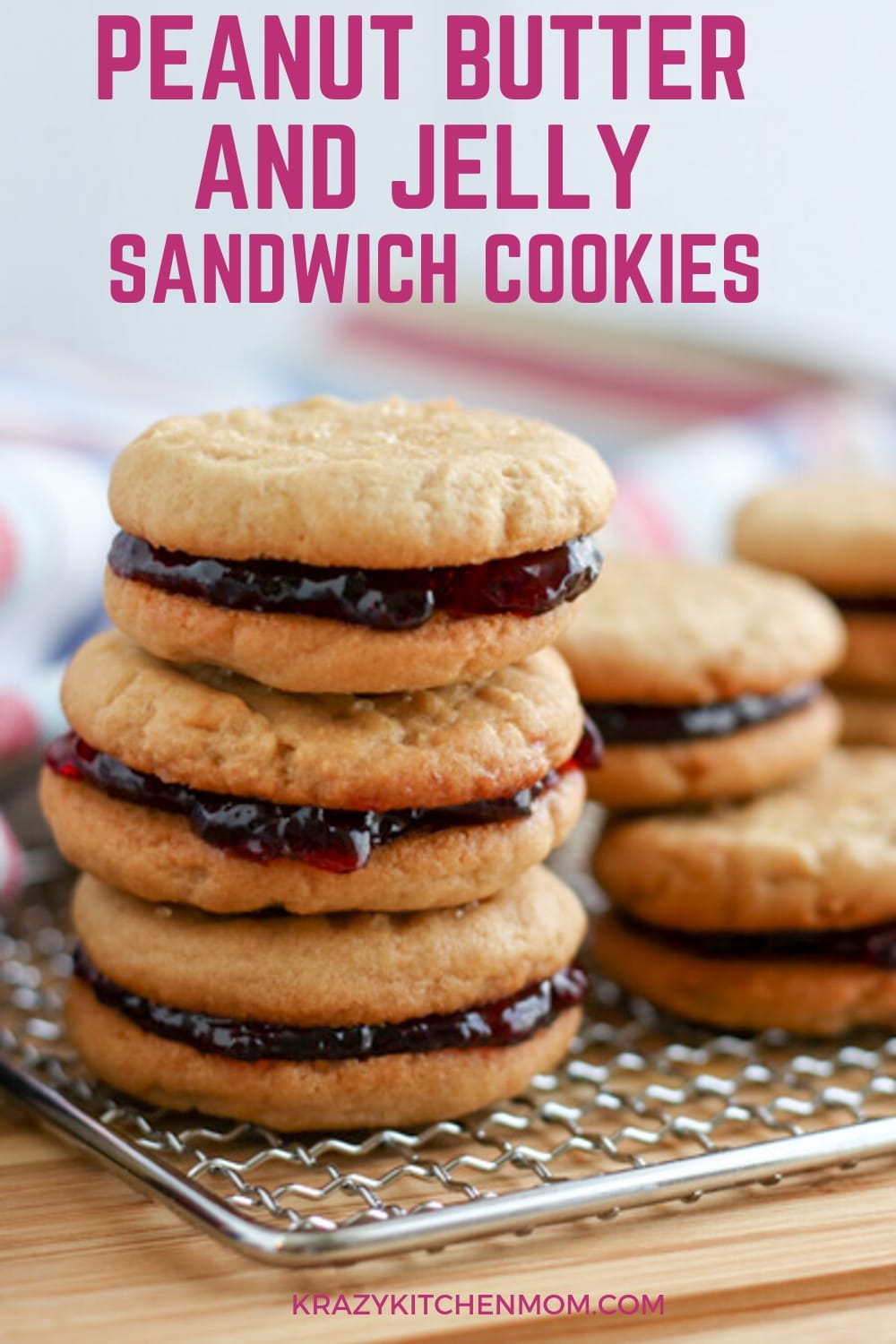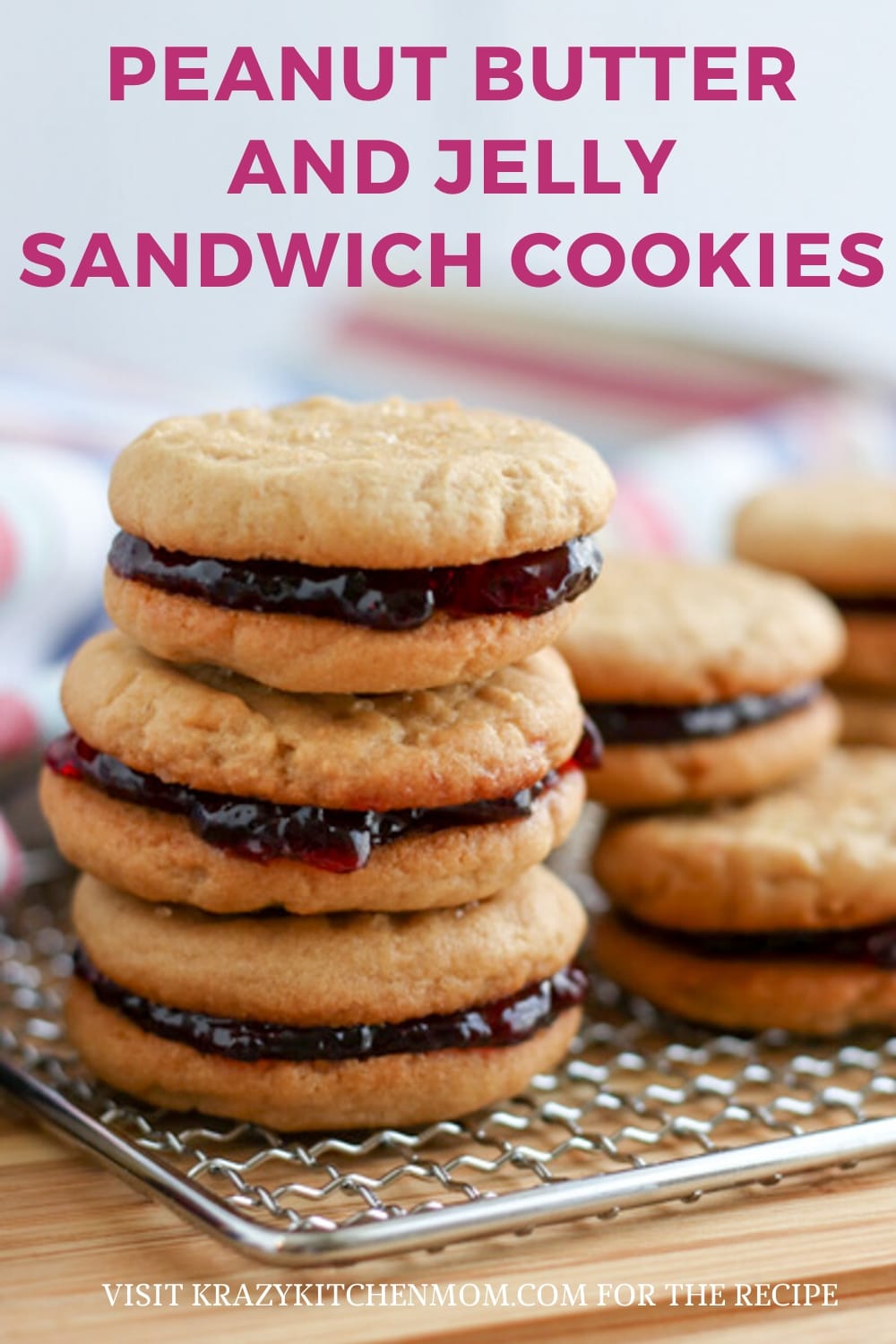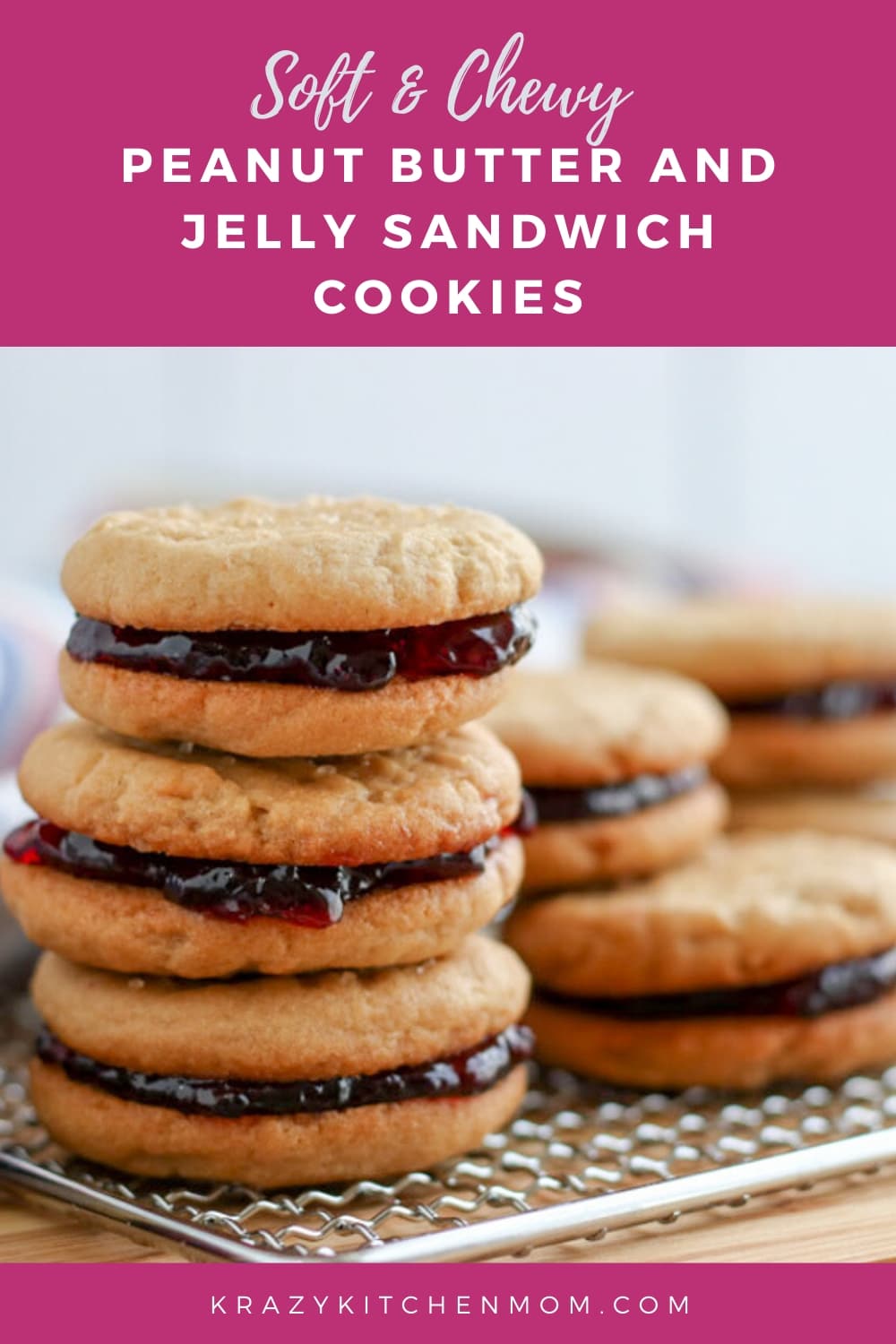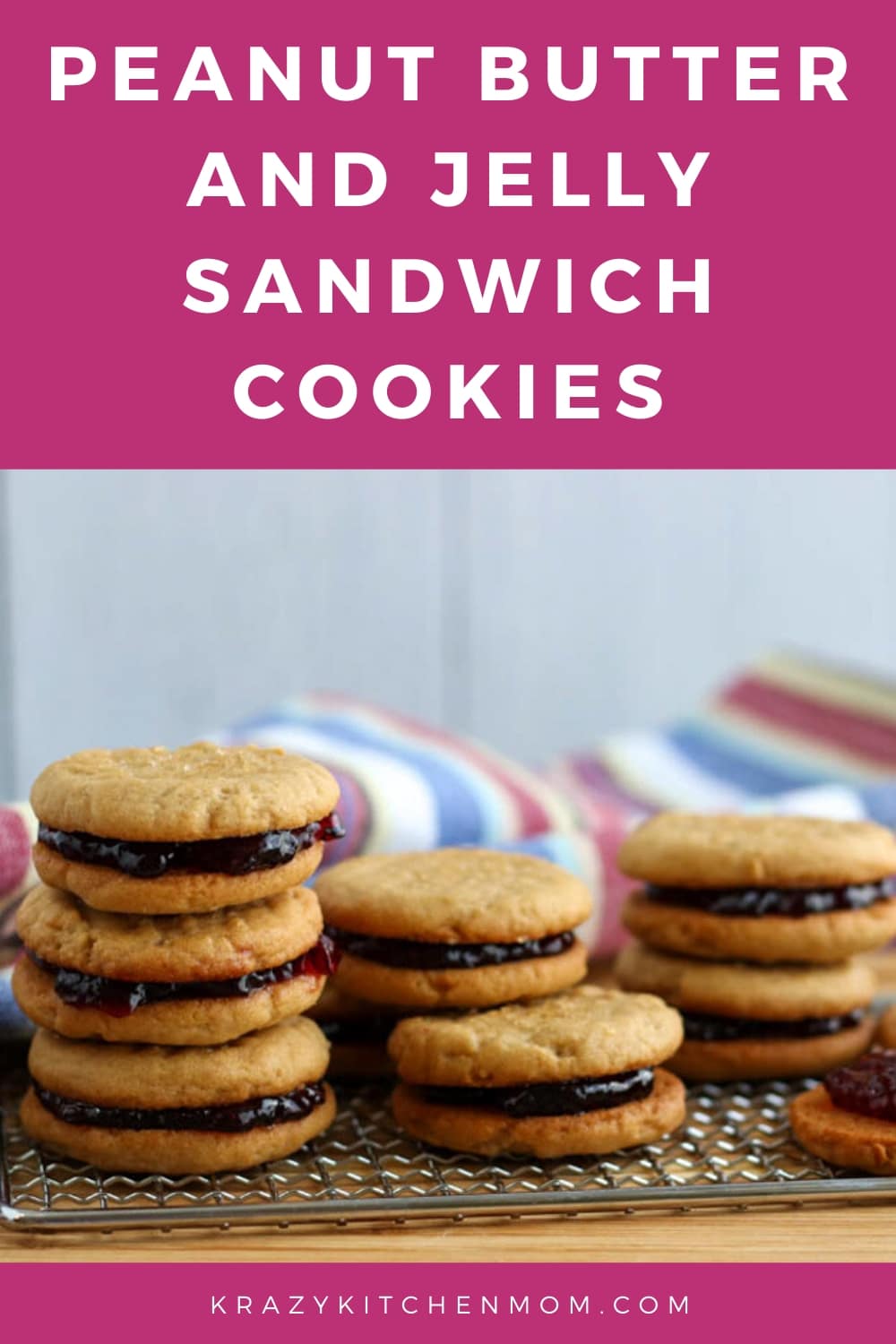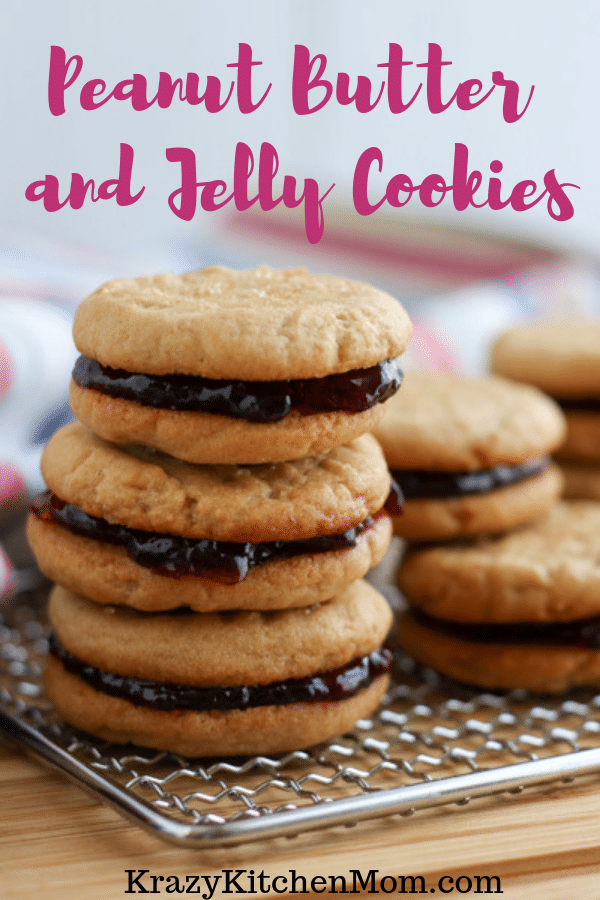 Two peanut butter cookies sandwiched together with grape jelly make the best Peanut Butter and Jelly Sandwich Cookies.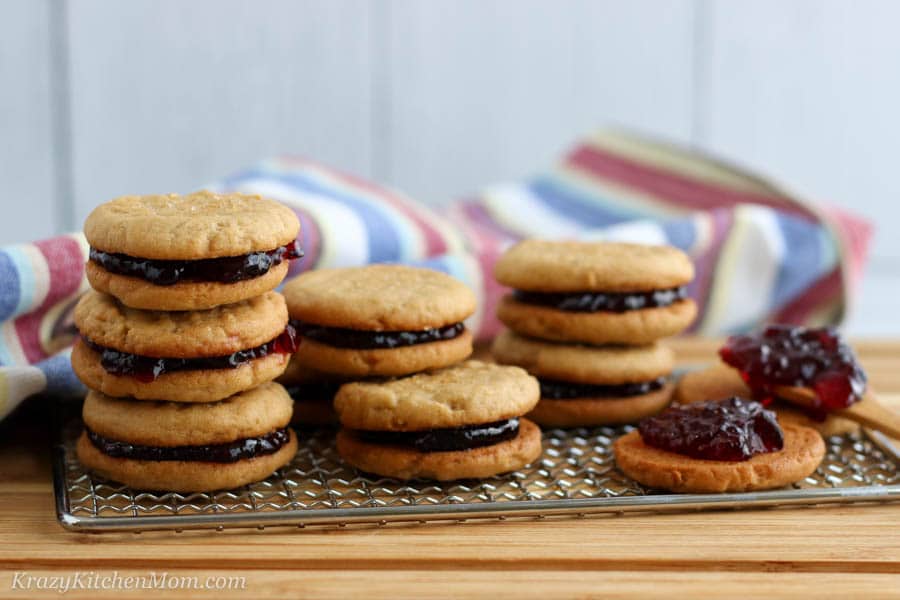 Peanut Butter and Jelly Sandwich Cookies
I'm not sure where I can up with the idea to sandwich two peanut butter cookies together and fill them with grape jelly. But I'm sure glad I did.
And they taste exactly like a nutty sweet PB&J Sandwich!
What kind of peanut butter do you use for PB&J cookies?
I used extra crunchy peanut butter in my cookies because I wanted that extra little crunch of the peanut pieces. You can certainly use creamy or regular crunchy peanut butter. You can also use almond butter or cashew butter for a little different taste in your cookies. Or better yet, just use what you have in the pantry.
Jelly or jam?
I used traditional concord grape jelly for this recipe because I made this batch for my son (30 years old) who likes his PB&J just like he ate it as a kid – only with grape jelly. He would never eat jam or marmalade and never any other flavor than grape-flavored jelly.
Try these flavors
Strawberry jam
Raspberry jam
Orange marmalade
Boysenberry jam
Apple butter
Fig spread
You get the picture – get creative!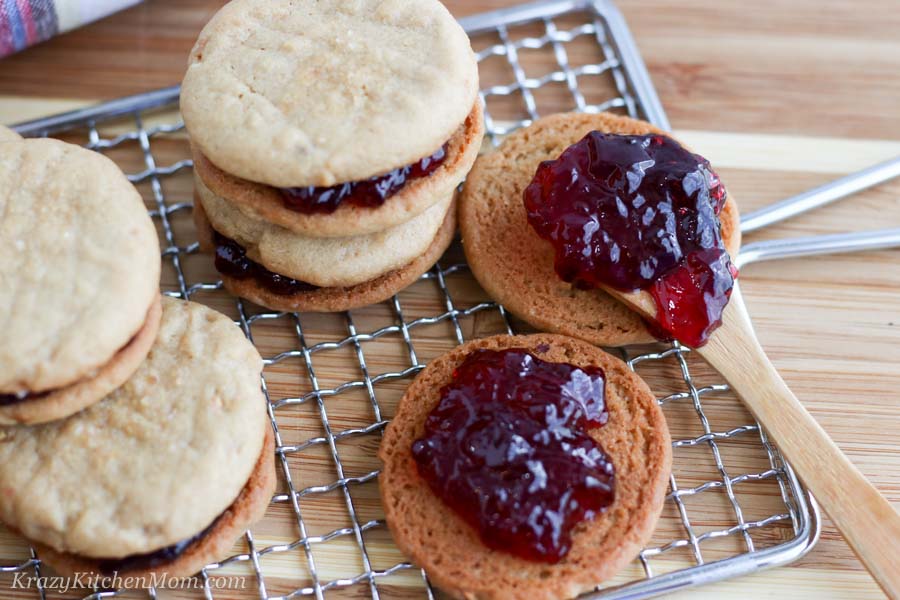 To refrigerate or not to refrigerate the cookie dough
Ok, let's start with the question of refrigerating the dough before you bake the cookies or not. I like to refrigerate the cookie dough for about 10 minutes before I bake the first batch.
I find refrigerating the dough allows the flavors to come together and intensive a bit more. This also gives me time to clean up and put away the ingredients before I start baking.
You can also make the dough a day before you're going to bake the cookies and refrigerate it overnight.
The next question is refrigerating the cookies after you bake them.
In most instances, I would not recommend refrigerating the cookies after they are baked. But in this case, I do refrigerate these cookies if I am not going to serve them right away.
The reason I refrigerate them it that it allows the jelly to get firm which helps to hold the cookies together.

Freezing cookie dough
Freezing cookie dough is one of my favorite tricks. Here's what I do:
Mix the dough just like you normally would.
Make room in your freezer for a cookie sheet.
Place parchment paper on a cookie sheet.
Use a cookie scoop to make equal sized cookie balls and line them up on the cookie sheet. They can be close, but make sure they don't touch each other.
Freeze the cookie dough balls for 8 hours or overnight.
Transfer the frozen cookie balls to a large zip-top bag and store them in the refrigerator.
Whenever you want fresh baked cookies, remove a few from the freezer and bake them as usual.
I bake them at the same temperature as the recipe calls for; in this case 375°
I start with the same bake time but usually end up baking them for a minute or two longer than the un-frozen cookie dough.
What's with the fork hash marks on peanut butter cookies?
Using a fork to make hash marks on peanut butter cookies is not just a tradition or to make them easily identifiable, it serves a real purpose. The forked hash marks flatten the cookies and allow them to bake more evenly. Now you know!

Krazy Kitchen Mom Tip
For these cookies, I use a 2-inch cookie scoop. After I scoop out the dough, I break the ball of dough in half so I have two smaller balls that are exactly the same size. That way I have smaller cookies but keep the sizes consistent.
Looking for more sweet treats? Try some of these recipes: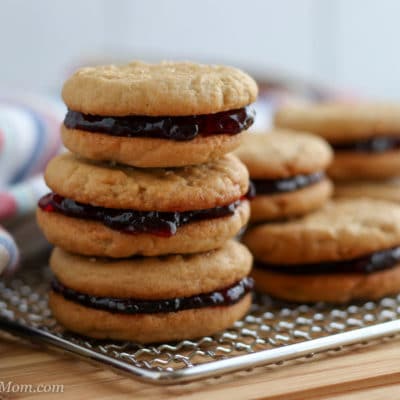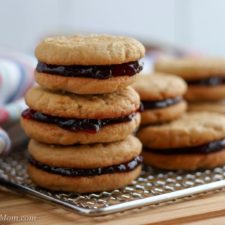 Peanut Butter and Jelly Cookies
Two peanut butter cookies sandwiched together with grape jelly make the best Peanut Butter and Jelly Cookies. 
Print
Pin
Rate
Ingredients
1

cup

of extra crunchy peanut butter

substitution: creamy peanut butter

1

cup

or 2 sticks of salted butter - room temperature

substitution: unsalted butter

1

cup

of light brown sugar

1

cup

of granulated sugar

2

eggs

1

teaspoon

baking powder

1-1/2

teaspoon

baking soda

1-1/2

cups

of all-purpose flour

3

TBS

turbinado or raw sugar for dusting cookie before baking

substitution: white sugar

1

small jar of jelly
Instructions
Preheat oven to 375°

Using a hand mixer or a stand mixer, add peanut butter, butter, brown sugar, white sugar, and eggs.

Mix for 2-3 minutes.

Add baking soda and baking powder.

Add flour 1/2 cup at a time, mixing on low speed.

Once all of the flour is added, mix again until the ingredients are thoroughly mixed together.

Using a 2-inch cookie scoop, scoop out the dough, break the scooped ball into two smaller balls and place them on a parchment paper lined cookie sheet. If you don't have a cookie scoop, use a teaspoon. You want these cookies to be smaller than a usual homemade cookie.

Using a small salad fork, make a hashtag pattern in each cookie make sure they are all consistent in size when you press down.

Sprinkle with raw sugar.

Bake for 12-14 minutes.

Cool completely on a wire rack.

When cookies are completely cool, spoon 1-2 teaspoons of jelly onto the back side of one cookie and then press another cookie on the jelly side to make a sandwich.

Serve right away or store in an air-tight container in the refrigerator.