You will be amazed at my Peanut Butter and Jelly Burger. It's nutty and salty from the peanut butter and a little spicey from the hot red pepper jelly.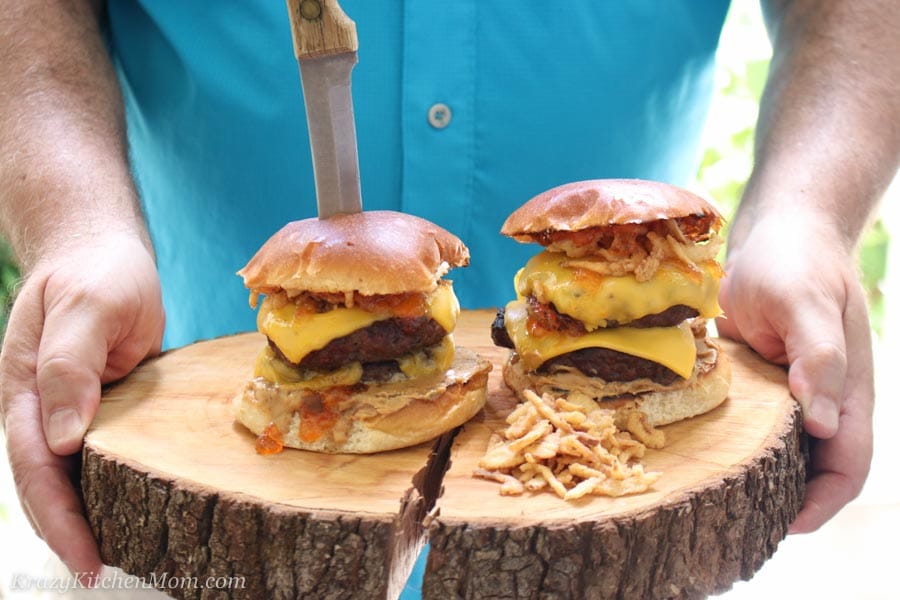 This post is part of a fun crazy burger grill giveaway hosted by GirlCarnivore but this amazing Peanut Butter and Jelly Burger is all my own creation.
Oh, baby – take a look at this Doubledecker, Peanut Butter and Red Pepper Jelly Cheese Burger. And if you think that's a mouth full to say just wait until you take a big bite.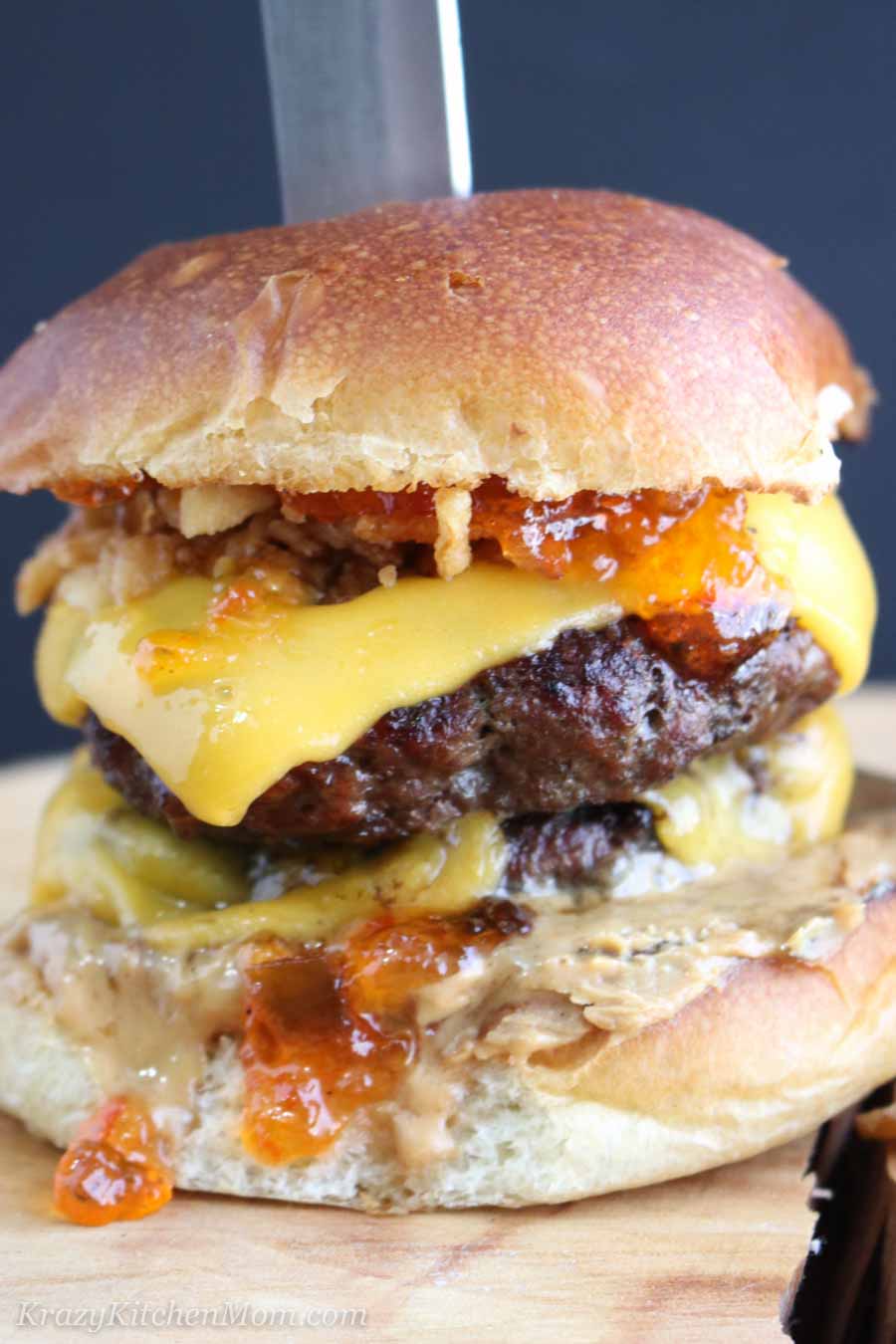 It's National Burger Month and I am joining Kita Roberts,  Girl Carnavor and lots of other burger-loving folks to create the best burger on the planted. Every day this month many burger-loving friends are creating new burgers to keep your grill full all summer long. Make sure you check them out on Instagram at #burgermonth or any of the hashtags below. But first, let's talk burgers.
Why did I choose to make a Peanut Butter and Jelly Burger?
I love anything salty and sweet and these are exactly the flavors I taste when I eat a PBJ sandwich – sweet from the jam or jelly and salty and nutty from the peanut butter. And if you've ever put a little cheese on your PBJ then you know that's another amazing flavor blast. So I thought, why not make a PBJ cheeseburger? If you read my recipes on a regular basis, you'll find I like a little heat which is why I added red pepper jelly and not something like grape jelly or apple jelly (although both of those would be great substitutes). I also wanted a little crunch, so I added some store-bought onion strings…you know – those crazy addictive little onion pieces that are so good.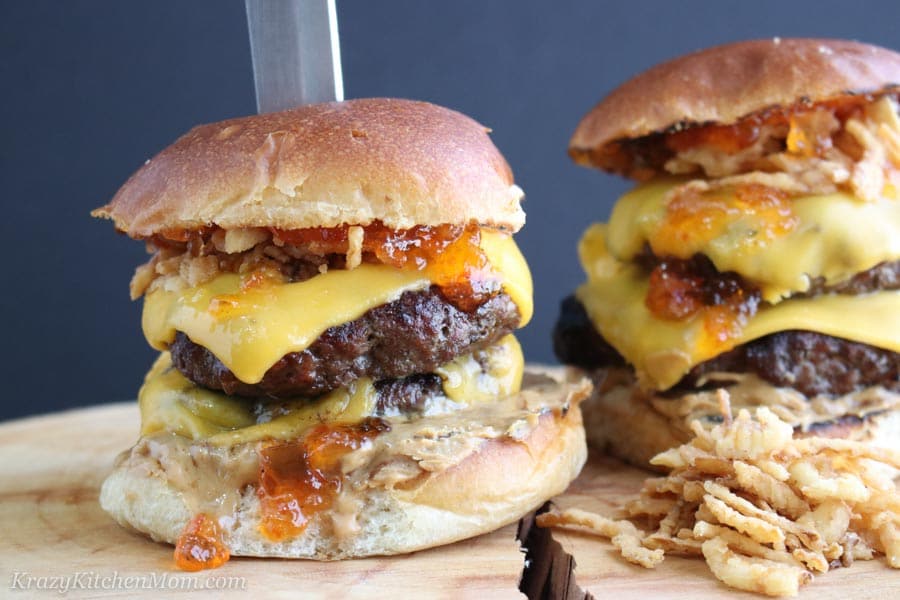 What kind of cheese goes best on hamburgers?
You want a cheese that has a good melting point. Some of the best are:

American
Provolone
Muenster
Monterey Jack
Colby
Cheddar
Swiss
How do you make a great burger?
A great burger is made with a mix of 80% lean and 20% fat known as 80/20 Ground Chuck. The 80/20 mix provides enough fat to help keep the burger moist while still providing great flavor.
How do you keep a burger most?
My secret is butter – yes – butter. I put 2 pats of salted butter on each patty. I start with very cold butter and break into small pieces and press the pieces into the burger. I place the burgers on the grill butter side up so the little pieces of butter melt into the burger. The butter gives the burgers great flavor and adds moisture.
What's a "pat" of butter?
It's that little square piece of butter on a small cardboard paper in restaurants. The actual size can be different but in most cases, it's about 1/2 tablespoon.
How do you keep burgers from falling apart?
Start with cold hamburger.
If you are adding a lot of spices and other ingredients do not to over mix it or it will become tough.
Flip them as little as possible and if you can, only flip them once.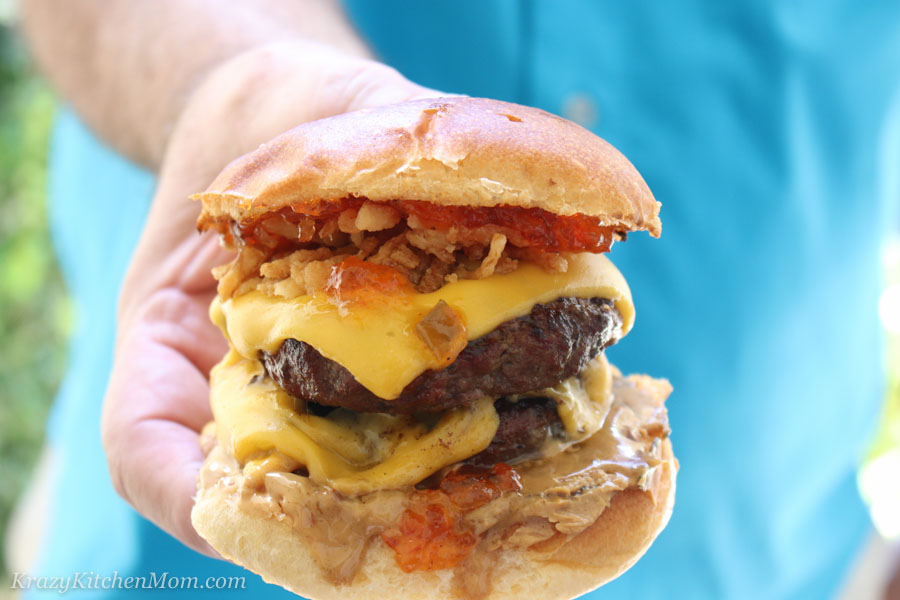 Print
Peanut Butter and Jelly Burger
You will be amazed at my Peanut Butter and Jelly Burger. It's nutty and salty from the peanut butter and a little spicey from the hot pepper jelly.
Author:
Prep Time:

10 minutes

Cook Time:

12 minutes

Total Time:

22 minutes

Yield:

2

double patty burgers

1

x
Category:

Sandwich/Burger

Method:

Grilled

Cuisine:

American
Scale
Ingredients
1.5

–

1.75

lbs. 80/20 ground beef

1

TBS Worchestshire sauce

1 teaspoon

salt

1 teaspoon

pepper

1/4

stick (4 TBS) very cold butter – cut into small pieces

6

TBS creamy peanut butter

6

TBS red pepper jelly

4

slices of American cheese

4

TBS onion crisps or straws (store-bought)

1

hamburger buns
Instructions
To make the burgers:
Heat BBQ grill or stove-top grill to medium-high.
Combine ground beef, Worcestershire sauce, salt, and pepper.
Make four equal-sized patties.
Drop small pieces of the butter equally on each burger and push it in slightly.
Place patties on the grill butter side up.
Grill both sides to your desired temperature.
When burgers are almost done, place 1 slice of cheese on each burger and continue to cook until the cheese begins to melt.
While burgers are cooking, brown the hamburger buns by splitting them in half and placing them face down on the grill for a few minutes.
To assemble:
Spread TBS of peanut butter on to the bottom halves of the buns.
Place 1 burger patty on the peanut buttered bun.
Place a second patty on top of the first.
Spread the top buns with TBS each of the hot pepper jelly.
Place two TBS of onion crisps or straws on the top cheeseburger and place the top bun with the pepper jelly on top.
The burger is now complete.
Enjoy!
Keywords: #burgermonth #burgermonth2016 #girlcarnivor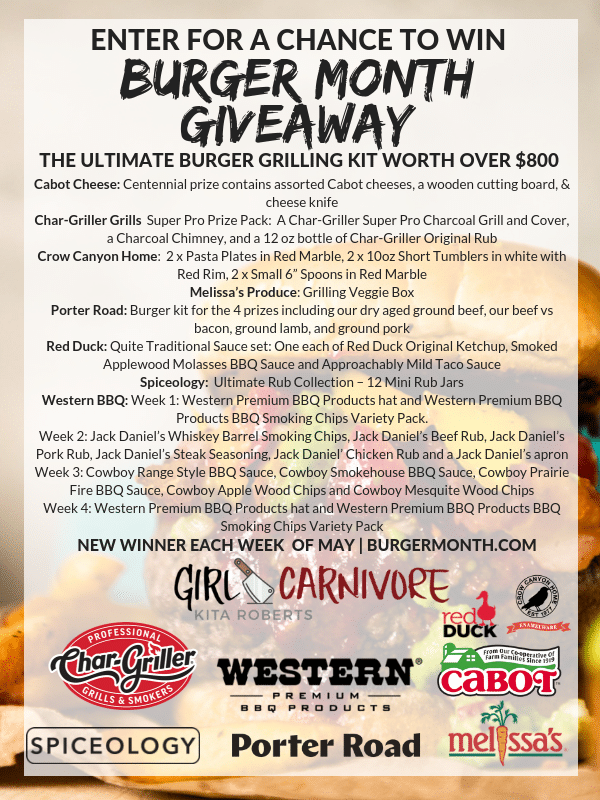 A huge thanks to the #BurgerMonth sponsors for the Ultimate Burger Grilling Giveaway:  Cabot Cheese, Char-Griller Grills, Crow Canyon Home, Porter Road, Melissas Produce, Red Duck, Spiceology, &  Western BBQ
Check out all of these other amazing burger creators:
🍔 Girl Carnivore 🍔 A Kitchen Hoor's Adventures 🍔 A Simple Pantry 🍔 Abra's Kitchen 🍔 AcadiaTwo's Kitchen Antics 🍔 An Affair from the Heart 🍔 Bakersbeans 🍔 Betsi's World 🍔Caroline's Cooking 🍔 Cindy's Recipes and Writings 🍔 City Living Boston 🍔 Cluttercafe 🍔Comfortably Domestic 🍔 Cooking With Carlee 🍔 Convos with Karen 🍔Daily Dish Recipes 🍔 Dance Around The Kitchen 🍔 Dixie Chik Cooks 🍔 Dizzy Busy and Hungry 🍔 Doodlecraft 🍔 Everyday Eileen 🍔 Family Around the Table 🍔 Family Food on the Table 🍔 Family Spice 🍔Farmwife Feeds 🍔Food Above Gold 🍔 For the Love of Food 🍔 Grillax.com 🍔 Grilling Montana 🍔 Grumpy's Honeybunch 🍔 Hezzi-D's Books and Cooks 🍔 Honeybunch Hunts 🍔 HORNS BBQ 🍔 Intelligent Domestications 🍔 It Is a Keeper 🍔 Jolene's Recipe Journal 🍔 Jonesin For Taste 🍔 Juggling Act Mama 🍔 Karen's Kitchen Stories 🍔 Kate's Recipe Box 🍔 Krazy Kitchen Mom 🍔 Life Anchored 🍔 Life of a Ginger 🍔 Mildly Meandering 🍔 Miss in the KItchen 🍔 Palatable Pastime 🍔 Pastry Chef Online 🍔 Perspective Portions 🍔 Plowing Through Life 🍔 PNW Eats 🍔 Pook's Pantry 🍔 Real Life With Dad 🍔 Sarah's Cucina Bella 🍔 Seduction In The Kitchen 🍔 Simple and Savory 🍔 Souffle Bombay 🍔 Spiced 🍔 Spoonabilities 🍔 Strawberry Blondie Kitchen 🍔 SueBee Homemaker 🍔 Sumptuous Spoonfuls 🍔 Sweet ReciPeas 🍔 Swirls of Flavor 🍔 Take Two Tapas 🍔 Tampa Cake Girl 🍔 Taste And See 🍔 The Baking Fairy 🍔 The Beard and The Baker 🍔 The Complete Savorist 🍔 The Crumby Kitchen 🍔 The Heritage Cookbook Project 🍔 The Keto Guy 🍔 The Redhead Baker 🍔 The Rowdy Baker 🍔 The Schmidty Wife 🍔 The Shirley Journey 🍔 The Spiffy Cookie 🍔 This Farm Girl Cooks 🍔 Thyme for Cocktails 🍔 We are not Martha 🍔 Well Fed Baker 🍔 West Via Midwest 🍔What's Cooking Italian Style Cuisine 🍔 Who Needs A Cape? 🍔 Wildflour's Cottage Kitchen 🍔 Wok & Skillet 🍔Zest & SImmer 🍔