This post may contain affiliate links which won't change your price but will share some commission.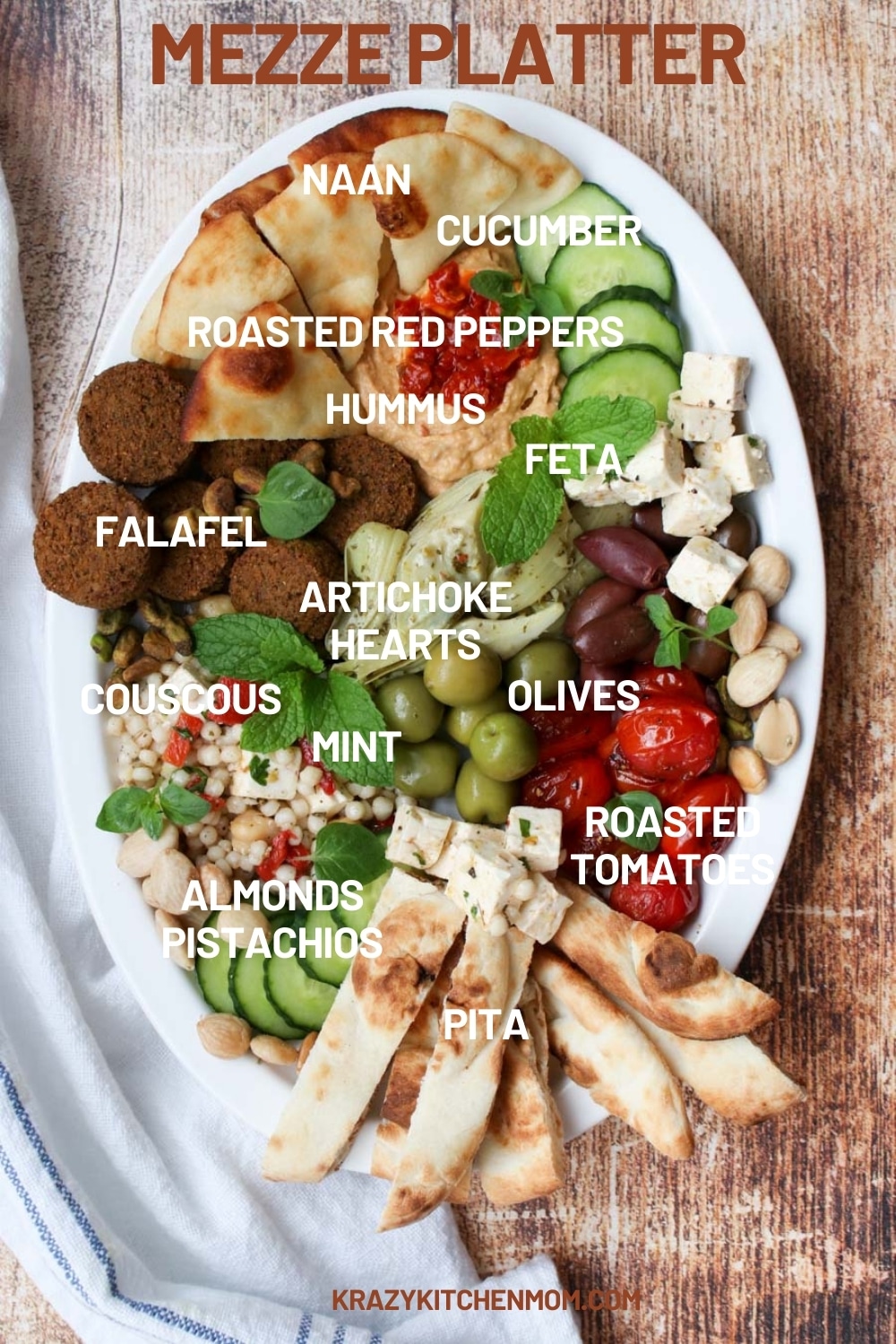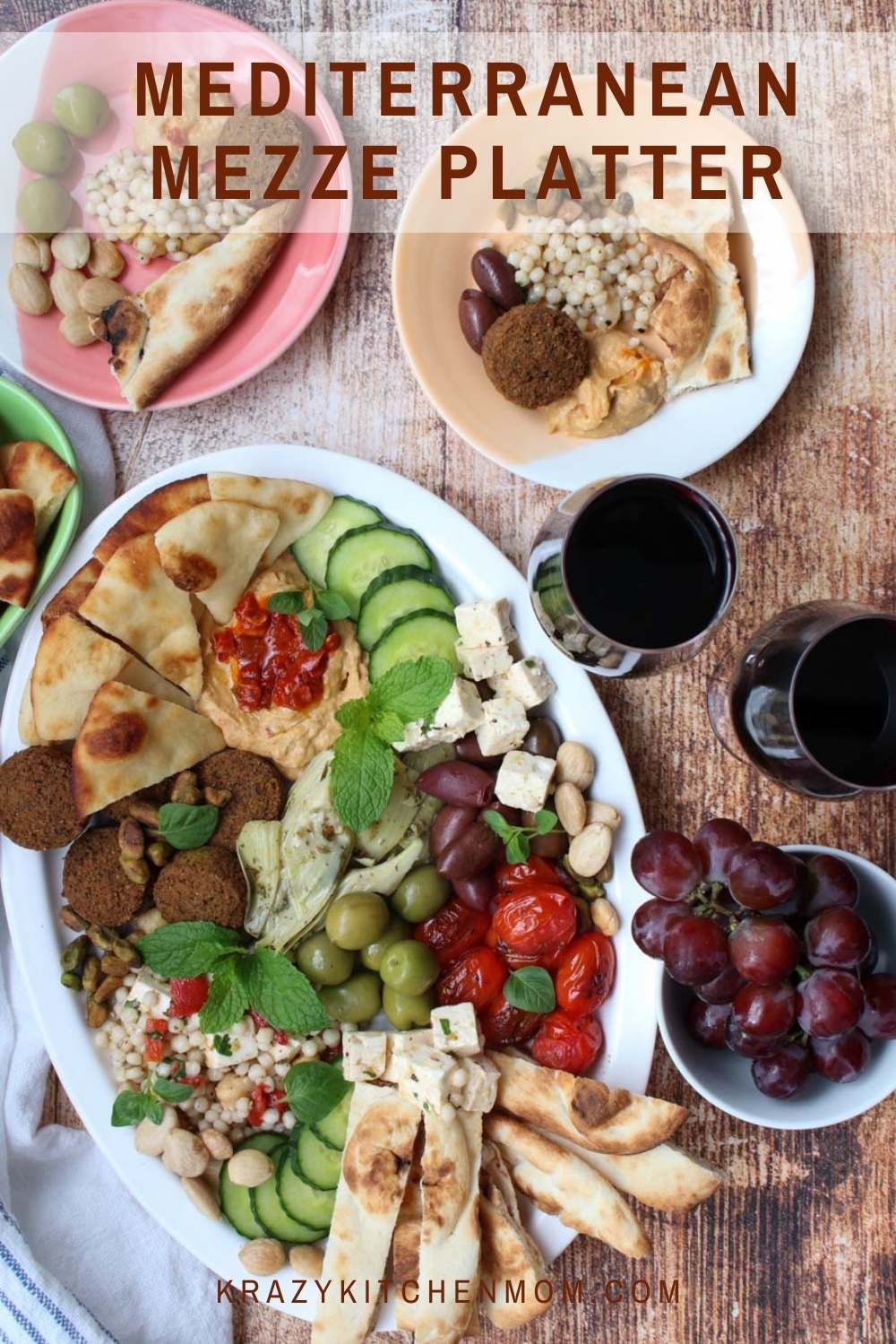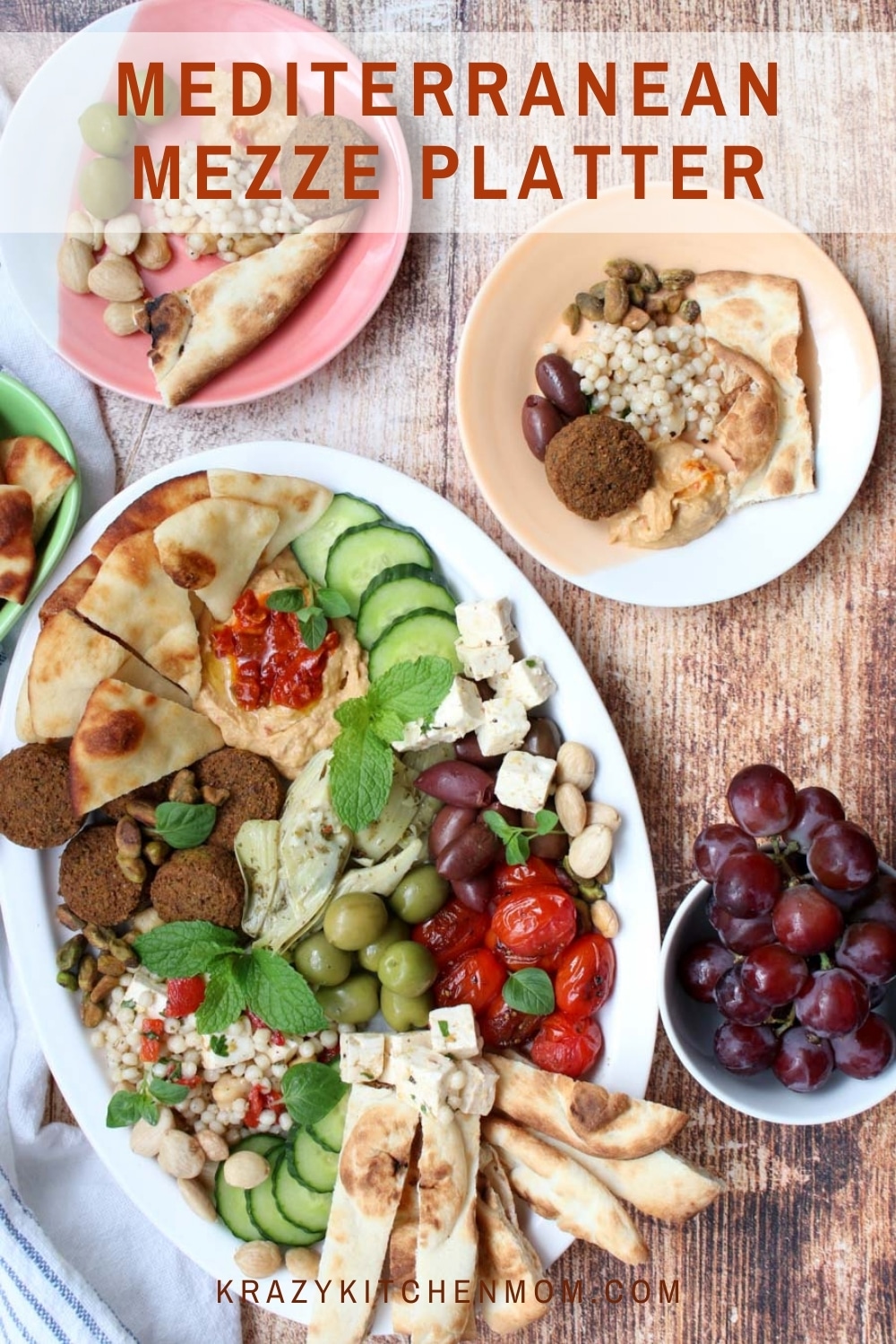 Learn how to make an eye-catching party platter with an assortment of small-sized foods with all the bold and bright flavors of the Mediterranean.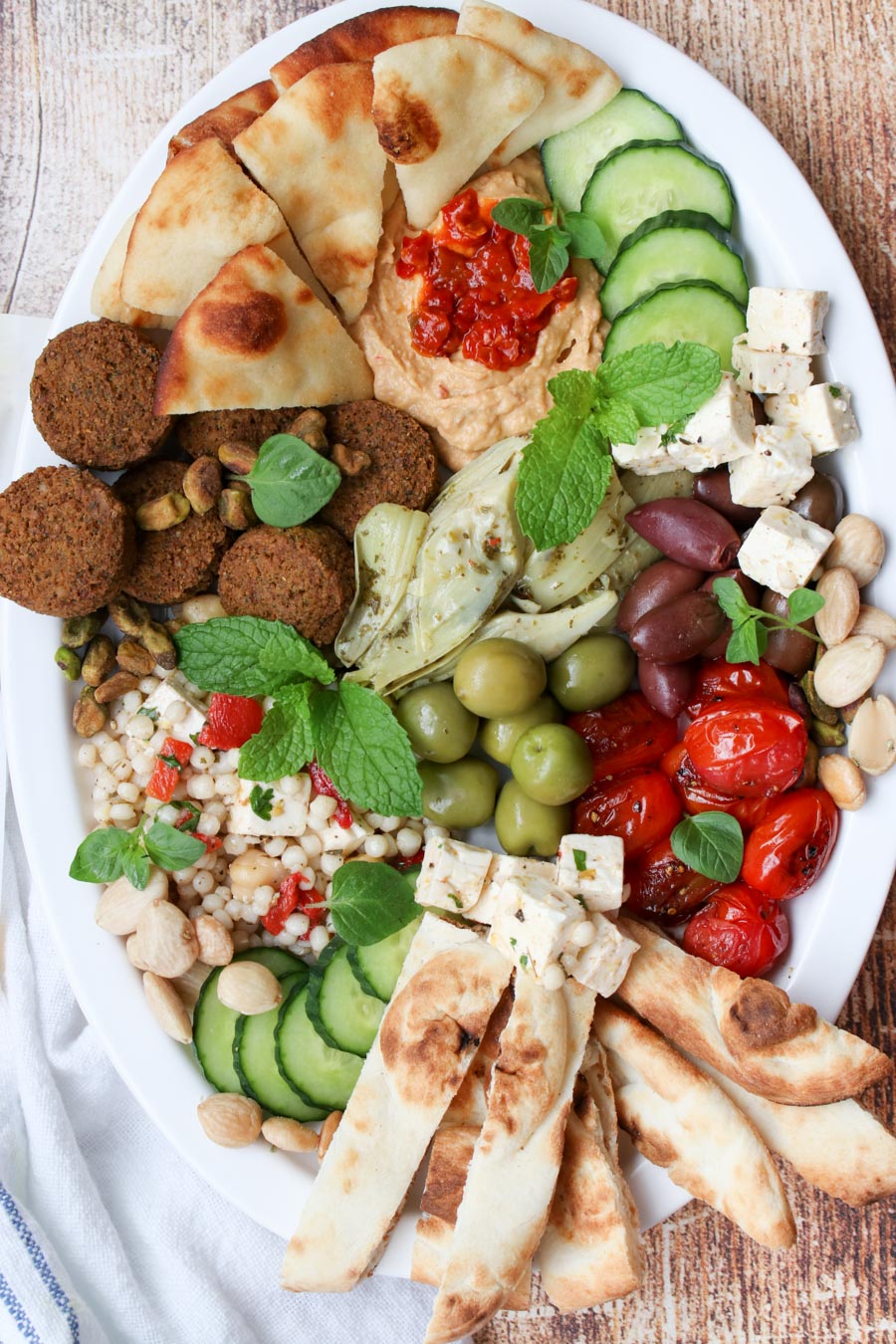 Why We Love this Mezze Platter
A mezze platter is made for sharing, for sitting around the table with family and friends nibbling, talking, laughing and sharing stories. To me, it's the best way to tell the people you care about, how much you do care by serving them a beautiful collection of small bites and snacks.
Ingredients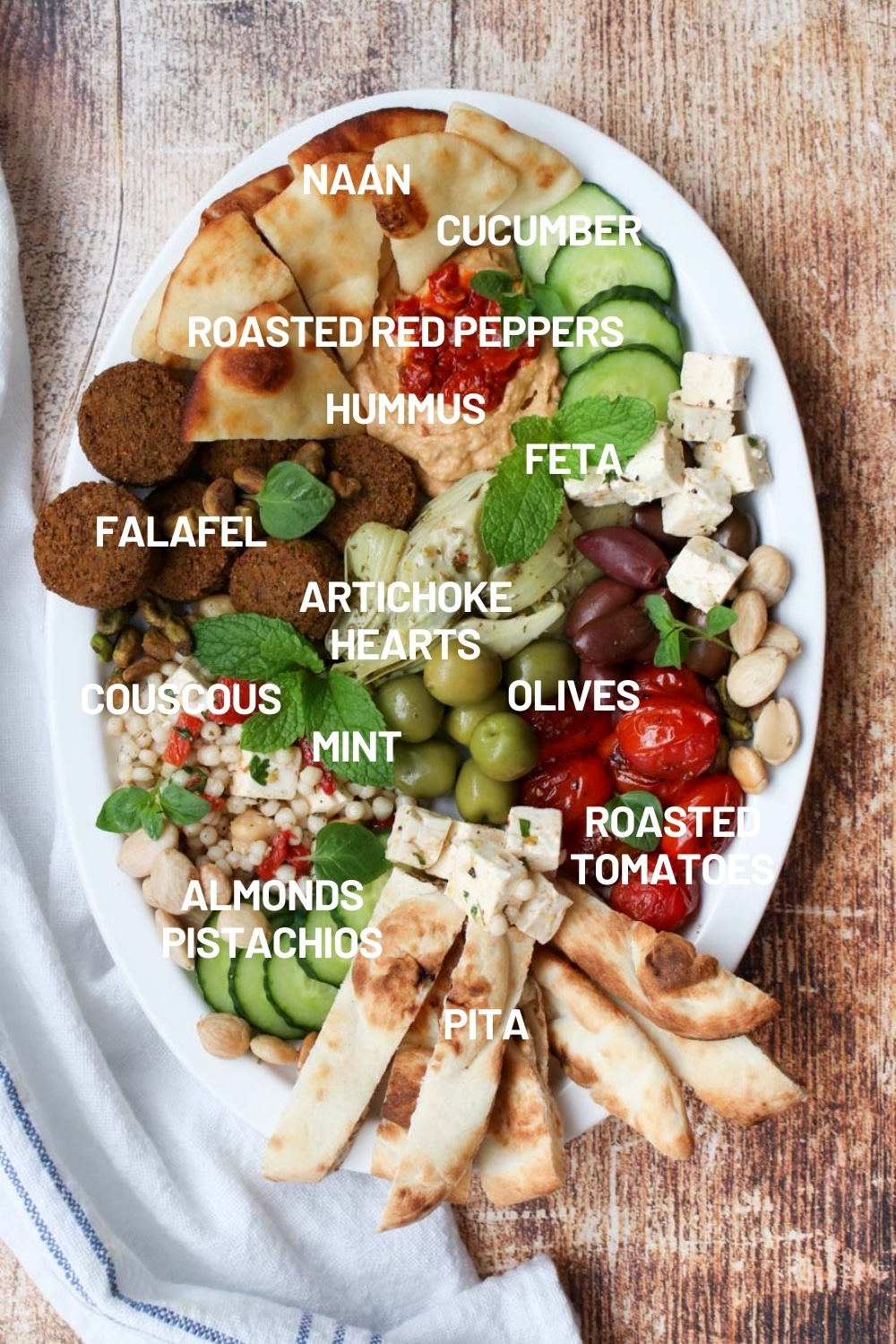 The beautiful thing about a mezze platter is that you can fill it with any ingredients you like. Here's list of what I use on my platter.
Falafel – I used the turmeric flavored frozen falafel brand from Afia.
Jarred artichoke hearts – simply slice and add them to the platter.
Olives – you can use any types of olives you like.
Pita bread and/or Naan – I use both pita and naan that I brush with olive oil and grill for 3-4 minutes on each side.
Jarred roasted red peppers – dice them or slice them and add them to the platter or top store-bought hummus with them.
Store-bought hummus
Fresh cucumber slices
Feta Couscous Salad – this is one of my go-to salads and it goes great on this platter.
Marcona almonds and pistachios
Roasted cherry tomatoes – place a handful of cherry tomatoes in a skillet with a tablespoon of olive oil and salt and pepper. Cook them on medium heat until they burst. Add a splash of balsamic vinegar. Let them cool before adding to the platter.
Cubed feta cheese. I recommend using a block of feta cheese and slicing it into bite-sized cubes.
Fresh mint or garnish
How to Assemble a Mediterranean Mezze Platter
Start by adding wet items like hummus and couscous salad. I top my hummus with diced jarred roasted red peppers.
Next, add the larger items like falafel, sliced cucumber, and roasted tomatoes.
Add artichokes and olives.
Fill in the remainder of the platter with nuts, cheese, bread, and garnish with fresh herbs.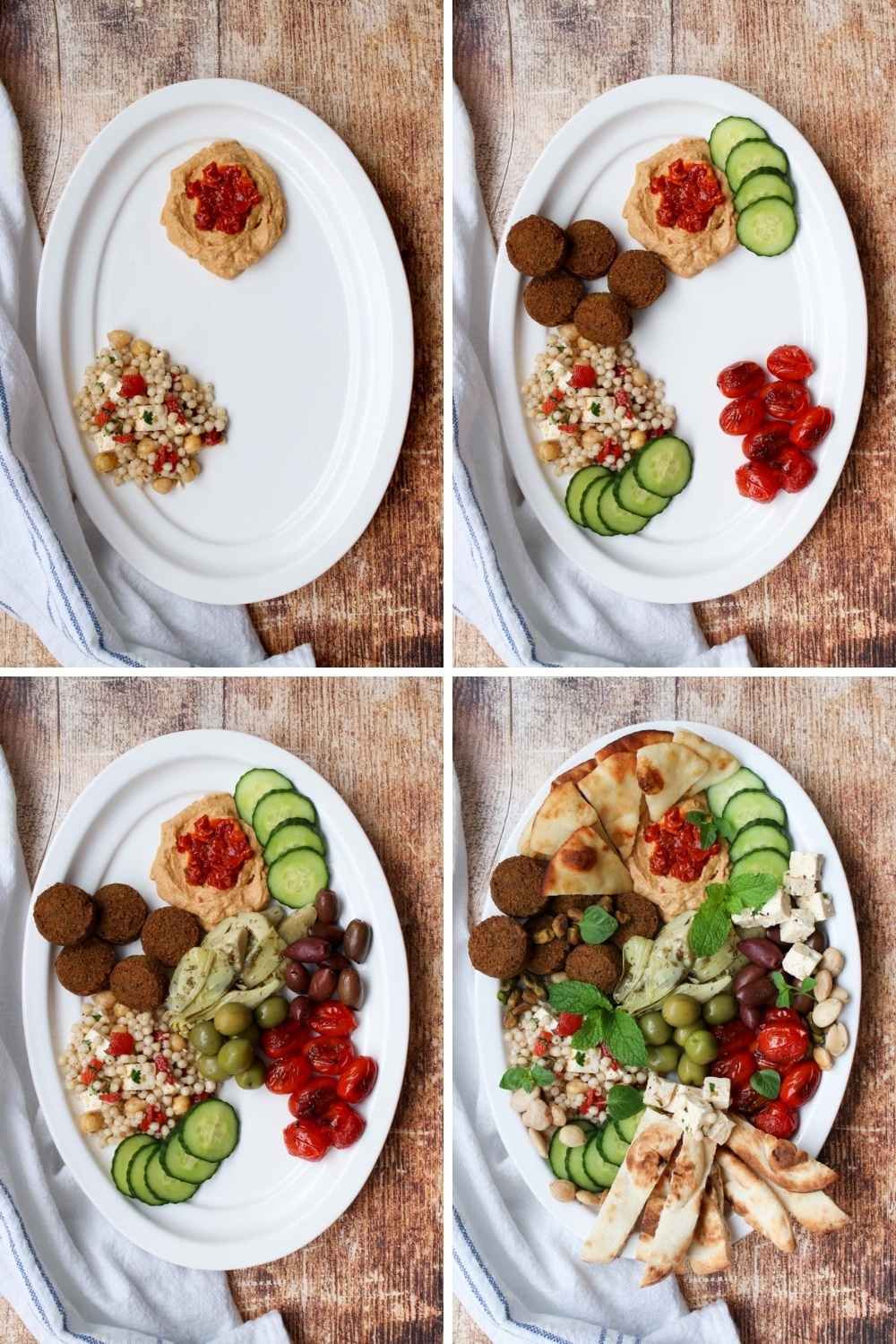 Krazy Kitchen Mom Tips
Most of the ingredients for the mezze platter are store-bought. Add some homemade ingredients like roasted cherry tomatoes and my Feta Couscous Salad to add a more personal touch.
Add some fresh fruit to the platter or in a small bowl next to the platter.
For me, the most impressive platters are those that are overflowing with snacks so don't be afraid to fill every spot on the platter.
Use any type of platter, plate, or even a cutting board to build the mezze platter.
Set out an assortment of small plates, salad forks, toothpicks, and napkins to allow your family and friends to pick and enjoy at their leisure.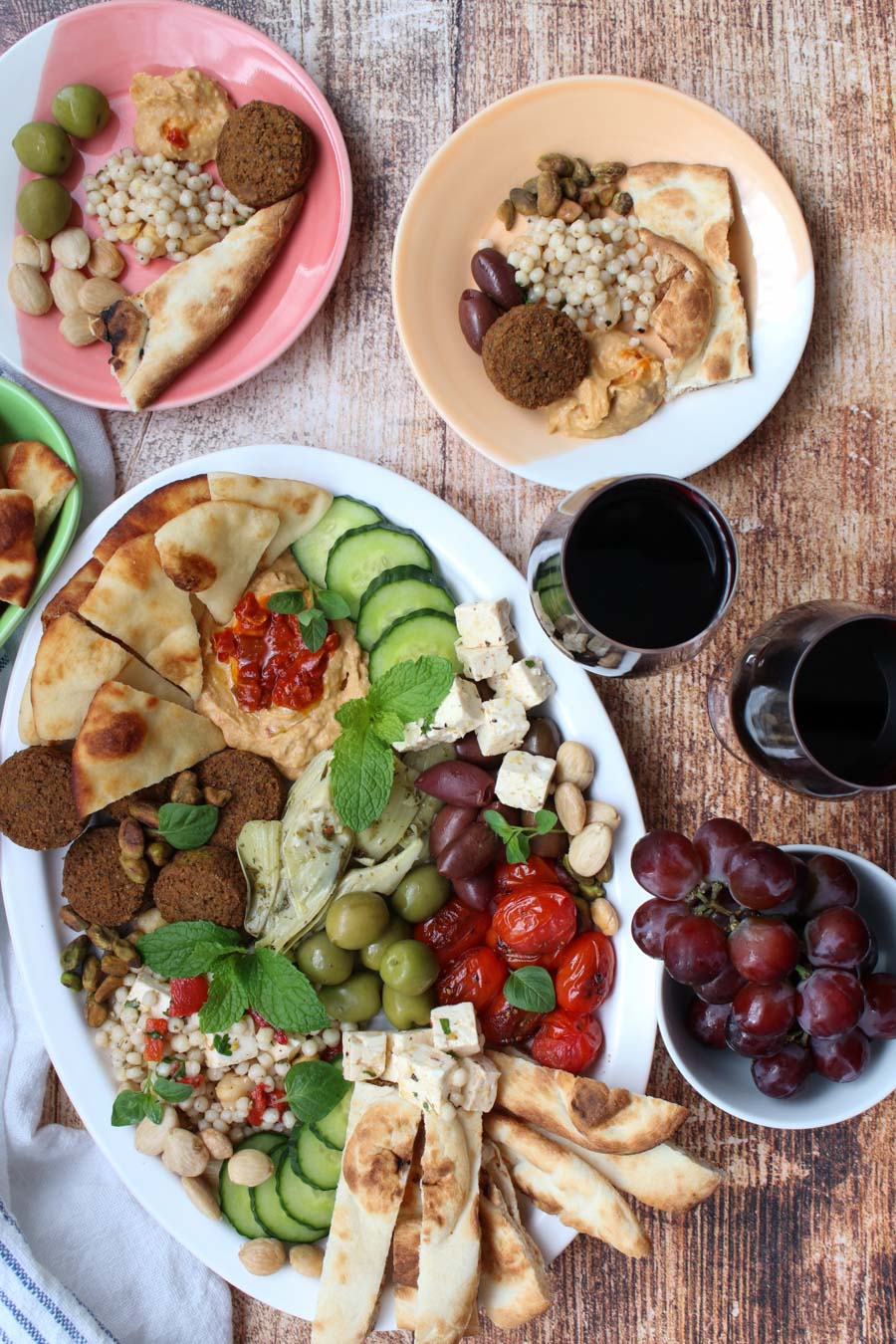 More Fan-Favorite KKM Recipes
If you make this recipe, show me a pic! You can upload your photo to your Instagram account and tag me @krazykitchenmom