This post may contain affiliate links which won't change your price but will share some commission.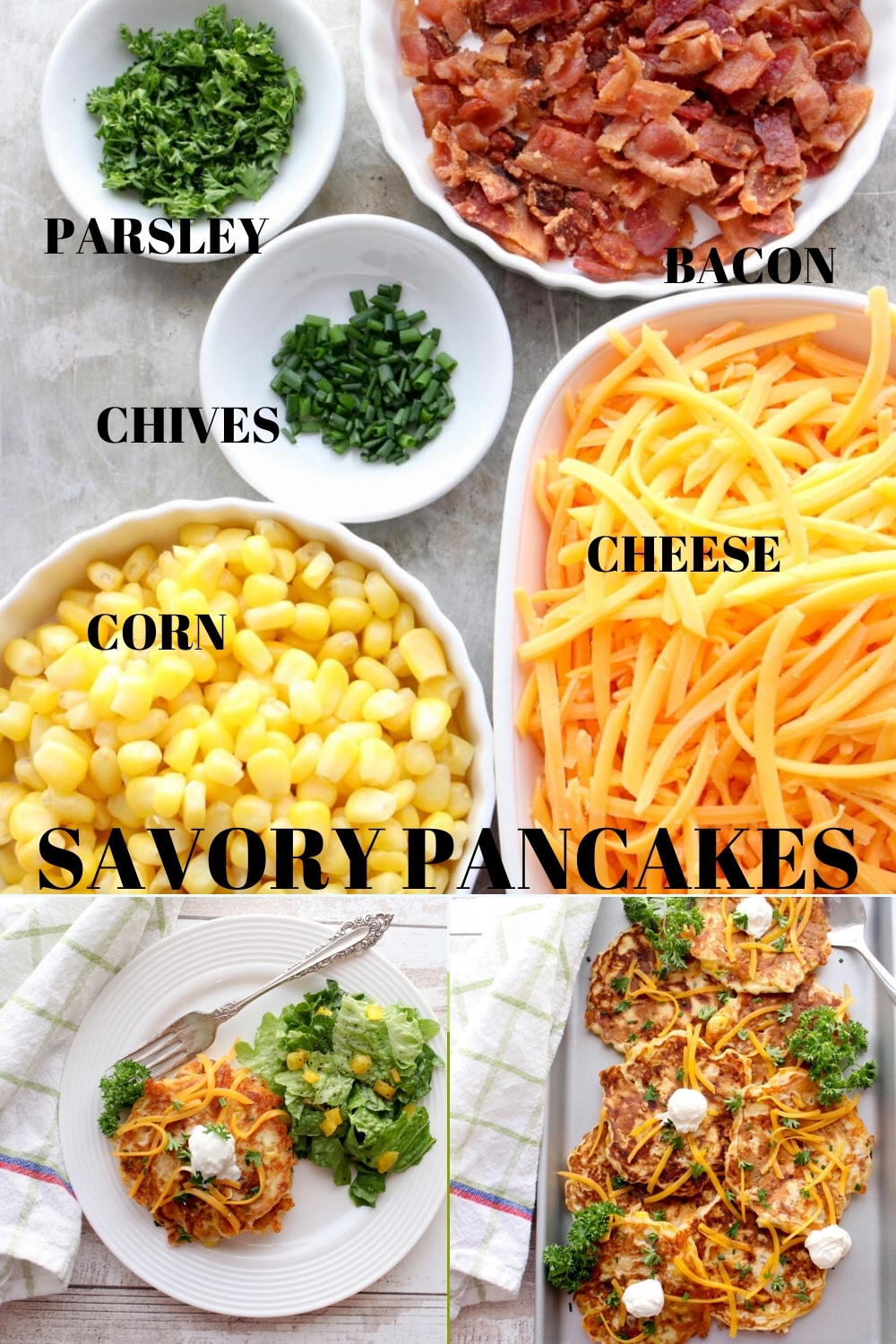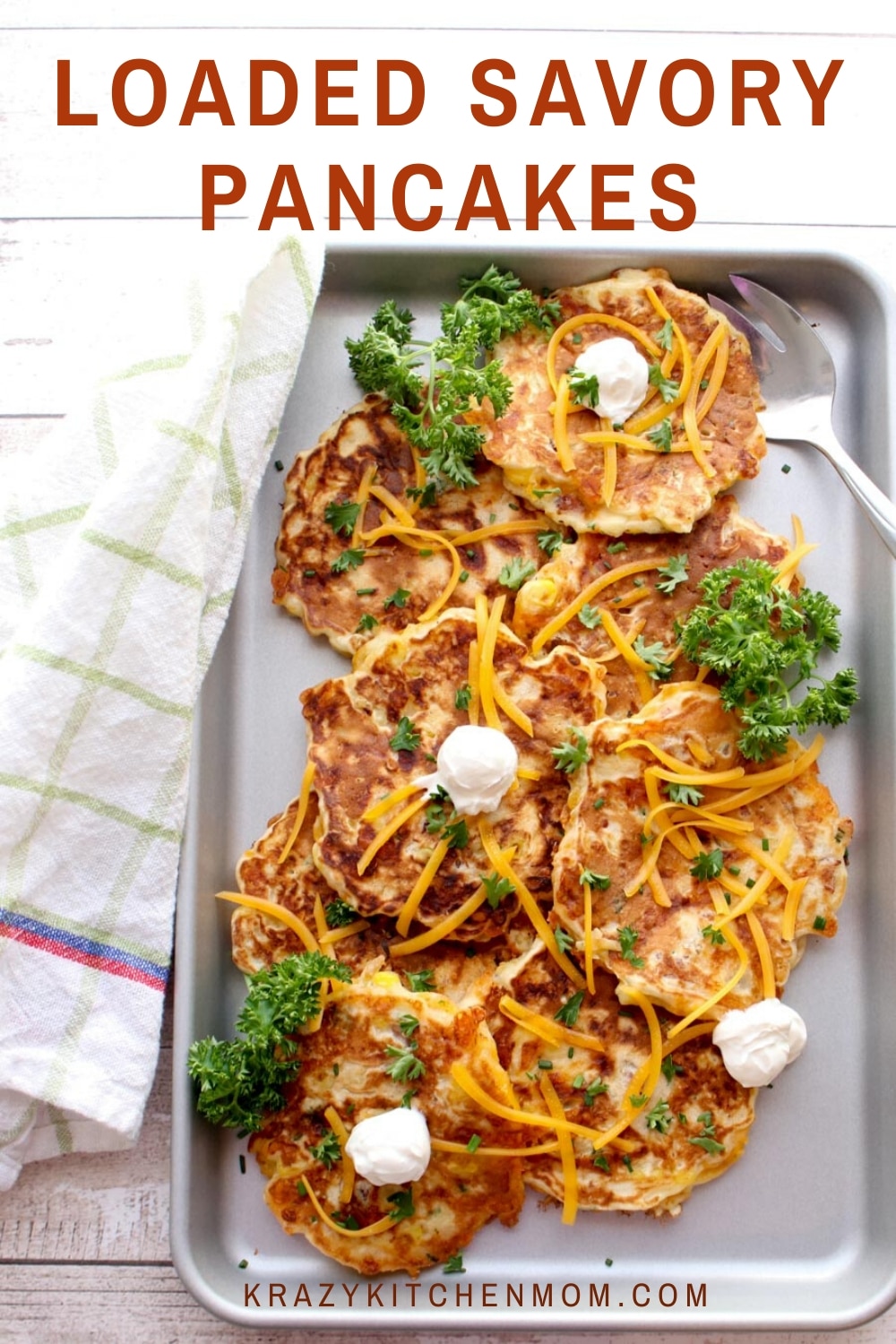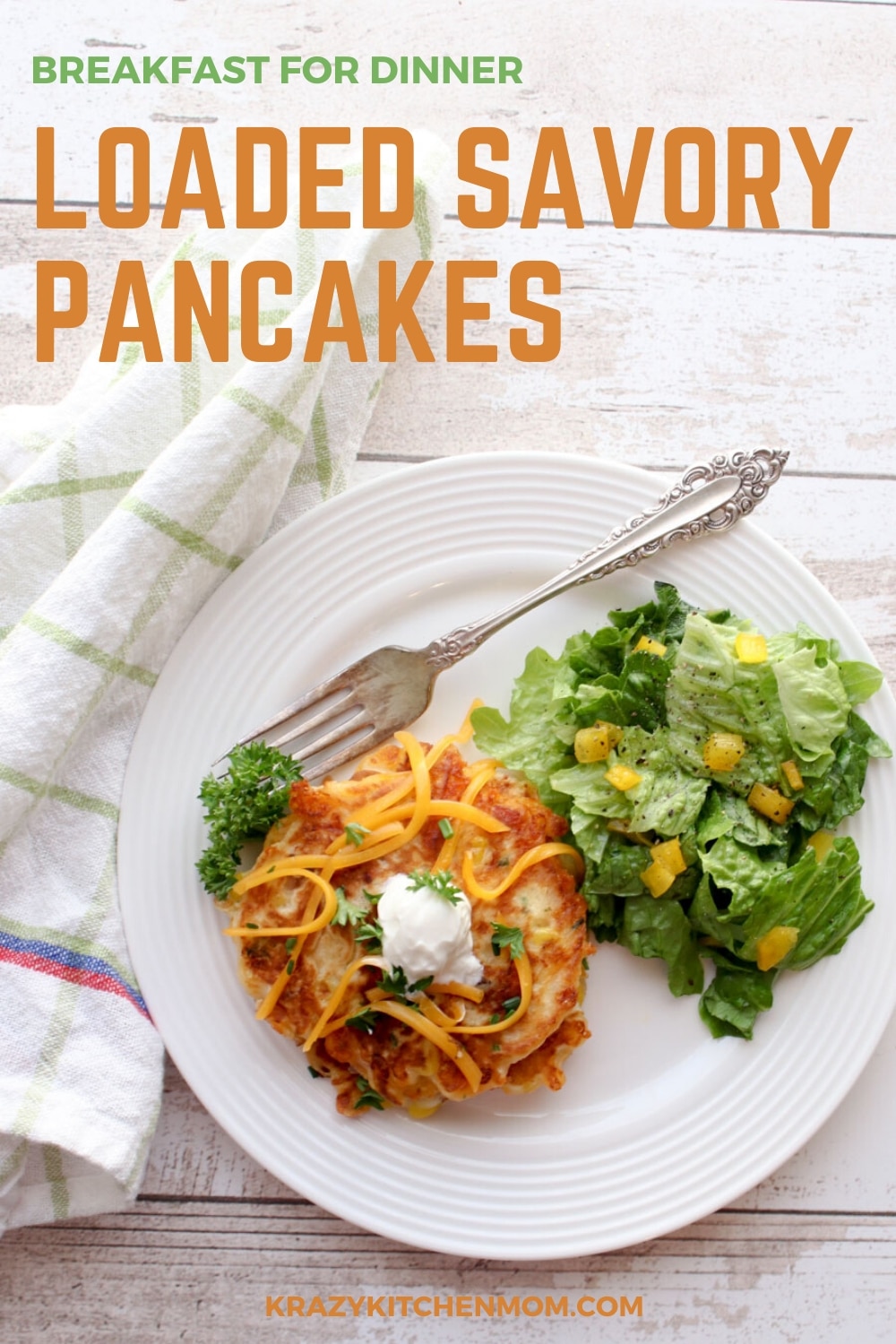 Everyone loves pancakes! And pancakes are great when you're craving breakfast for dinner. My Loaded Savory Pancakes don't disappoint!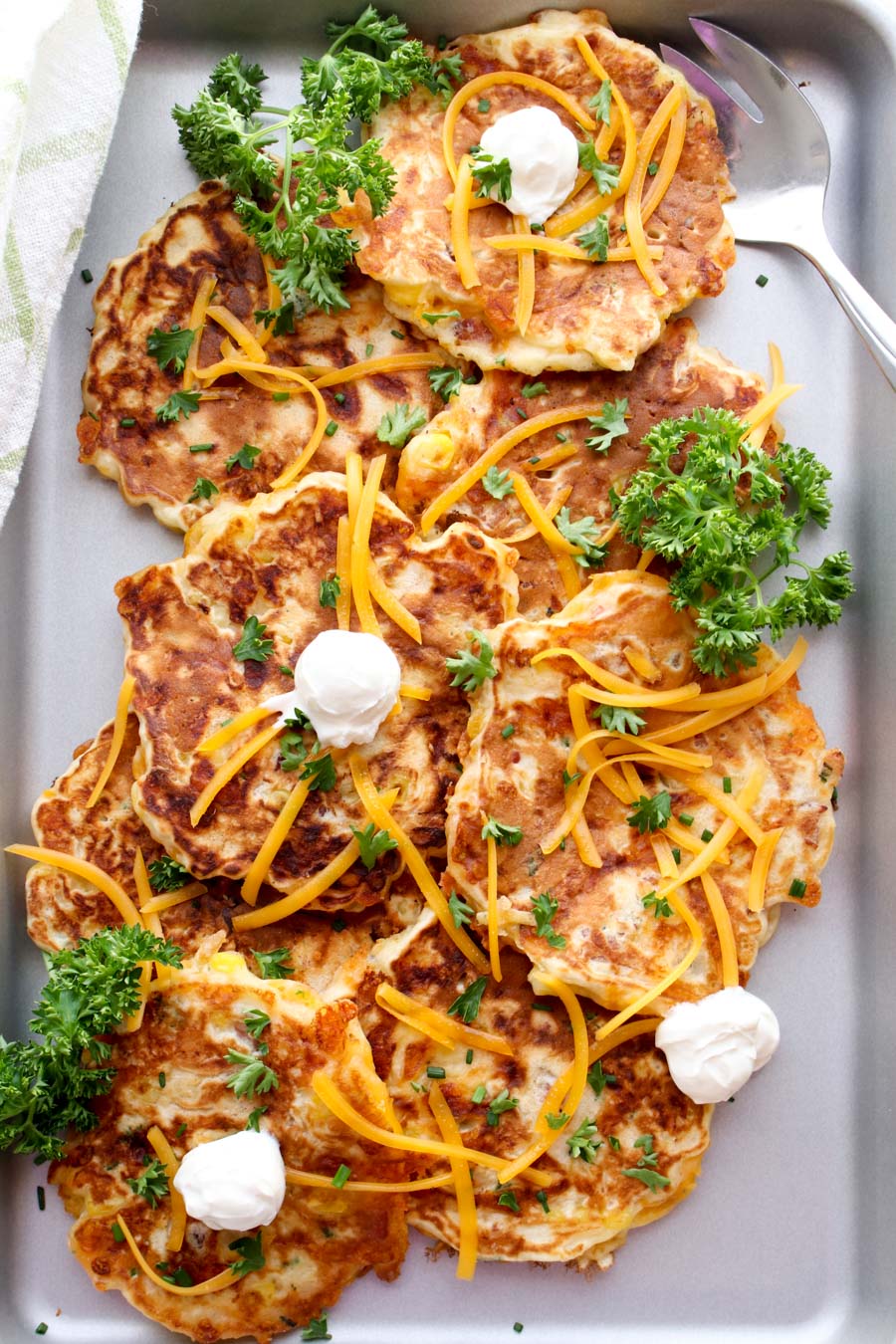 Lately, I've been craving pancakes. I'm not sure why because I've never been a big fan of them in the past. But since I've been experimenting with them and making different flavored pancakes like my Blueberry Pancakes with Blueberry Syrup and my Fluffy Apple Butter Pancakes, I decided to come up with a pancake we could eat for dinner. Behold – the Loaded Savory Pancake!
ingredients in loaded savory pancakes
Bacon – I use regular center-cut bacon which is just regular bacon with some of the end fat cut off. It's also shorter than a traditional long piece of bacon. And because the end fat is removed, I find that it's crisper which is how I like my bacon. Want my secret to the best crispy bacon? Read about it in this post for Bacon Pea Salad.
Cheese – I've said it before and I'll say it again – buy good cheese. Don't go for the cheap stuff; it will ruin your recipe right away. And I don't mean that you need to buy the most expensive either. Just buy a good cheese that you know tastes good and stick with that brand. For this recipe, I used a medium cheddar. If you can't find medium cheddar, then go with mild cheddar. I also like to shred my own cheese. I buy a block from the deli and shred it myself. A box grater/shredder is inexpensive so it's worth investing in one. For convenience, I shred my cheeses when I get home from the grocery store. I store them in the refrigerator in a ziptop bags. That way I have pre-shredded cheese whenever I need it. And it's really less expensive than buying pre-shredded cheese.
Corn – For this recipe, I used frozen corn that I thawed by putting it in the refrigerator the night before I made these pancakes. You can also use fresh corn, which would taste great!
Chives and Parsley – There is something about fresh herbs that elevates any recipe. I grow my herbs in a large pot that sits on my front walkway. I don't have a large fancy herb garden, but just enough of my favorite herbs so they are handy whenever I want them. And it doubles as a nice potted plant.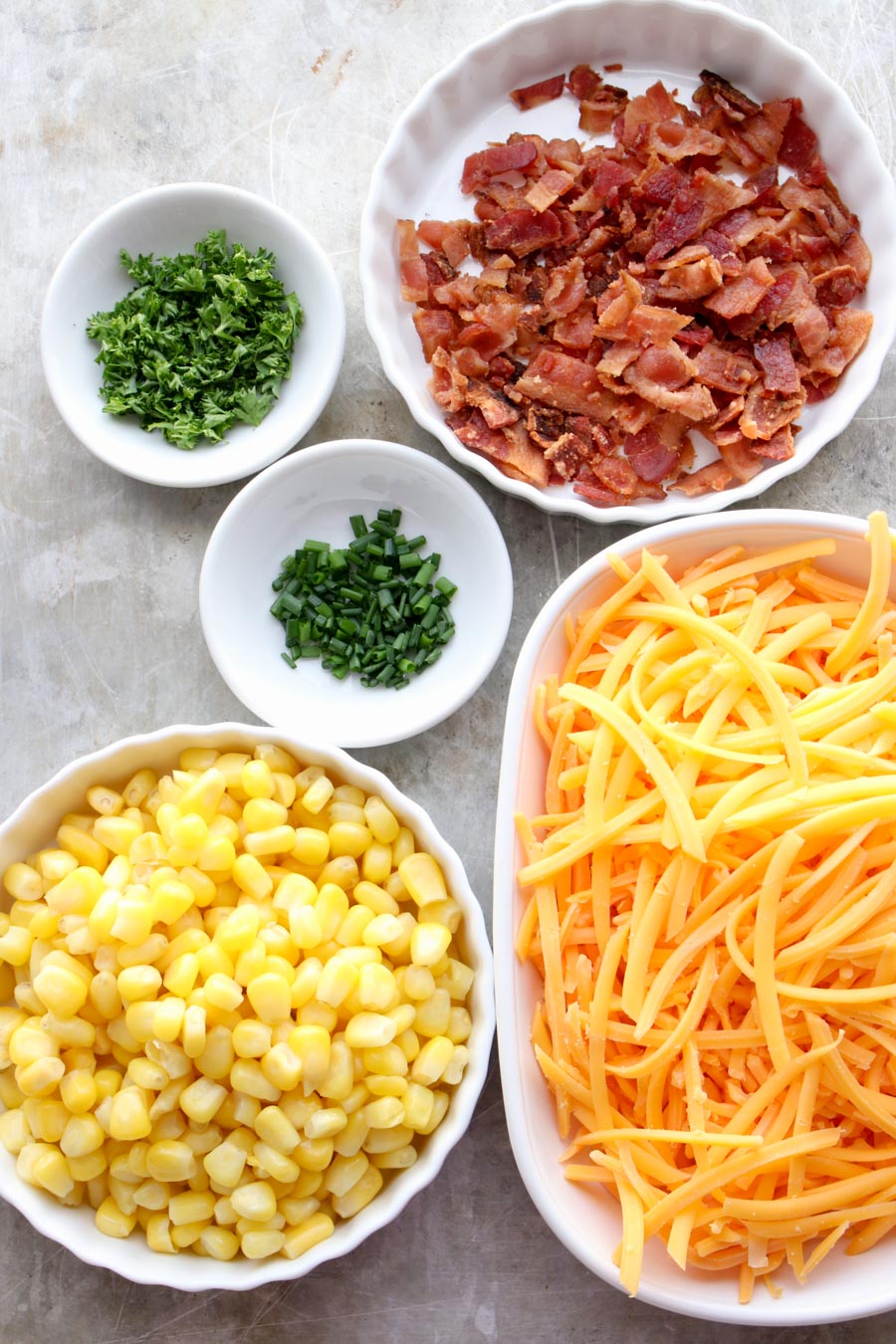 Krazykitchen mom tips
This batter is thick and loaded but don't worry, it's supposed to be thick. I used a 1/3 cup measure to scoop the batter into the skillet. Because it's thick, I then used the back of the measuring cup to spread the batter. I was able to cook three pancakes at a time in my skillet. This recipe makes 8 4-inch pancakes. Depending upon your appetite, 1-2 pancakes make a serving.
To keep the cooked pancakes warm while you are cooking all of them, place a piece of foil on the oven grate and set the oven at 250°. You can also use a cookie sheet instead of the foil. Place the pancakes in the oven while you are finishing the batch.
When flipping pancakes, use your wrist and not your arm. You'll be surprised at how easy they are to flip. This might take a little practice, but once you've got the wrist-method down, all your pancakes will flip easily and look perfect.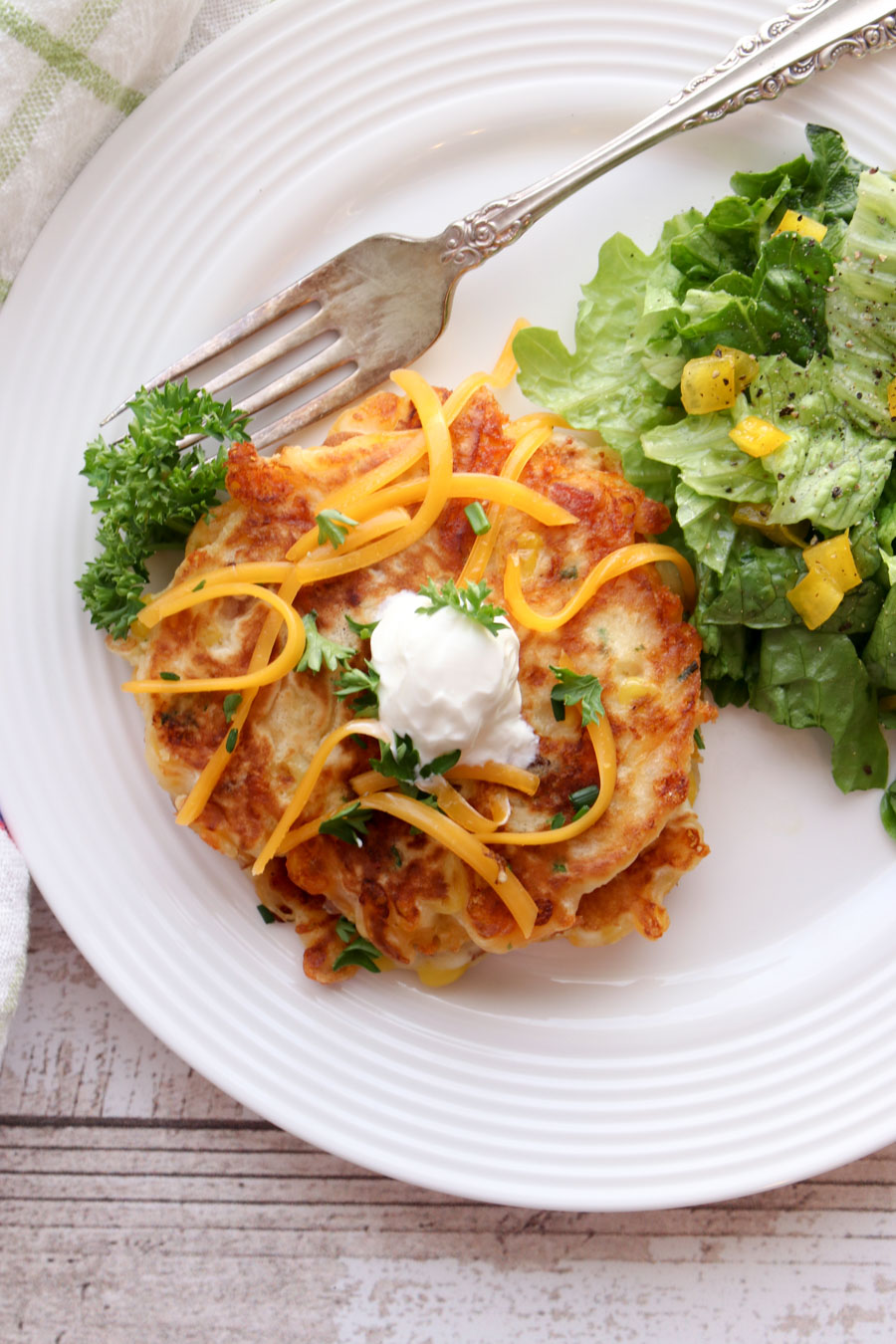 Make a double batch of this recipe
Save some time and make a double batch of this recipe because they are so easy to freeze and reheat. That way they are ready for those crazy busy weeknights.
Doubling the batch is easy, just click on the X2 button in the recipe card and it will automatically show you the amount of each ingredient you'll need. And if you want to triple the recipe, just click on the X3 button.
To freeze, make sure they are completely cooled and at room temperature. Stack as many pancakes as you want in a serving and place a piece of plastic wrap or parchment paper between the pancakes. Then wrap the stack in plastic wrap and place them in the freezer. I'll be fine for 2-3 months.
To reheat, carefully separate the pancakes by pulling the plastic wrap or parchment papers between them. Place them on a microwavable plate and microwave them for 1 – 1.5 minutes at 30-second intervals.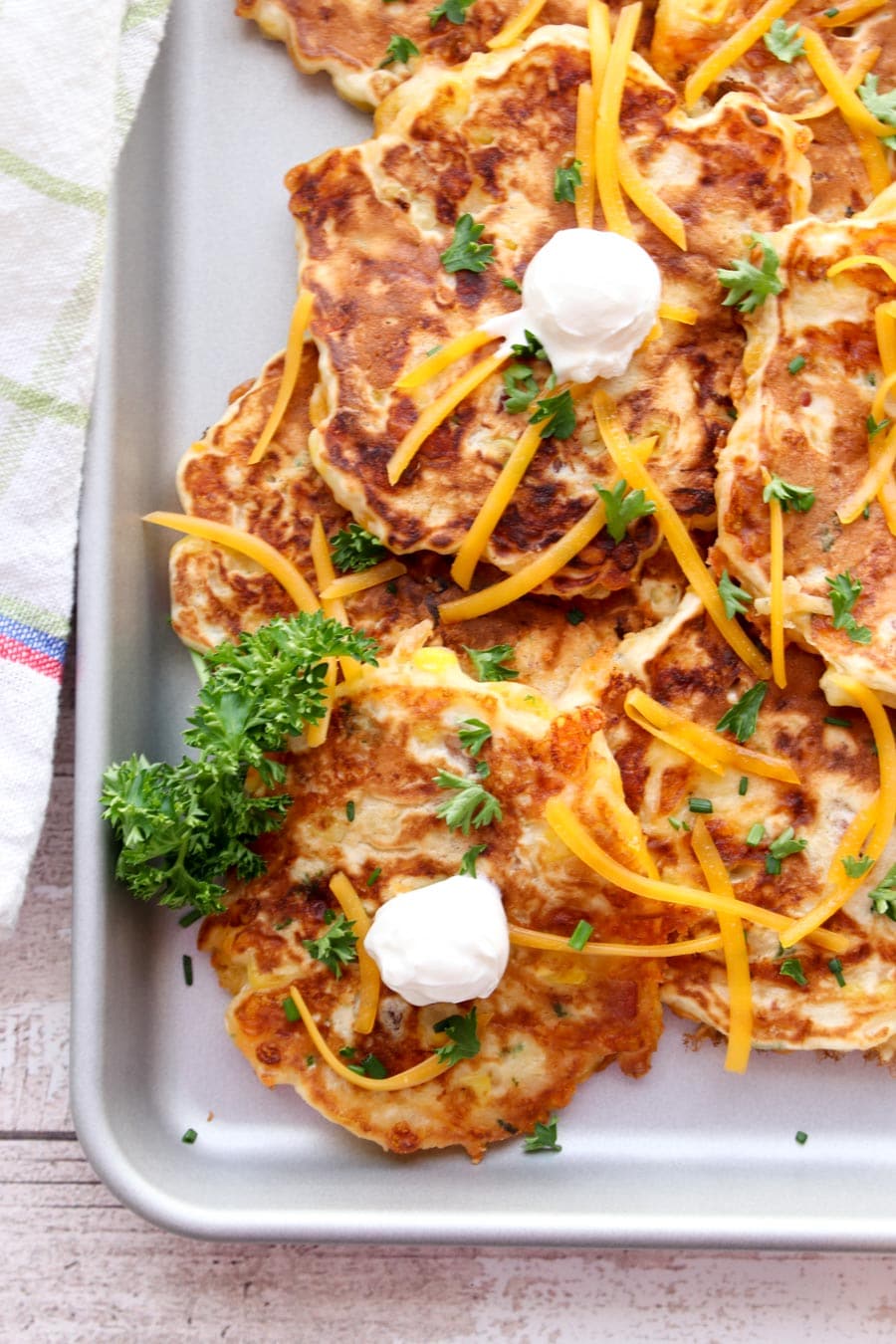 make it a meal – serve loaded savory pancakes with a side salad and some sliced fruit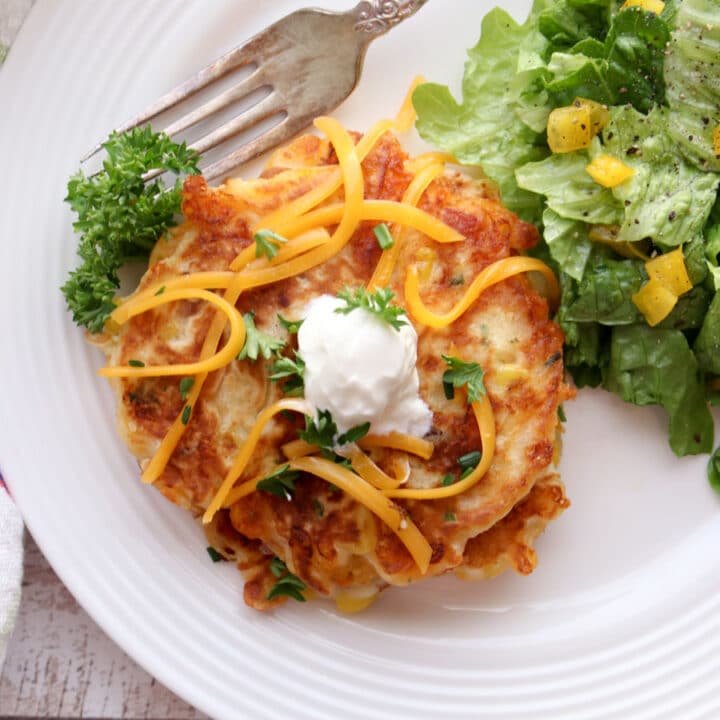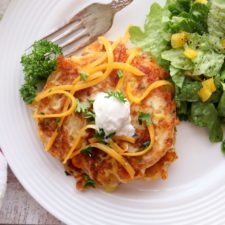 Loaded Savory Pancakes
Everyone loves pancakes! And pancakes are great when you're craving breakfast for dinner. Especially with my Loaded Savory Pancakes.
Print
Pin
Rate
Servings:
8
4-inch pancakes
Ingredients
1

cup

of all purpose flour

2

teaspoons

baking powder

1

teaspoon

sugar

1/2

teaspoon

salt

1/2

teaspoon

black pepper

3/4

cup

milk

1/4

cup

sour cream

1

egg

1

teaspoon

white vinegar

1

TBS

canola oil for cooking pancakes

6-8

slices

of cooked and crumbled bacon

1/2

cup

shreeded medium cheddar cheese

1

cup

corn

1

TBS

fresh chived

cut small

1

TBS

chopped parsley

Garnishes optional - sour cream and fresh parsley
Instructions
Mix together the milk, egg, sour cream, and vinegar.

In a separate bowl, mix together flour, sugar, salt, pepper, and baking powder.

Pour the wet ingredients into the dry ingredients and mix. The batter may be a little lumpy but that's ok.

Place the batter in the refrigerator to rest for 10 minutes.

After the batter has rested, add the corn, cheese, bacon, and herbs.

Heat a large skillet on high.

Add the canola oil.

Turn the heat down to medium.

Scoop pancake batter onto skillet.

When you see small holes form on the top of the batter, it's time to flip the pancake.

Cook for another few minutes until you see the edges start to crisp.

Remove the pancakes from the skillet.

Garnish with sour cream and fresh parsley.