This post may contain affiliate links which won't change your price but will share some commission.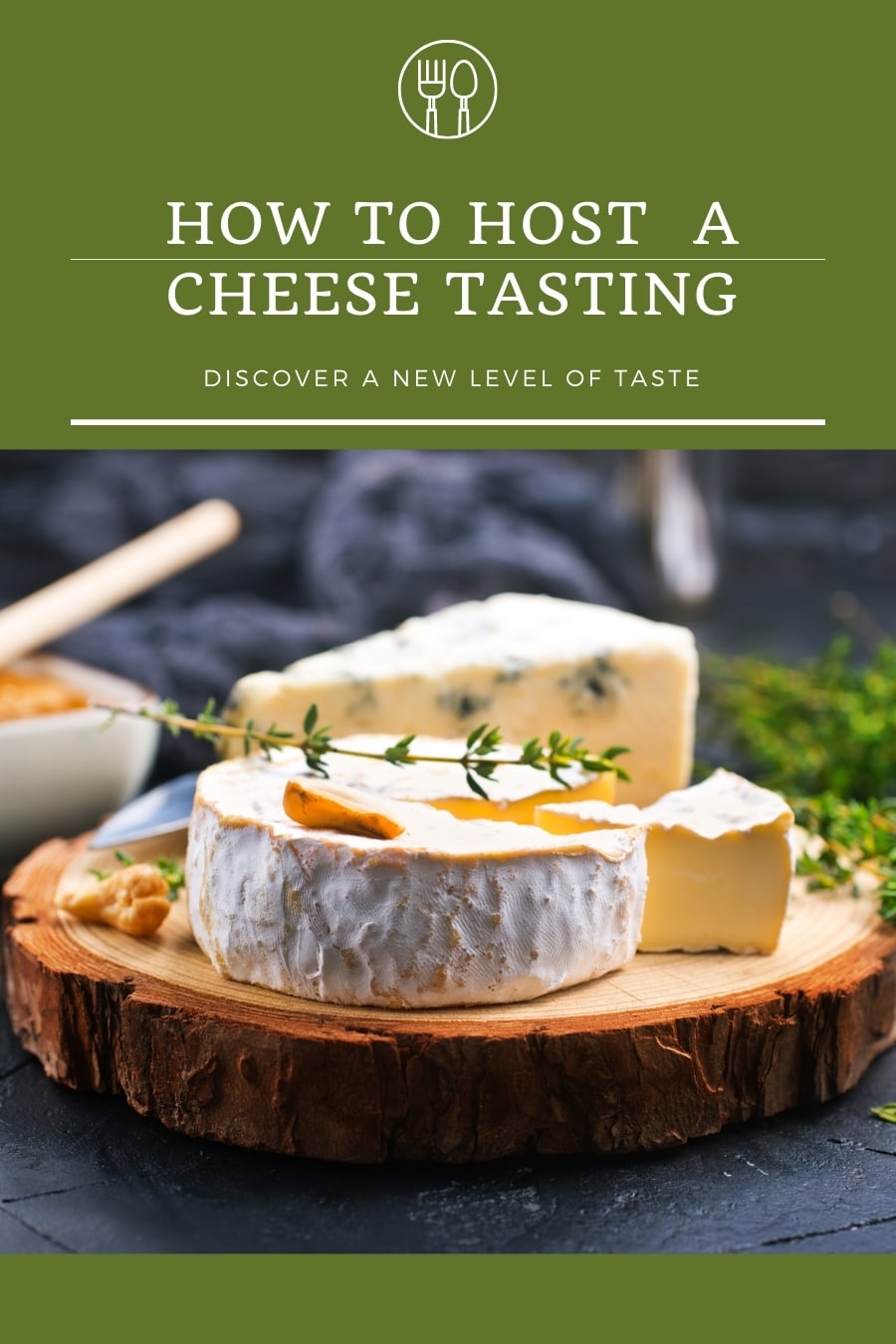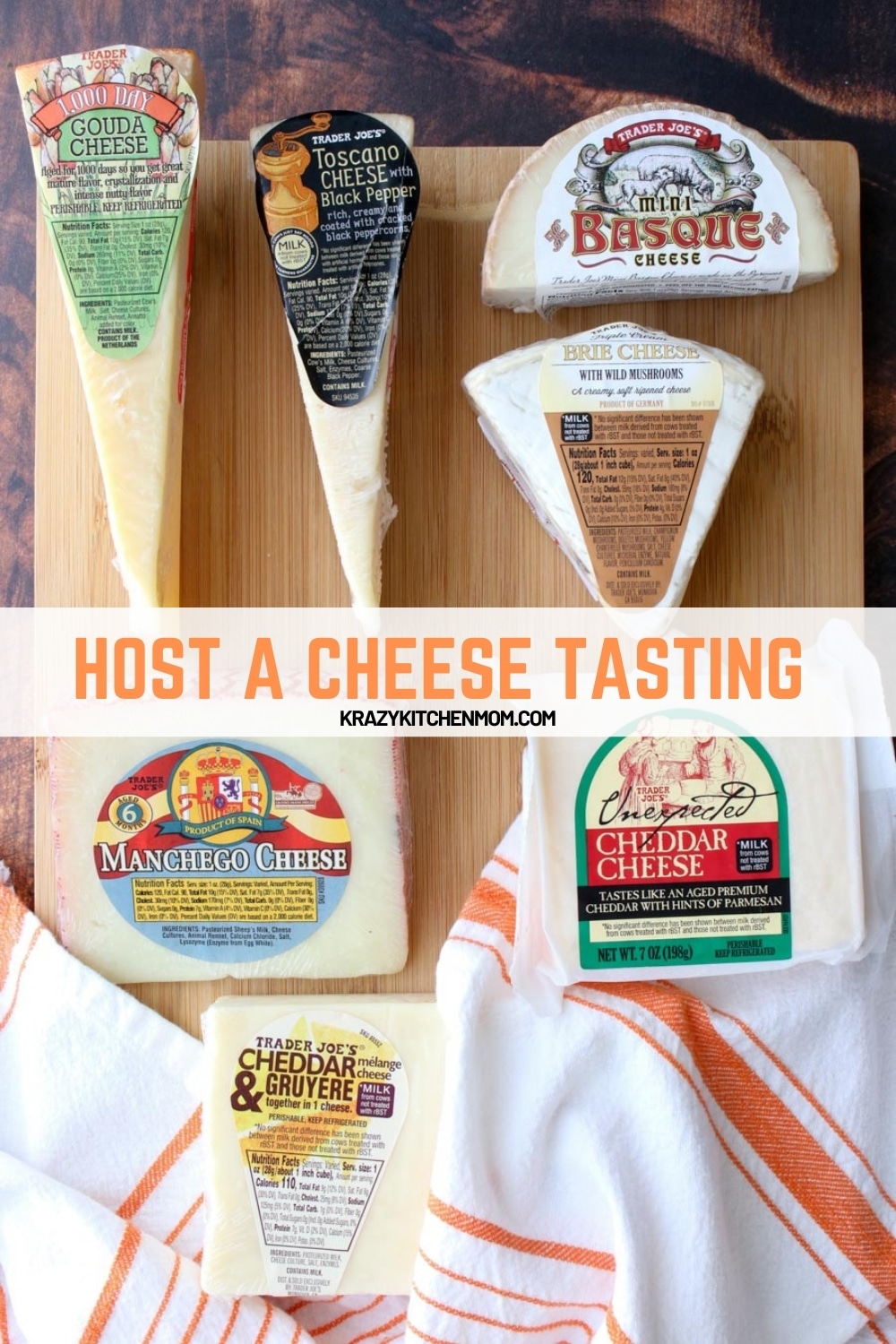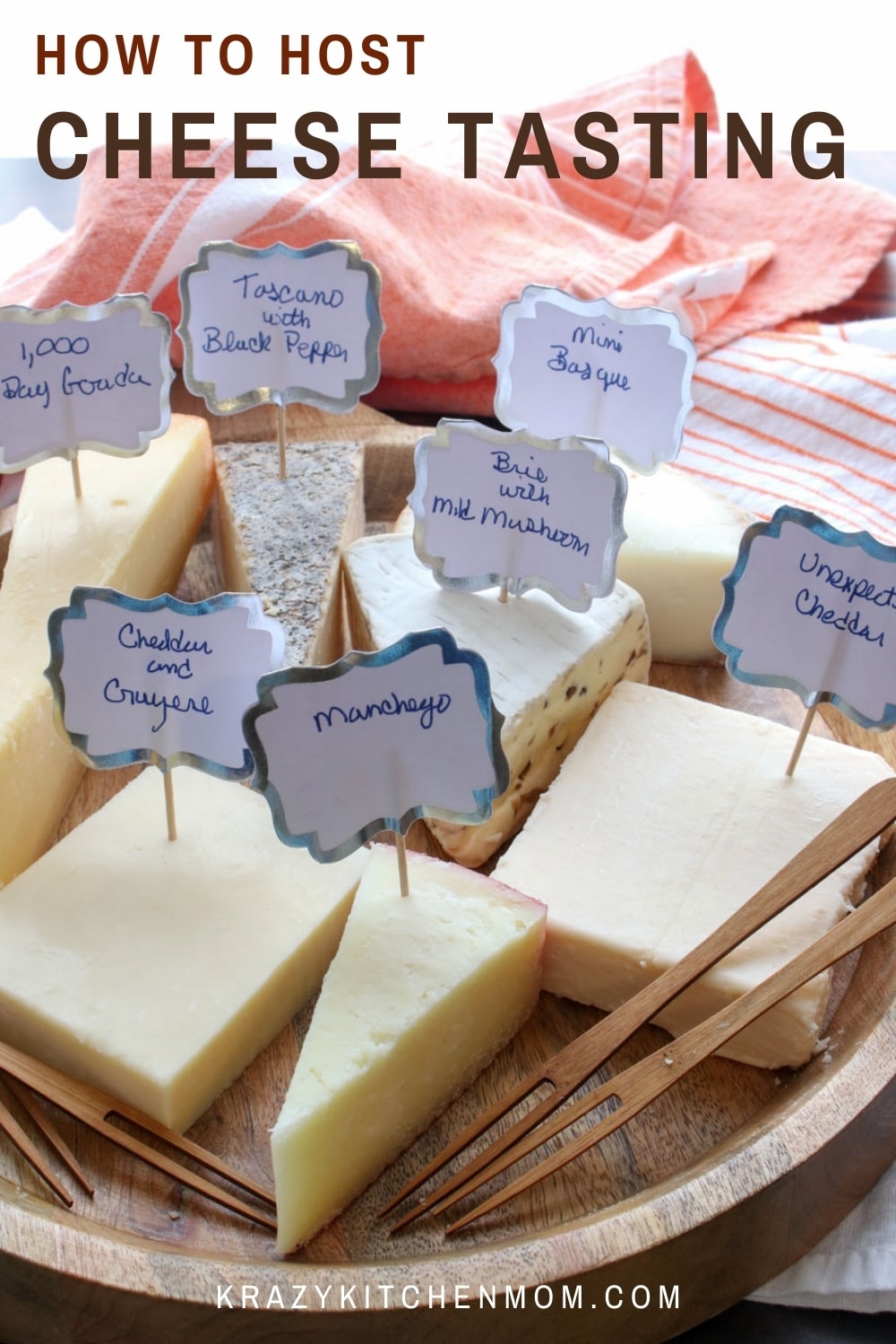 I've got all the tips and tricks to help you host a budget-friendly cheese tasting party. And the best part about it is that you can do host in-person or virtually via any video sharing platform.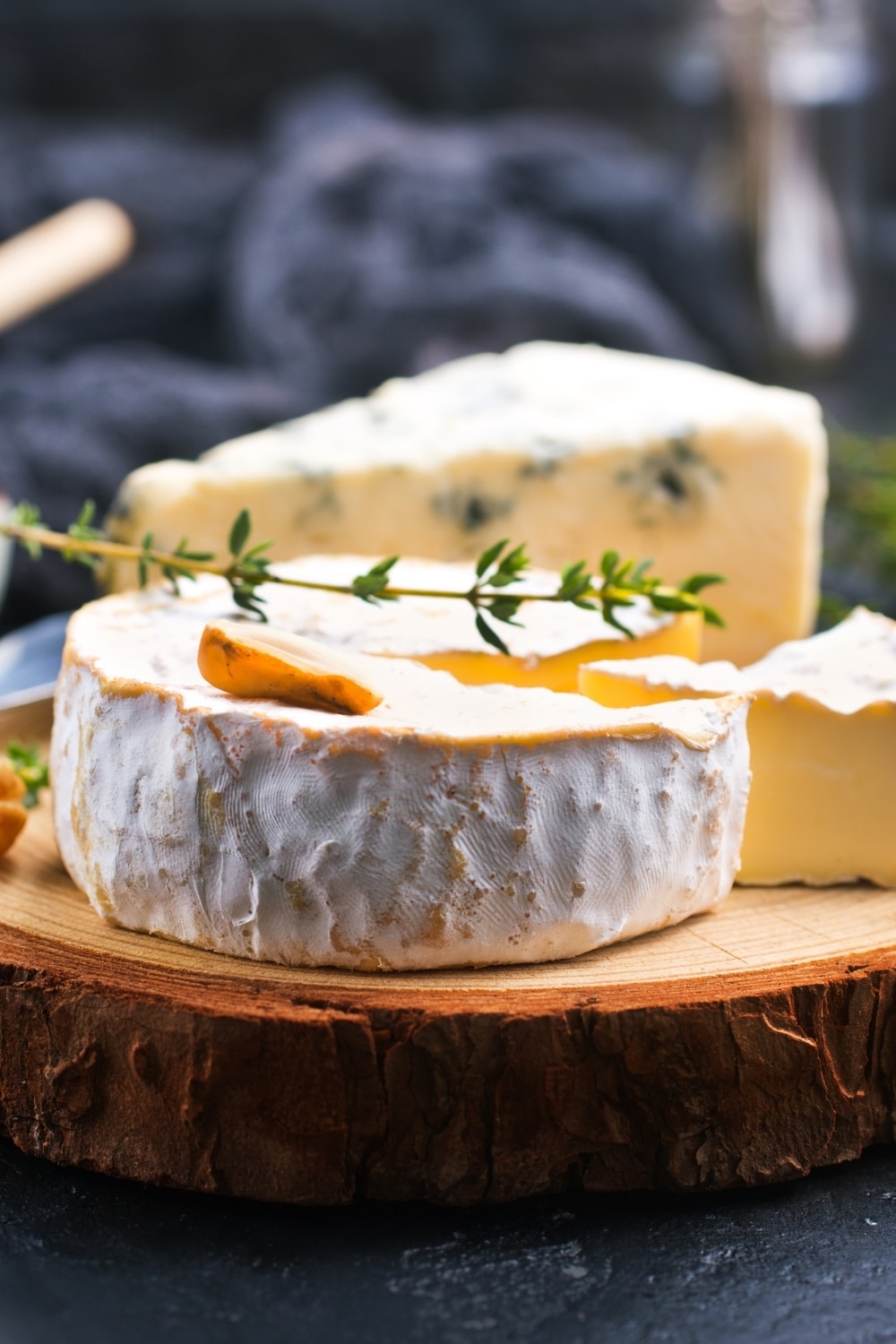 5 Easy Steps – How To Host a Cheese Tasting Party
Shopping for the cheese – There is no need to buy the most expensive cheese. I have found there are plenty of reasonably priced cheeses that are very good. For the tasting, plan on about 1 ounce per person. But since I like to serve my guests a grazing board or charcuterie board after the tasting, I plan on about 2-3 ounces per person.
Select the cheeses – Finding the right cheeses for the tasting may seem overwhelming so here's a guide to help you select what's best for you and your guest. I like to select from both soft cheese and hard cheeses. I like to add a couple of familiar or more readily available cheeses and then I also like to add in a couple of new cheese that even I've never tasted before.

Soft Cheese – these cheeses have a soft and creamy texture and a soft rind. The rind on most soft cheese is edible. Examples of soft cheese are Brie, Camembert, Gorgonzola, and Goat cheese.
Hard Cheese – like the name, these cheeses have more firm texture and usually a hard rind. Examples of hard cheese are Cheddar, Parmesan, Asiago, and Manchego.
I bought all of my cheese from Trader Joe's:
1,000 Day Gouda Cheese – This is an aged gouda cheese that has a nutty flavor. It pairs perfectly with dried fruits like apricots and dates.
Toscano Cheese with Black Pepper – Toscano cheese itself has a nutty flavor. The rind of this particular Toscano cheese is hand-rubbed with black pepper which gives it a peppery spicy flavor.
Mini Basque – From the Basque region of France, this cheese is mild and made from sheep's milk.
Triple Cream Brie with Wild Mushrooms – This is one of the top-rated cheeses at Trader Joe's.
Manchego Cheese – This cheese is made from sheep's milk and comes from Manchego sheep. It has a buttery taste and is dry and crumbly.
Unexpected Cheddar Cheese – Cheddar cheese and parmesan got married and made an amazing blend of cheese deliciousness.
Cheddar and Gruyere – Buttery nutty goodness.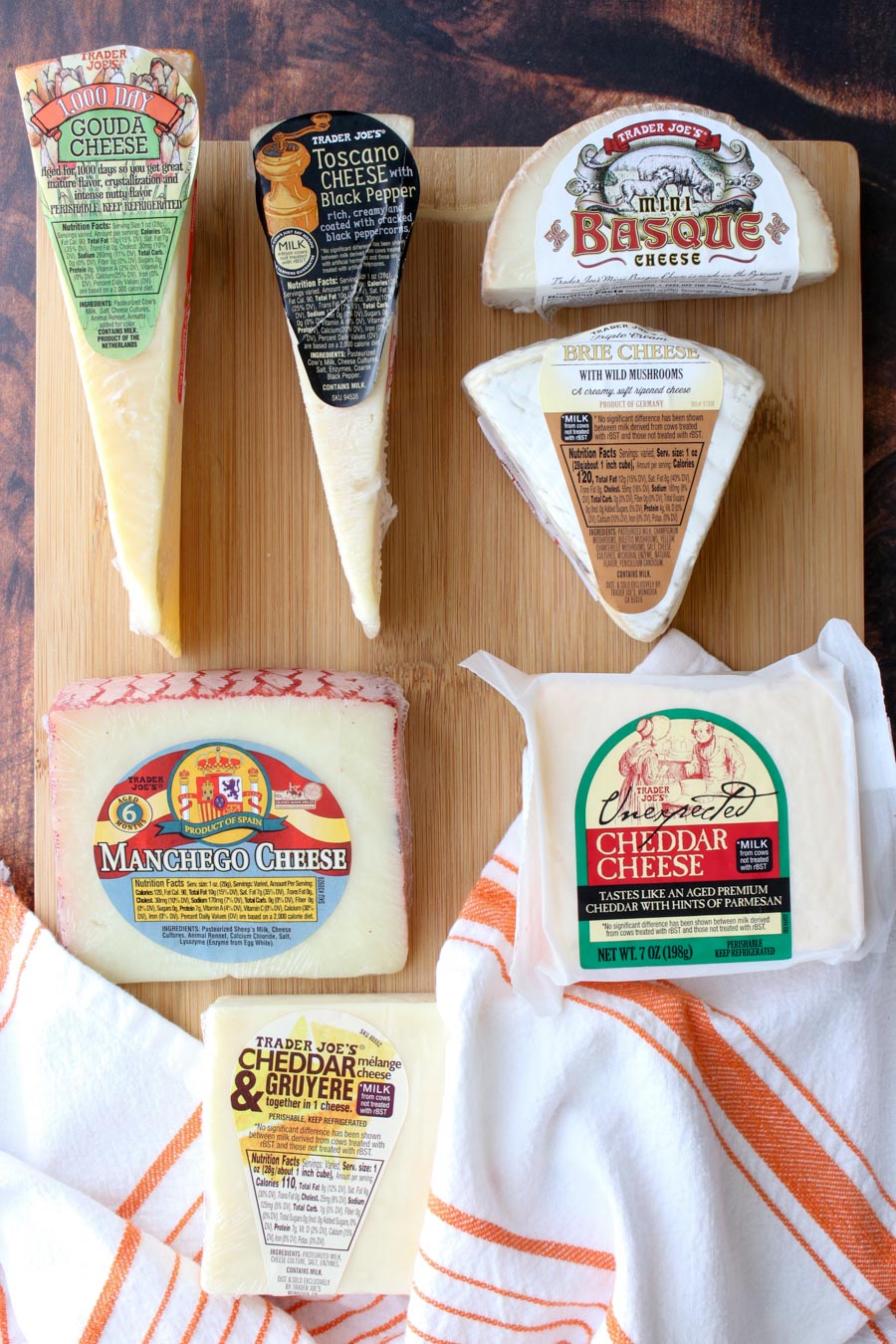 Make the guest list – Keep the event small. Usually, 6-8 guests are the perfect size for any type of tasting. By keeping it small, each person can participate and share their thoughts as you taste each type of cheese.
Prepare the cheeseboard – You can use any type of platter or board to plate the cheese. I prefer using a large cutting board because I like the rustic look and it gives me plenty of room to spread the cheese out. Remove the cheeses from the refrigerator an hour before the event. The cheese needs time to rest at room temperature for the flavor to bloom. Prepare a small label with the name of each type of cheese so everyone knows what they are tasting. Unwrap the cheese and place them next to the label. Leave enough space around the board so you can see the unique characteristics of each cheese. Remember, this is not a grazing board or a charcuterie board, it's a cheese tasting board. So I like to keep it pure – cheese and labels only.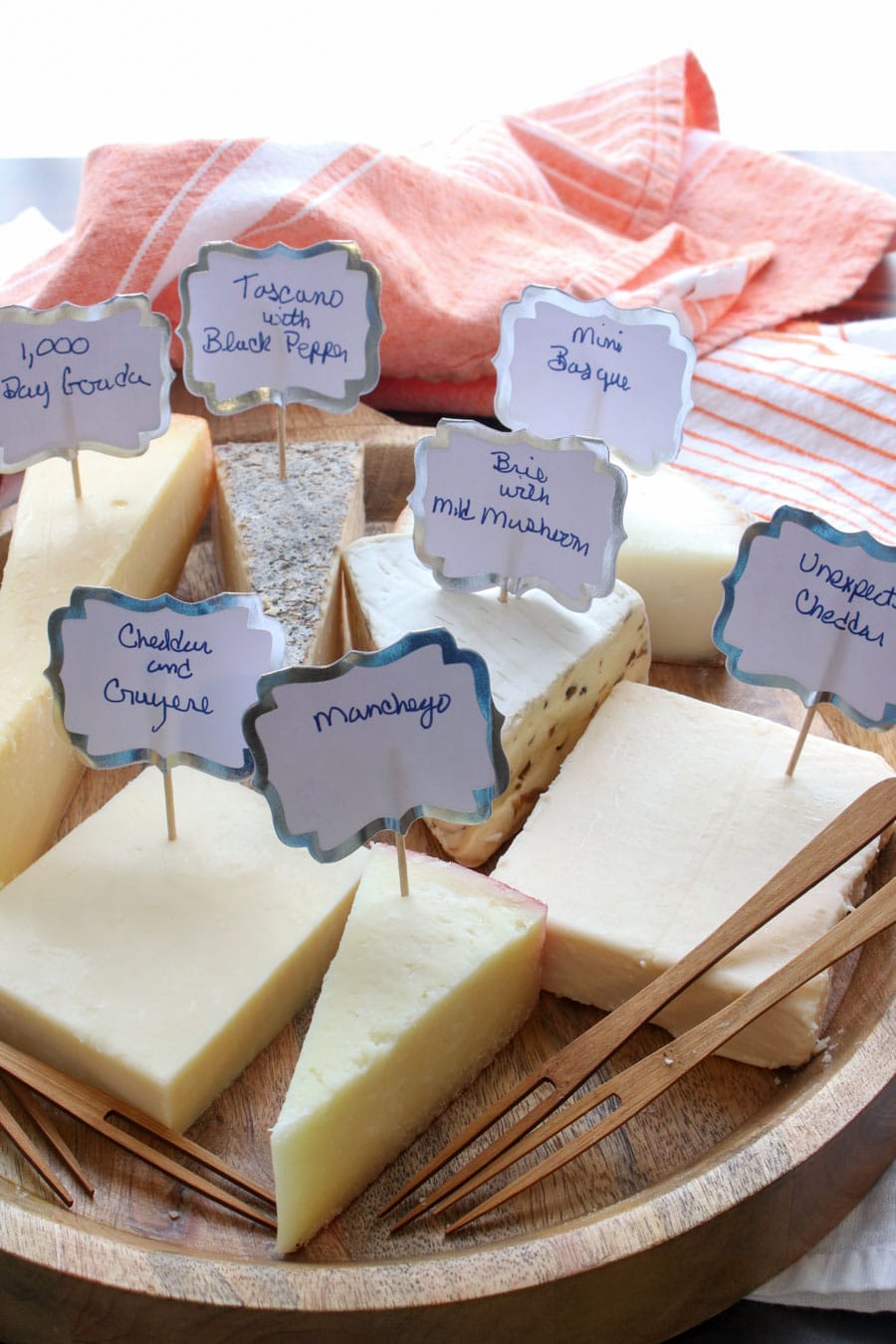 Teach your guests how to taste the cheese. It might seem obvious that you would just pick up a piece of cheese, taste it, and know if you like it or not. But the fun of an actual cheese tasting is to use more than taste to judge the cheese. Much like a wine tasting, using your other senses bring a whole new element to just "tasting cheese". I like to follow this concept for cheese tasting:

Look – what does the cheese look like? Describe the unique characteristics, color, and texture. Does it have a rind? If it does, how does the rind look compared to the cheese?
Touch – let everyone break off a piece of cheese or have several pieces broken apart on the board. If possible break the cheese apart with your fingers. If it's a soft cheese, give each person a small tasting spoon. Describe the feel of the cheese. Is it smooth, rough, hard, soft? Is it heavy or light, fragile, or firm? Crumbly or smooth?
Smell – close your eyes and smell the piece of cheese. What does it smell like? Is it fruity, grassy, nutty, spicy, bland, funky?
Taste – open your eyes and taste the cheese. Describe the flavors – sweet, sour, bitter, salty, umami, earthy, sharp, buttery, herbal, milky, smokey? Does it have an aftertaste?
Rank the cheese – My favorite part of cheese tasting, after the actual tasting, of course, is ranking the cheese from the most favorite to the least favorite.
Accoutrements
I like to add a few palate cleansers alongside the cheese tasting board. Palate cleansers are neutral-flavored foods and drinks that help to cleanse the mouth and tongue and remove any lingering flavor between the tastes of each type of cheese.
Palate Cleanser Foods – fruits, like blueberries and strawberries as well as citrus fruits and apples and pears work best as palate cleansers. Also, a neutral-flavored cracker that is not too salty helps to ready your taste buds for the next type of cheese. You can also add some mild nuts, dried apricots, and figs or dates.
Palate Cleanser Drinks – during the actual cheese tasting part of your event, it's best to serve drinks that are on the lighter side. For wine drinkers, choose a light rosé, fruity white wine, or a dry Prosecco. For beer drinkers, choose a light beer. I would steer away from a heavy lager or dark beer during the cheese tastings. For non-alcohol drinkers, sparkling water or citrus-flavored sparkling water works best.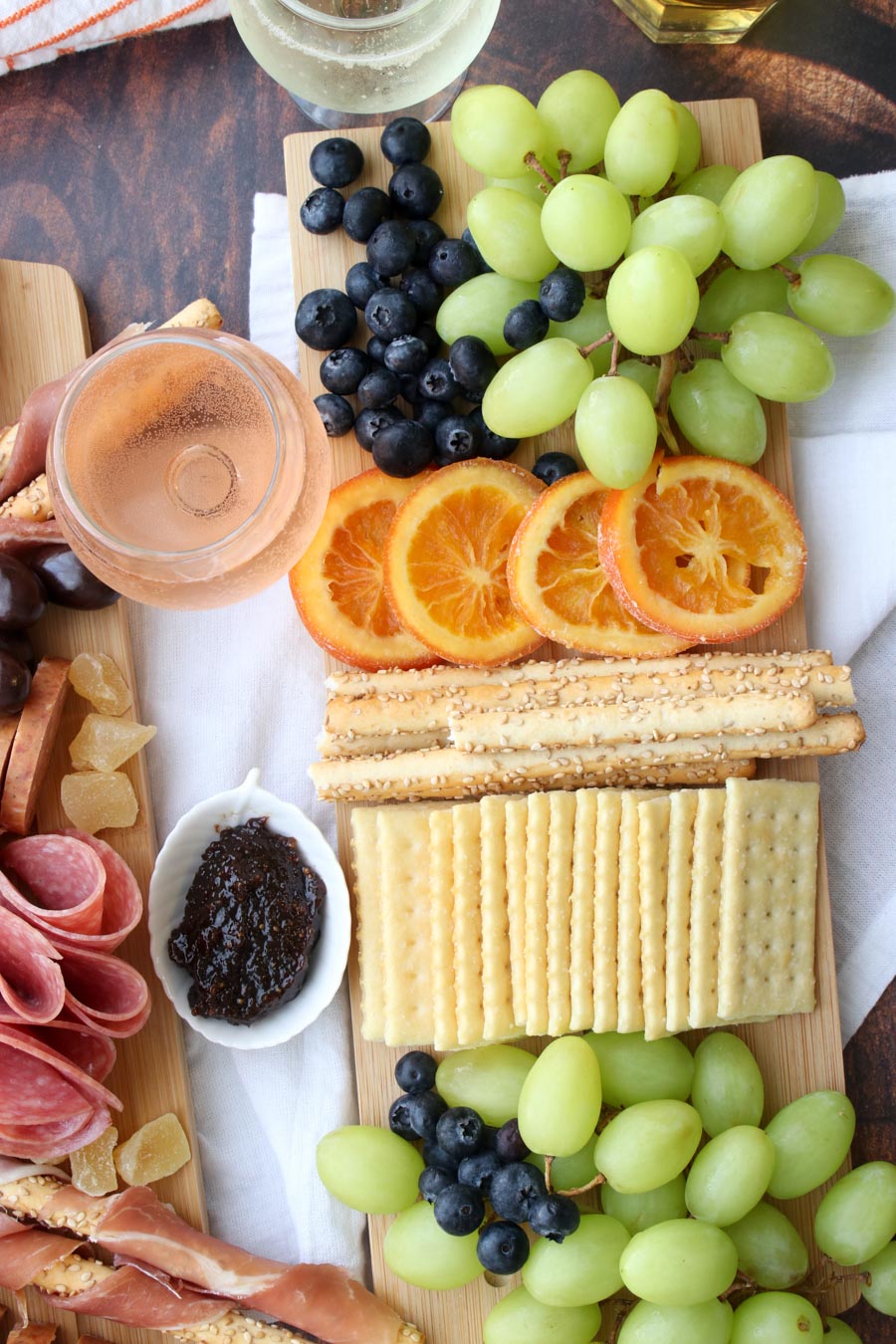 What To Serve After The Cheese Tasting
Since you already have a cheese board and by now everyone knows what cheeses they like best, I like to serve a charcuterie or grazing board. I make this board in advance and have it ready to go, at room temperature, at the end of the formal cheese tasting. Now your party has turned into a party with a fantastic grazing-board theme. For my grazing board, I like to use several types of meats like hard salami, prosciutto, mortadella, soppressata, or summer sausage. The key here is to use a variety of meats that you like. I also make my grazing board fancy by adding for flavor crackers or small slices of a baguette, more dried fruit, grapes, jellies, jams, bold nuts, and chocolates. With the cheese board and now the grazing board there is enough food to satisfy your guests and enjoy the rest of the event.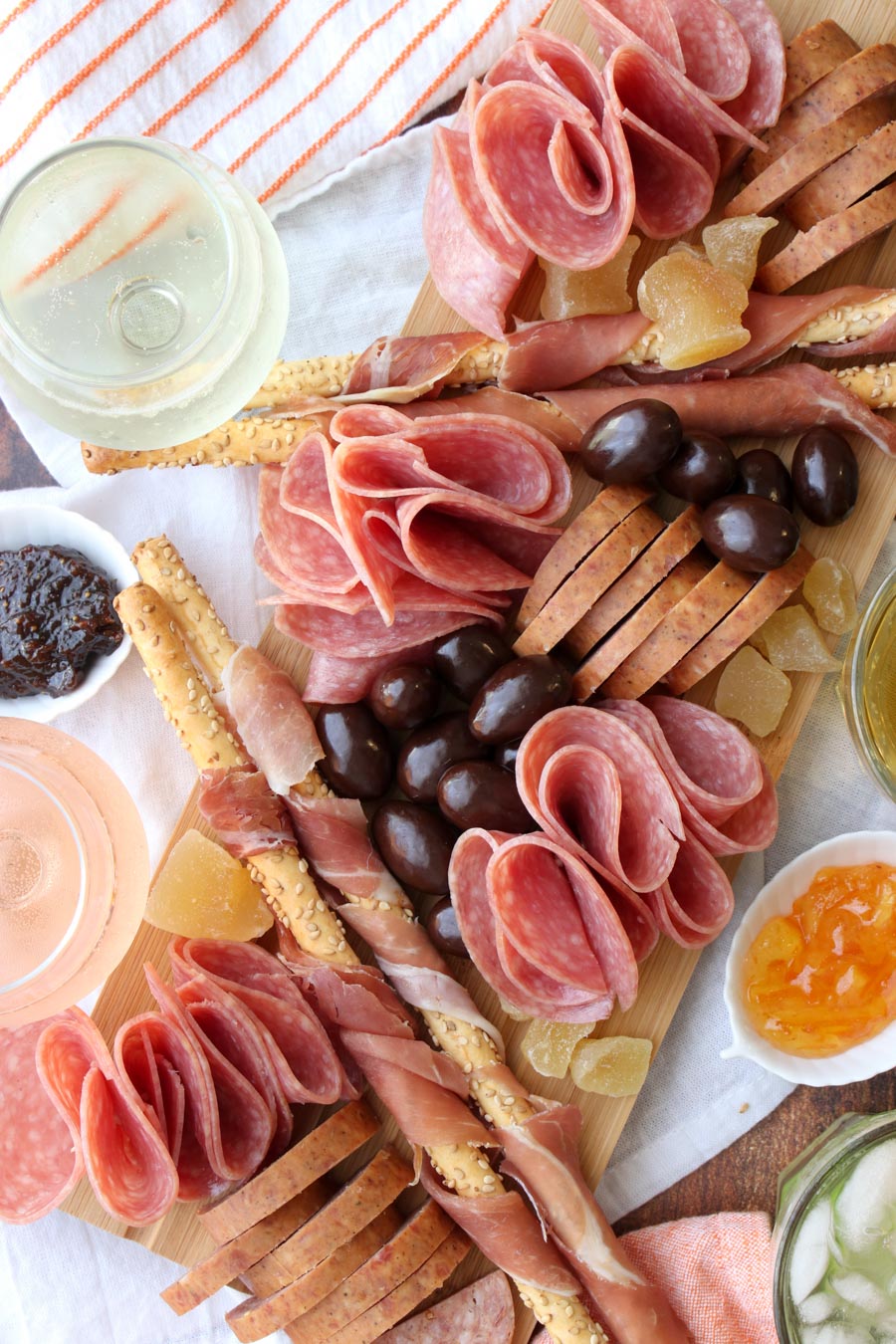 Make It A Virtual Cheese Tasting Party
We have family living in different parts of the country so we like to connect via Zoom (or any other video sharing platform). Luckily, we all live near a Trader Joe's store so we all bought the same type of cheese, prepared them with our labels and we were able to taste them all at the same time.
If you don't have a similar grocery chain as your virtual guests, you can ask each guest to select one hard cheese and one soft cheese. Then each person tastes their cheeses and describes them to the group.
Krazy Kitchen Mom Tips
Remember to take the cheese out of the refrigerator an hour before you serve it. Cheese is like red wine and it needs time to rest so the flavors can bloom.
Be sure to label the cheeses. You don't have to be fancy, you can just write the name of each cheese on a small piece of paper and set it next to the cheese. Or you can tape the small piece of paper to a toothpick and stick it in the cheese. Or you can buy very inexpensive labels already adhered to picks.
When you make your guest list, make sure all of your guests like and eat cheese and make sure no one is lactose intolerant. It would be terrible for someone to have to sit out of the cheese tasting fun.
Don't forget to enjoy yourself!
More Recipes For Entertaining