This post may contain affiliate links which won't change your price but will share some commission.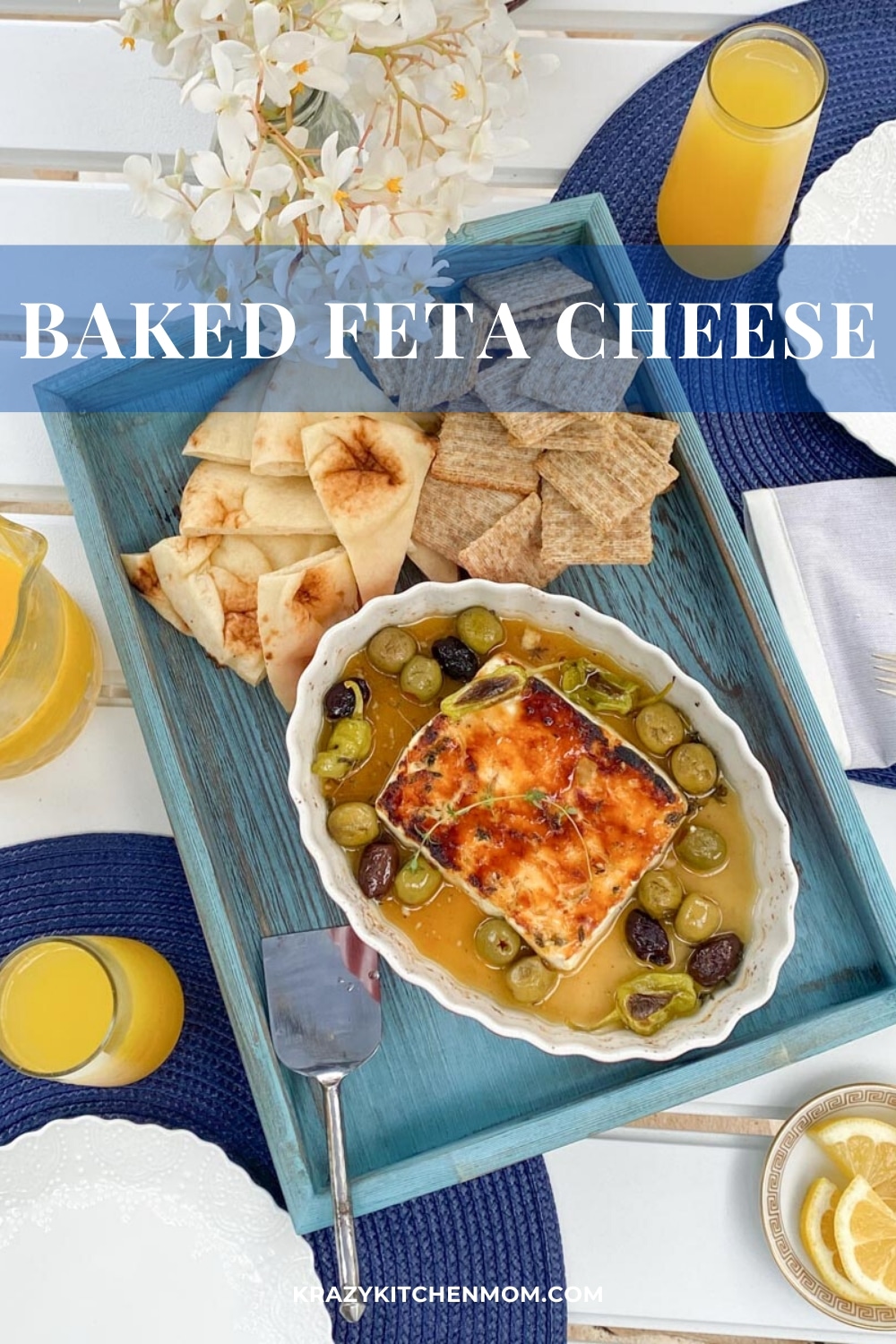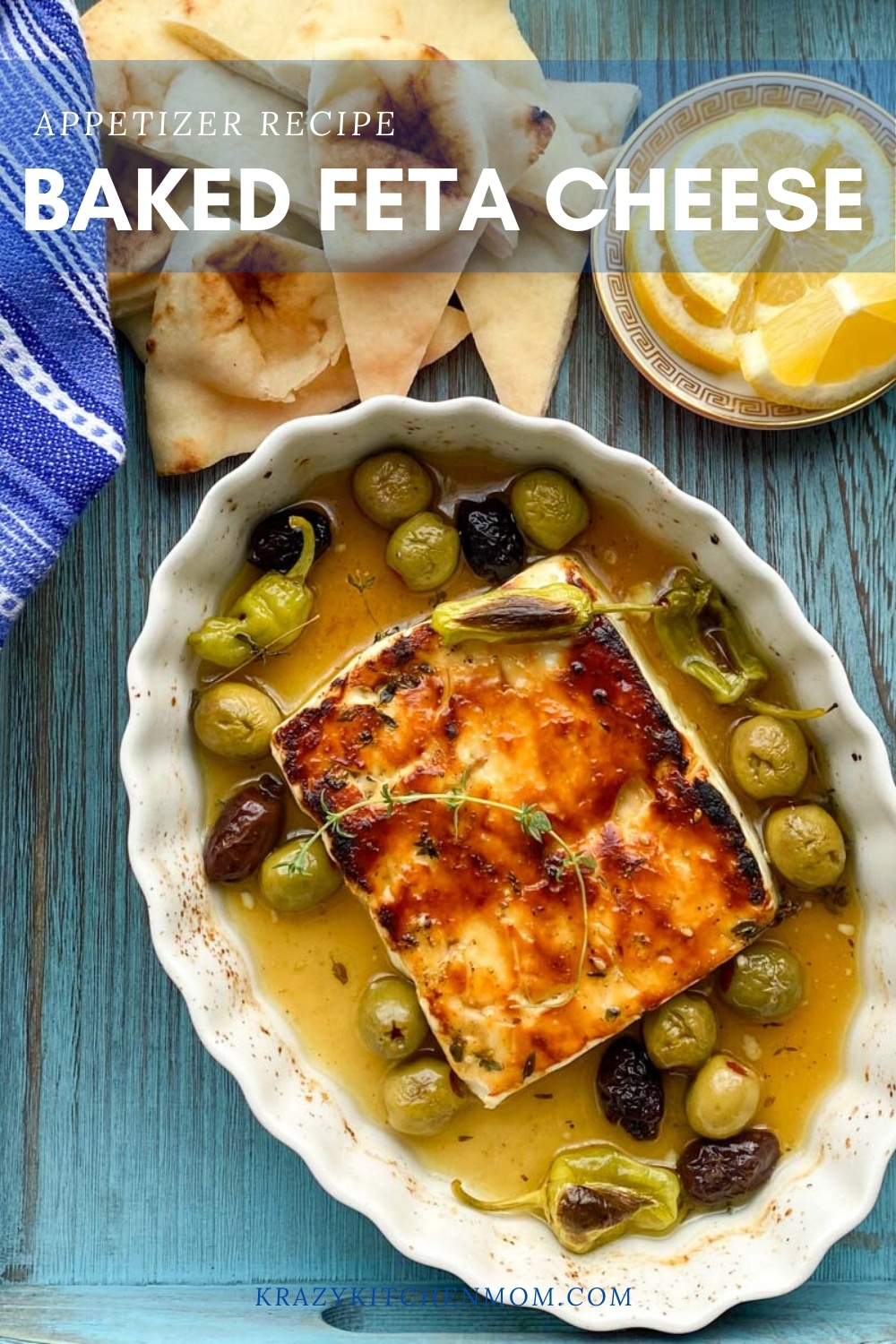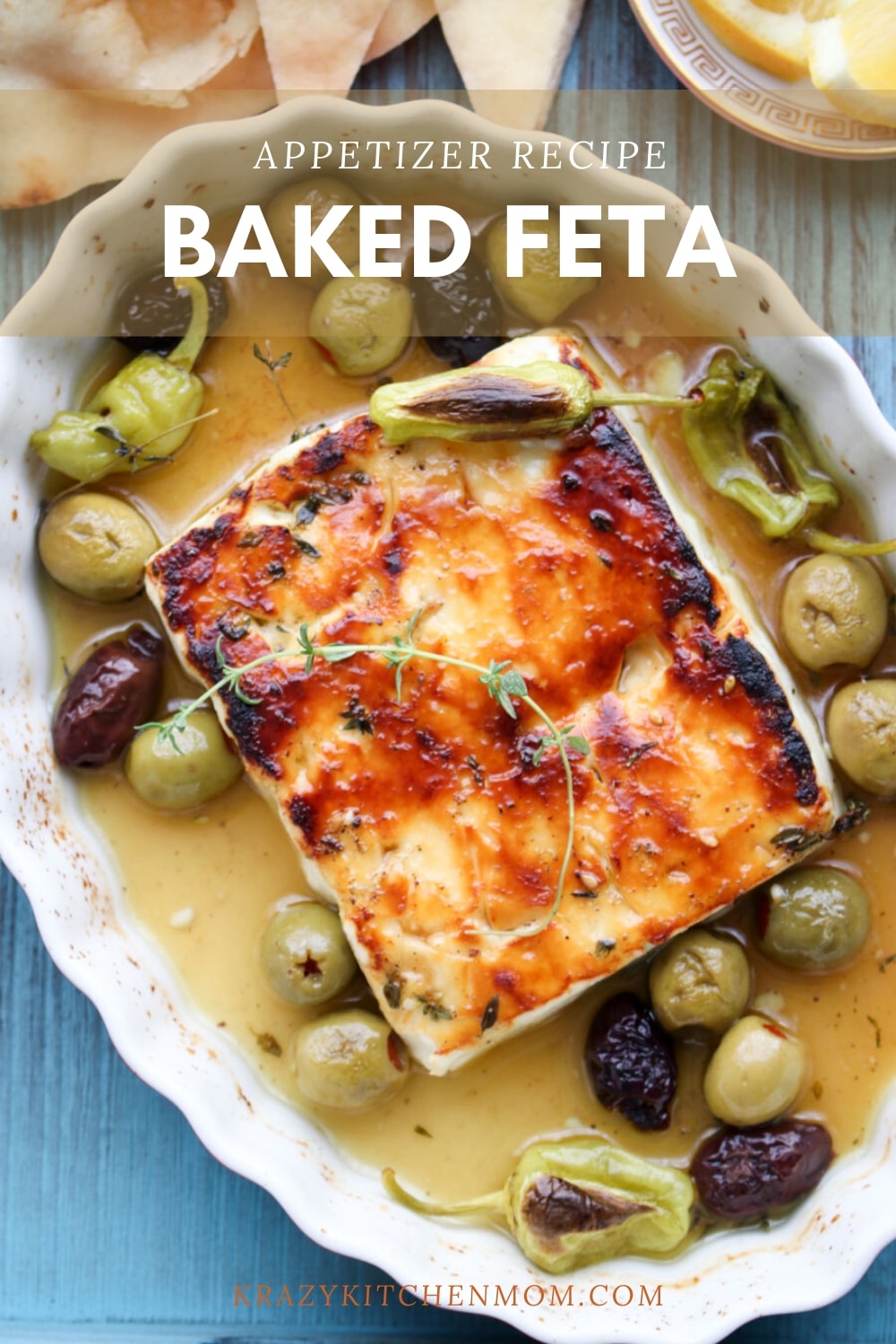 Honey Za'atar Baked Feta Cheese is a Greek-inspired appetizer. Once you try this recipe, it will quickly become your go-to appetizer for any gathering.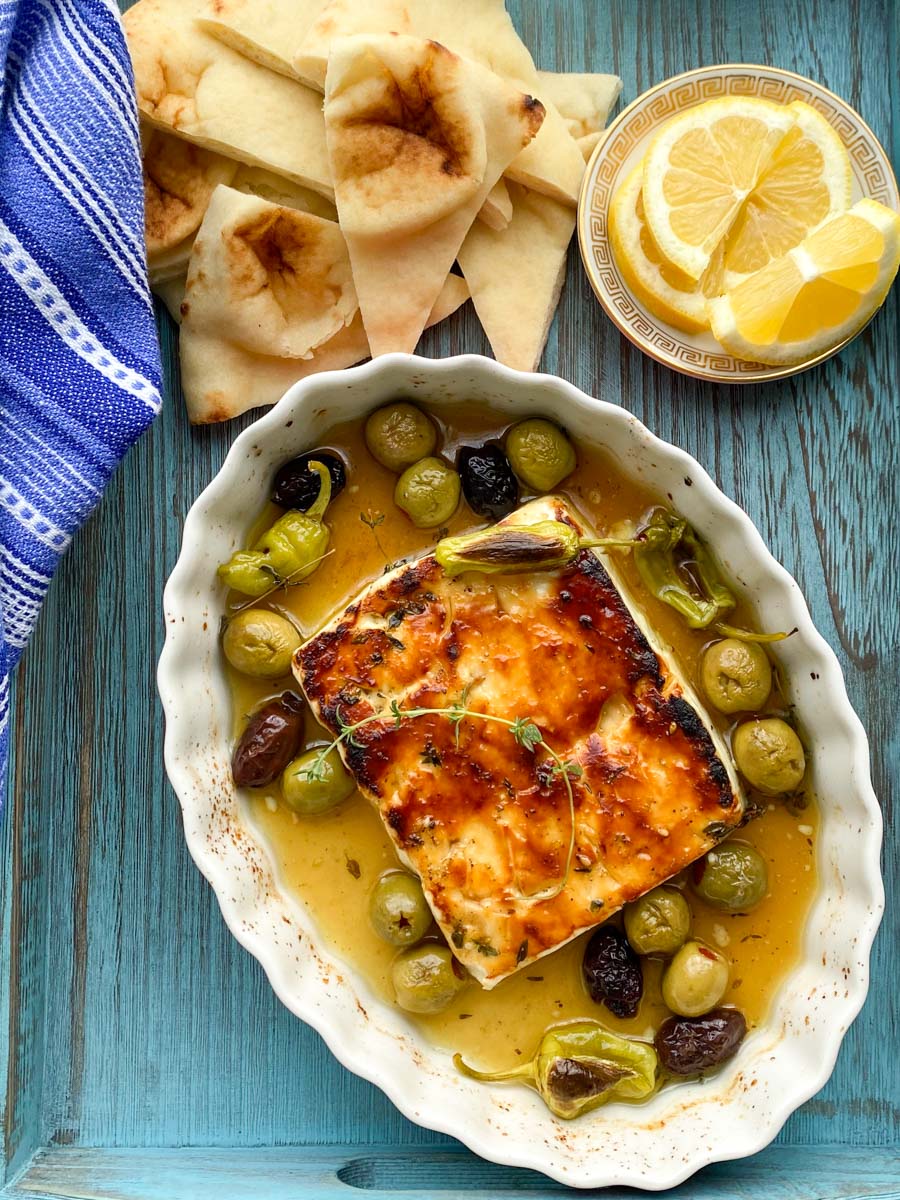 The first time I made this, I was totally blown away. The flavor of the feta cheese mixed with the sweetness of the honey and the zing from the za'atar is just amazing.
This is one of those recipes you won't ever want to lose. And to make it even better, it's so easy to make and ready in just 15 minutes.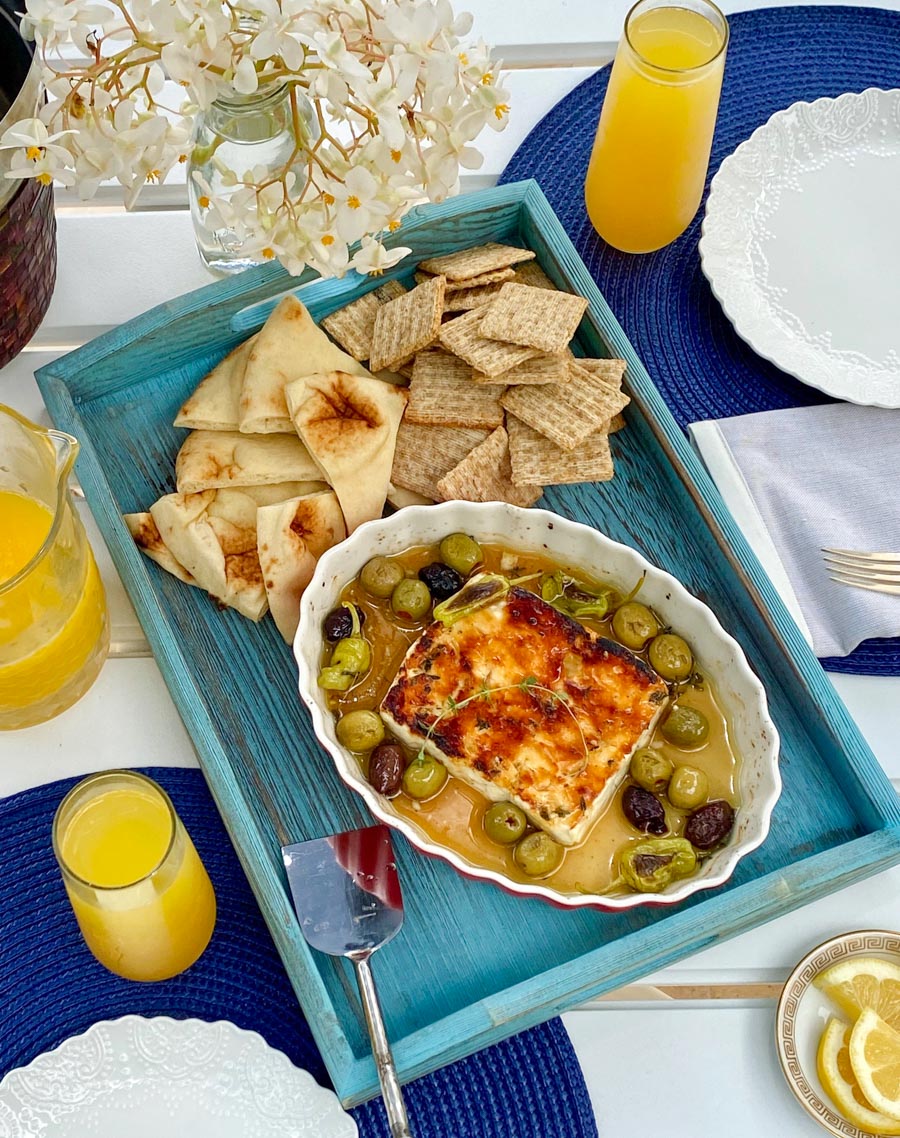 what is feta cheese?
Feta Cheese is a firm white cheese that originates in Greece. It's made from a combination of sheep and goat's milk. It has a tangy and salty taste and tends to be very rich.
It is slightly crumbly or stringy but interestingly creamy at the same time. When it's baked it becomes even more creamy.
Because it can be salty, some people prefer to rinse the block of cheese underwater before using it. I prefer the salty taste and really don't see any reason to rinse the cheese.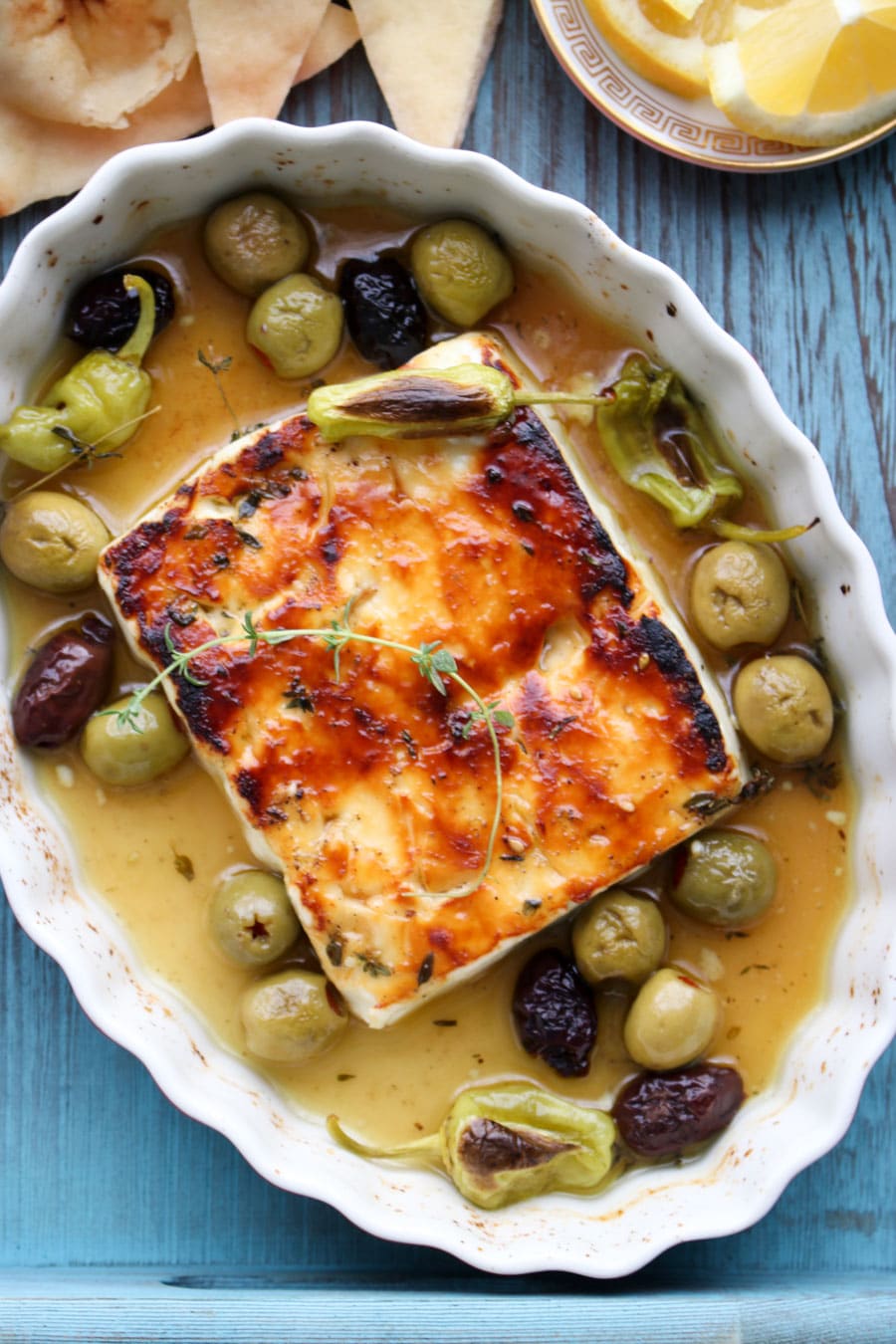 does feta cheese melt?
No, fete cheese does not melt which is why it's the perfect cheese to bake. The edges will become soft and the inside will be creamy but it does not melt.
I like to have rich brown coloring after it's baked which is why I use the honey. The honey also balances the tangy flavor giving you rich creamy cheese to spread and eat on pita bread or crackers.
other cheeses that do not melt
There are several other types of cheese that do not melt and are perfect for baking or pan-frying.
Halloumi – Another cheese made from sheep and goats milk. Very mild in taste. This cheese is great for pan-frying. Here's my recipe for Grilled Halloumi with Blood Oranges.
Cotija – This is a Mexican cheese made from cow's milk. It is firm and has a squeezy texture like cheese curds. You've probably had cotija cheese on your tacos or beans if you've eaten at a Mexican or TexMex restaurant.
Ricotta – You've probably had Italian ricotta cheese in lasagna or stuffed shells or on a pizza so you know how well it stands up to being baked. It can be made from sheep, goat, or cow's milk
Paneer – This is an Indian cheese that has a creamy but firm texture. This is another cheese that is perfect for pan-frying.
Kasseri – This cheese is a Greek-Turkish cheese and is firm and has a cream color. I like to use kasseri for making Greek Saganaki which is egg battered and then pan-fried. It is served by pouring a small amount of brandy over the top and flaming it. It's very impressive! And it's one of my favorite cheeses.
Honey Za'atar Baked Feta Cheese ingredients
Feta Cheese – Like other cheeses, you can buy every inexpensive (or cheap) feta cheese or very expensive feta cheese. My motto for any dish that features cheese is to use a high-quality cheese. Spend a little more money; I promise you won't be sorry. Hint – I like to buy feta cheese from a local Greek restaurant. All you need to do is ask them if they will sell you an 8-ounce block of feta cheese. Most of the time they are happy to do so.
Honey – I used standard clove honey in this recipe.
Extra Virgin Olive Oil – You can use any type of extra virgin olive oil that you'd like. I have Greek olive oil that I bought at a Greek market place in southeast Florida.
Za'Atar – This is my new favorite spice! It's a Mediterranean spice blend of thyme, oregano, marjoram, sesame seeds, and sumac. It has a fantastic citrus flavor. Check out my other recipes using Za'atar: Za'atar Shrimp and Cauliflower Rice and Za'atar Grilled Chicken and Pasta.
Fresh Thyme – You can buy fresh thyme in any grocery store. I grow thyme in my herb garden because it's one of my favorite herbs.
Kalamata Olives – These are Greek olives. I used pitted kalamata olives
Pepperoncini Peppers – These are small, slightly spicy pickled peppers. Hint – don't skip the peppers in this recipe. As they bake, they release a slight amount of spicy heat into the olive oil that the cheese is cooked in. It gives this dish an extra back-note of flavor and a little spice that is fantastic.
Naan Bread – I like to serve this baked feta with naan flatbread. You can also serve it with pita bread.
Lemon Slices – I like to drizzle it with lemon for serving.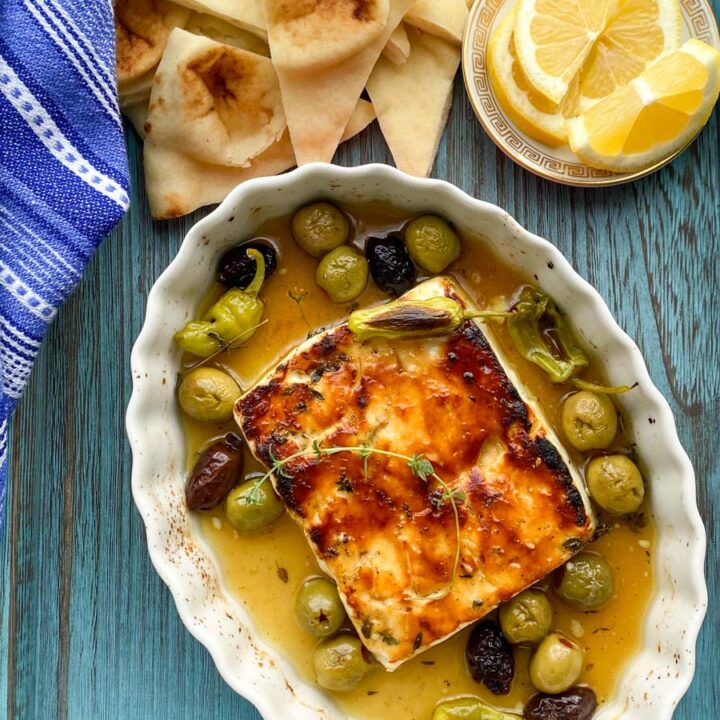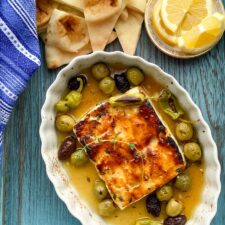 Honey Za'atar Baked Feta Cheese
Honey Za'atar Baked Feta Cheese is a Greek-inspired appetizer. Once you try this recipe, it will quickly become your go-to appetizer for any gathering.
Print
Pin
Rate
Ingredients
8-

ounce

block of fete cheese

2

TBS

extra virgin olive oil

1

TBS

honey

1

teaspoon

Za'atar spice

1

Teaspoon

fresh thyme

15

pitted kalamata olives

3

pepperoncini peppers

Lemon slices for serving.

Naan bread or pita bread for serving
Instructions
Preheat oven to 400°

Lightly brush the inside of a baking dish with extra virgin olive oil.

Place the feta cheese in the baking dish along with the olives, pepperoncini peppers and fresh thyme.

Pour the 1 TBS extra virgin olive oil over the cheese.

Sprinlke with Za'atar.

Bake for 15 minutes and remove it from the oven.

Set oven to briol.

Drizzle the honey on top of the cheese and move the olive around a bit with a spoon.

Return it to the oven and briol for 5-7 minutes. Watch it carefully so it does not burn.

Serve this dish hot on naan bread or pita bread and drizzle it with lemon.