This post may contain affiliate links which won't change your price but will share some commission.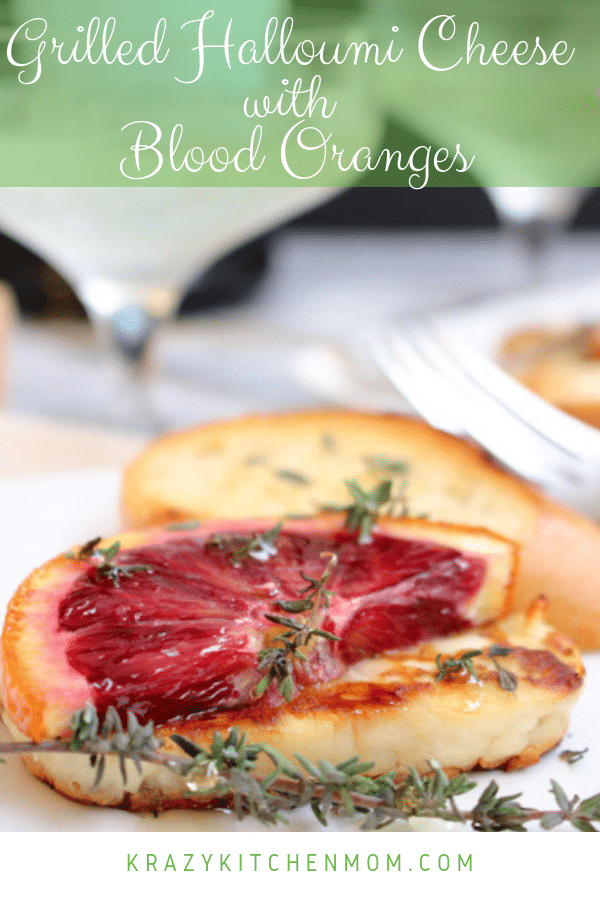 Grilled Halloumi Cheese with Blood Oranges is one of our favorite appetizers. Greek Halloumi cheese, grilled and topped with blood oranges and fresh thyme.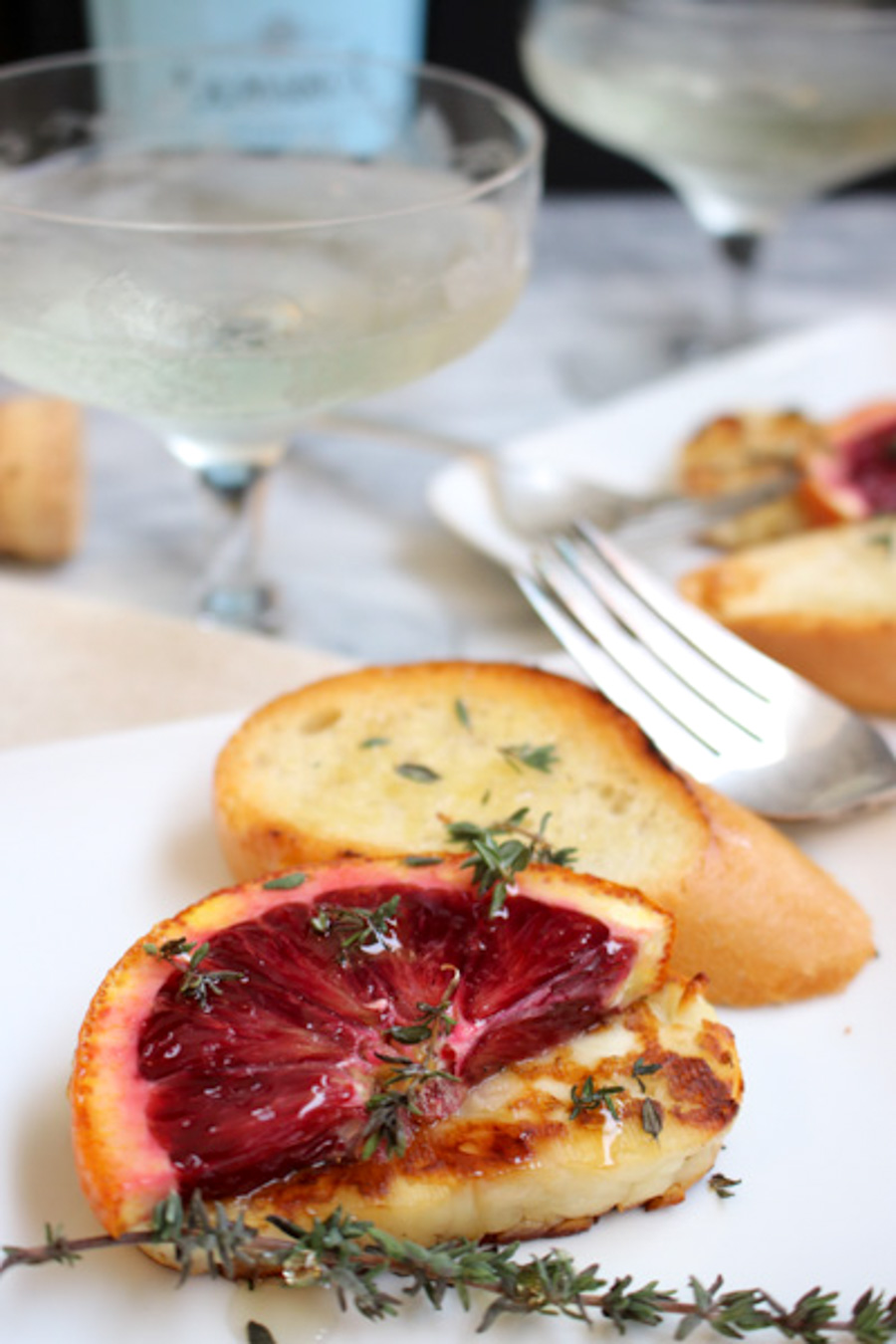 Recently we were in the Tampa area and much by mistake we found a delightful little area called the Sponge Docks. Why did they call it the Sponge Docks and what's that got to do with grilled cheese? I'll tell you…The Sponge Docks are known for world-famous sponges. There are fun little shops at the docks where they sell hundreds and hundreds of sponges that they've harvested from the waters. It's also a large Greek community with some of the best Greek restaurants around. There is also a delightful Greek market where I bought the Halloumi cheese and some rich Greek olive oil.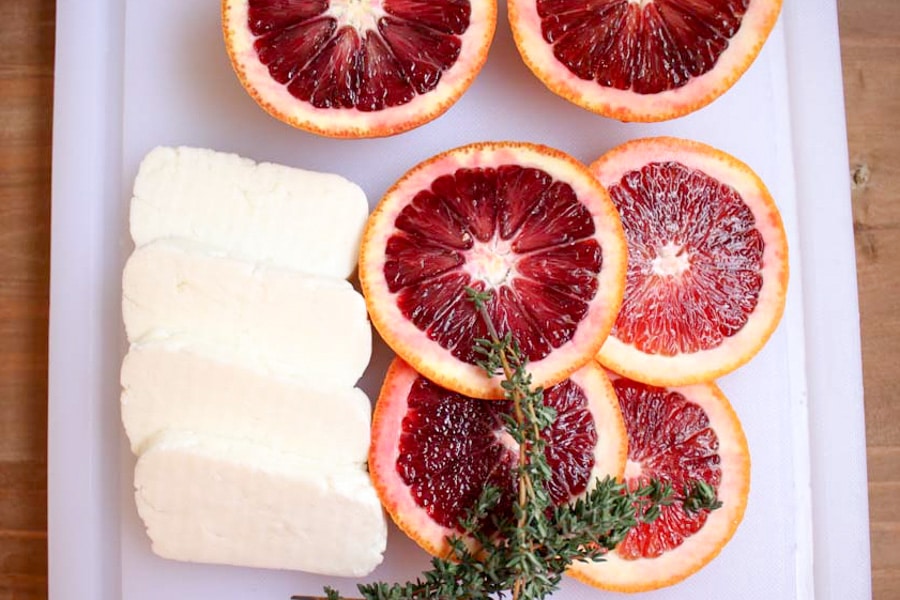 what is halloumi cheese?
Halloumi cheese is a semi-hard cheese made from both goat's milk and sheep's milk. It reminds me of feta but it's not crumbly; it has a salty taste which I really like, and it has a high melting point which is why it stands up to grilling and frying. Don't expect this cheese to melt in your mouth when you eat it. It's got a great texture with a bit of a chew to it. That's why it works so well sitting on top of a slice of crispy baguette and topped with a beautifully grilled slice of blood orange. I don't know about you, but I'm drooling just writing this.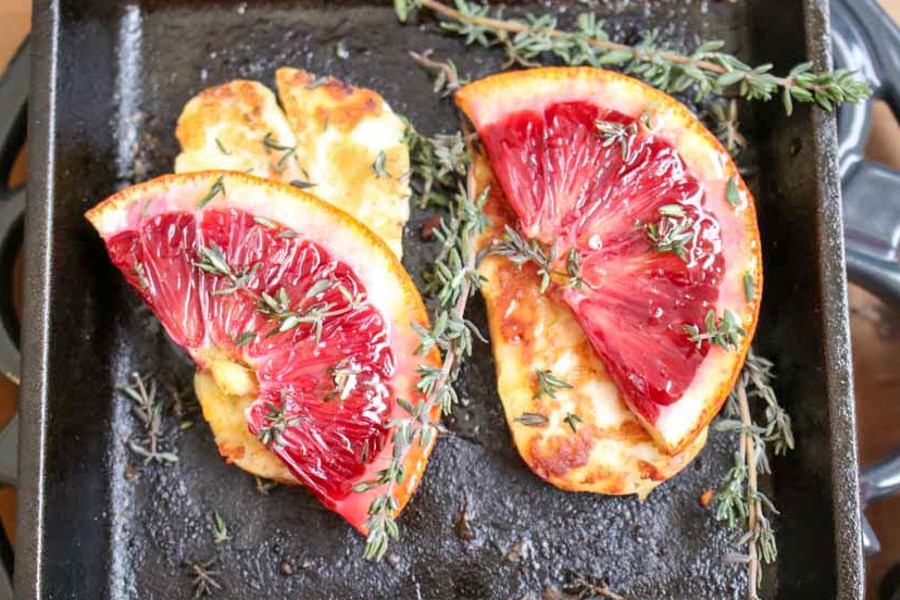 how to cook halloumi
This cheese literally cooks in about 5-6 minutes. You simply add some olive oil to a skillet and cook it on each side for about 3-5 minutes.
where to buy halloumi cheese
I hadn't seen Halloumi cheese at any of the markets where I usually shop until I really started looking for it. Now I can find it at a couple of upscale local groceries. If you want to try it and your market doesn't carry it, just google, "where to buy Halloumi cheese" and you'll be surprised at how readily available it is.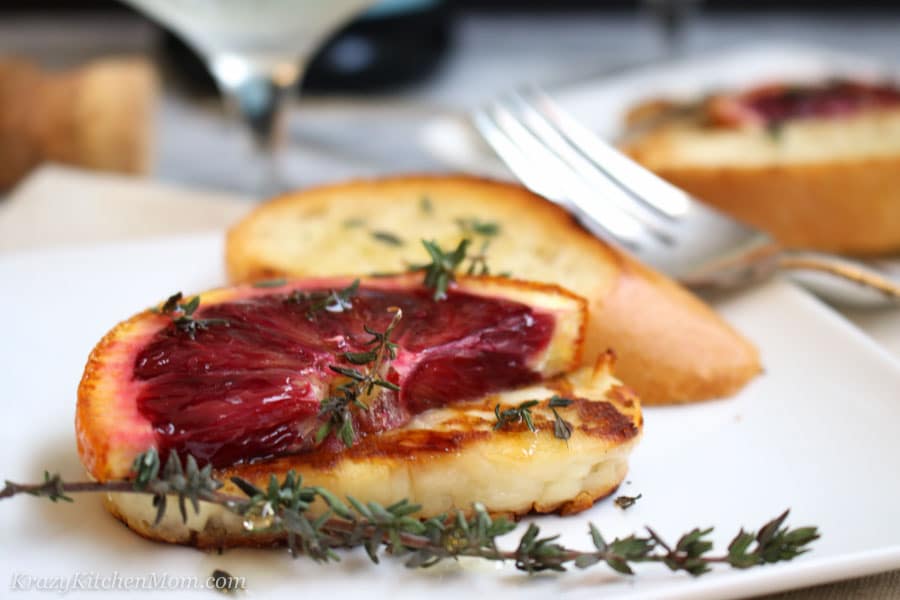 If you try Halloumi cheese, please drop me a note in the comments below and let me know how you like it
Looking for something to drink with this Grilled Halloumi Cheese with Blood Oranges? Try my signature cocktail for 2019, Aperol Spritz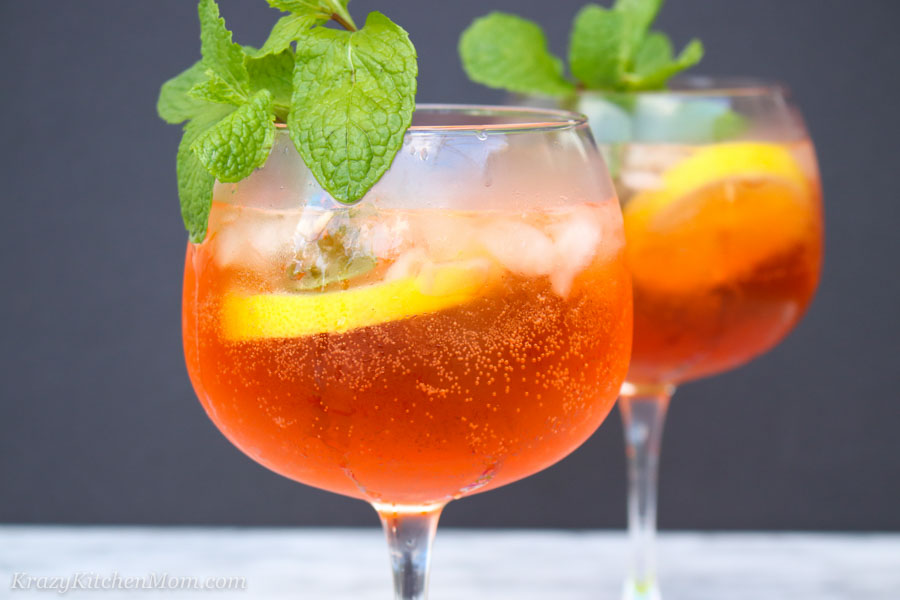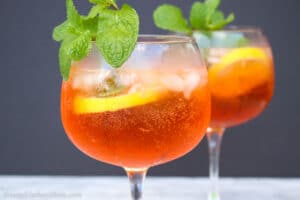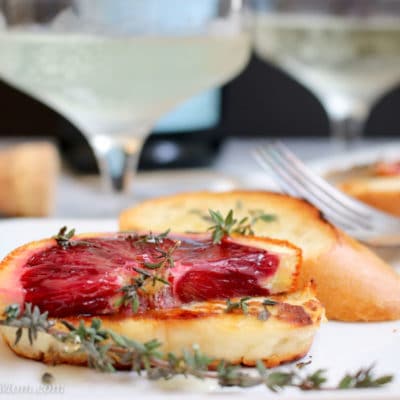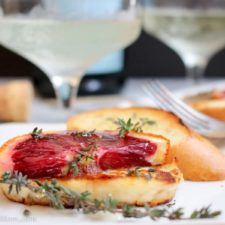 Grilled Halloumi Cheese with Blood Oranges
Grilled Halloumi Cheese with Blood Oranges is one of our favorite appetizers. Greek Halloumi cheese, grilled and topped with blood oranges.
Print
Pin
Rate
Ingredients
8

ounces

of Halloumi cheese

1

blood orange cut into 4 slices and then each slice halved

1

French baguette sliced into 2-inch slices

3

TBS

extra virgin olive oil

9-10

fresh thyme sprigs

Honey
Instructions
Preheat oven to 375°

Brush both sides of the baguette with 1 TBS of the olive oil.

Place the baguette slices on a cookie sheet and bake them until they just start to turn brown and crispy; usually about 10-15 minutes.

When the baguette slices are brown and a little crispy, remove them from the oven and let them cool.

Change oven temperature to broil.

Cut Halloumi cheese into 8 even 1-ounce slices.

Turn stovetop burner on medium-high.

In an ovenproof stovetop skillet (I use a cast a cast iron skillet), add 1 TBS olive oil.

Add the Halloumi slices and the fresh thyme leaves from 4-5 of the thyme sprigs.

Grilled the cheese for 3-5 minutes each side until it turns to a light brown color.

When the cheese is brown on both sides, top each piece of cheese with 1/2 orange slice.

Place them in the oven on broil for another 3 minutes - watch them carefully so they don't burn and if they are getting too brown remove them before the 3 minutes.

Remove them from the skillet and place them on a serving plate.

Serve them with the slices of baguette.

Drizzle with olive oil and honey.

Garnish with the remaining thyme sprigs.