There is nothing better than fresh fruit and vegetables and especially juicy tomatoes…the kind that drip down you chin as you bite into them. But, let's face it, tomatoe juice dripping down your chin is not really how I want people to see me enjoying this delicious summertime treat so I graciously made a more appealing plate of tomatoes and got the same robust taste.
I found this amazing black Hawaiian Lava Salt at the Farmer's Market. It adds a deep rich salty flavor. But be careful, it stains your fingers so be sure to wash up after you use it.
Print
Fresh is Best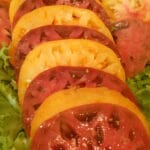 Ingredients
Heirloom tomatoes
Frisee lettuce
Salt
Extra virgin olive oil
Feta cheese (cheese is optional of course)
Instructions
Place frisee leaves (or other type of lettuce) on a plate and arrange a variety sliced heirloom tomatoes.
Drizzle with extra virgin olive oil and top with feta cheese (or other cheese if desirable) or omit cheese and just go with the juicy tomatoes.