It's baking season! Why not surprise your special baker with one of these fantastic gifts from our Baker's Gift Guide?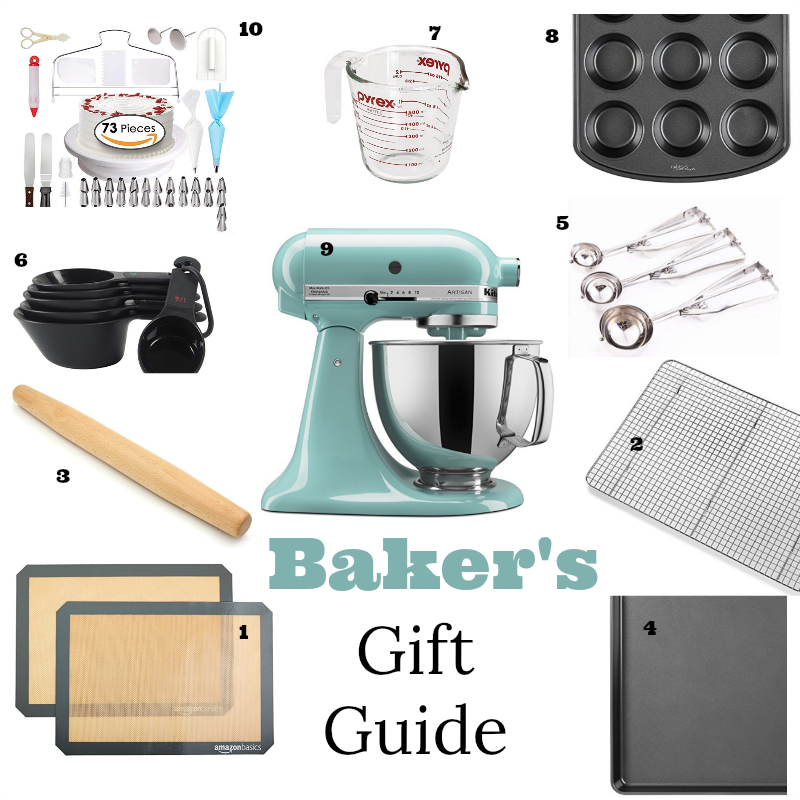 It's baking season and we are geared up to help you with this year's gift-giving. If you have a baker or an inspiring baker on your gift-giving list, here are some great gift ideas.
Amazon Basics Silicone Baking Mat – 2 pack I swear by these. No need for parchment paper or cooking spray; they are totally non-stick. Only $9.62 – a real deal.
12″ x 17″ Bellemain Cooling Baking Rack This is another one of my favorite baking tools. It's sturdy and easy to clean.
Every baker needs a good rolling pin and this one is not only a great deal at $5.99, but it's also what I use and I love it.
A good cookie sheet is essential for baking. I like this Wilton Perfect Results Non-Stick Mega Large Cookie Pan.
I literally just bought this set of three cookie scoops a couple of months ago and I love them all. These are made by JSDOIN.
Another one of my favorites is the OXO Good Grips 6-piece Measuring Cups.
A must have in my kitchen is a glass measuring cup. The Pyrex Preware 2-cup Measuring Cup is great for any home baker or cook.
An essential in my kitchen is the Wilton Perfect Results premium Non-Stick Muffin and Cupcake Pan.
I don't know where I'd be without my KitchenAid Artisan Mixer. This one is from their Series 5-Quart.
This 73 Piece Cake Decorating Supply kit has everything any baker needs to decorate beautiful cakes and pastries. And it's a steal for under $25.00.
Note: This post contains affiliate links. This means if you click on a link and purchase a product we may receive a small commission.